Policeman jokes - jokes about policemen (1 to 10)
| | |
| --- | --- |
| | Jokes about policemen. These are funny jokes with policemen! These are the jokes listed 1 to 10. |
Gold Watch
Bill: Where did you get that gold watch Joe?
Joe: I won it in a race.
Bill: How many people participated in it?
Joe: Three, a policeman, the owner of the watch, and me!

A man was speeding down the hi...
A man was speeding down the highway, feeling secure in a gaggle of cars all traveling at the same speed. However, as they passed a speed trap, he got nailed with an infrared speed detector and was pulled over.
The officer handed him the citation, received his signature and was about to walk away when the man asked, "Officer, I know I was speeding, but I don't think it's fair - there were plenty of other cars around me who were going just as fast, so why did I get the ticket?"
"Ever go fishing?" the policeman suddenly asked the man.
"Ummm, yeah..." the startled man replied.
The officer grinned and added, "Did you ever catch all the fish?"
Looking Into Their Eyes
A policeman pulls a man over for speeding and asks him to get out of the car. After looking the man over he says, "Sir, I couldn't help but notice your eyes are bloodshot. Have you been drinking?"
The man gets really indignant and says, "Officer, I couldn't help but notice your eyes are glazed. Have you been eating doughnuts?"
Speeding Ticket
A driver is pulled over by a policeman. The police man approaches the driver's door.
"Is there a problem Officer?"
The policeman says, "Sir, you were speeding. Can I see your license please?"
The driver responds, "I'd give it to you but I don't have one."
"You don't have one?"
The man responds, "I lost it four times for drink driving."
The policeman is shocked. "I see. Can I see your vehicle registration papers please?"
"I'm sorry, I can't do that."
The policeman says, "Why not?"
"I stole this car."
The officer says, "Stole it?"
The man says, "Yes, and I killed the owner."
At this point the officer is getting irate. "You what!?"
"She's in the boot if you want to see."
The Officer looks at the man and slowly backs away to his car and calls for back up. Within minutes, five police cars show up, surrounding the car. A senior officer slowly approaches the car, clasping his half drawn gun.
The senior officer says "Sir, could you step out of your vehicle please!"
The man steps out of his vehicle. "Is there a problem sir?"
"One of my officers told me that you have stolen this car and murdered the owner."
"Murdered the owner?"
The officer responds, "Yes, could you please open the boot of your car please?"
The man opens the boot, revealing nothing but an empty boot.
The officer says, "Is this your car sir?"
The man says "Yes," and hands over the registration papers.
The officer, understandably, is quite stunned. "One of my officers claims that you do not have a driving license."
The man digs in his pocket revealing a wallet and hands it to the officer. The officer opens the wallet and examines the license. He looks quite puzzled. "Thank you sir, one of my officers told me you didn't have a license, stole this car, and murdered the owner."
The man replies, "I bet you the lying bastard told you I was speeding, too!"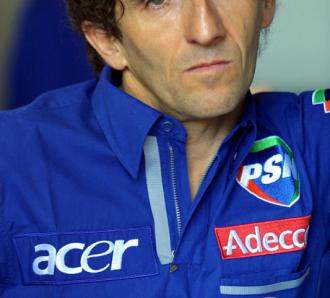 Can you name the athletes by the picture?
Can you name the athletes by the picture?
The boss wondered why one of h...
The boss wondered why one of his most valued employees was absent, but had not phoned in. Needing to have an urgent work problem resolved, he dialed the employee's home phone number and was greeted by a child's whispered, "Hello."
"Is your Daddy home?" he asked.
"Yes," whispered the small voice.
"May I talk with him?"
The child whispered, "No."
Surprised and wanting to talk with an adult, the boss asked, "Is your Mommy there?"
"Yes."
"May I talk with her?"
Again the small voice whispered, "No."
Hoping there was someone with whom he could leave a message, the boss asked, "Is anyone else there?"
"Yes," whispered the child, "a policeman."
Wondering what a cop would be doing at his employee's home, the boss asked, "May I speak with the policeman?"
"No, he's busy," whispered the child.
"Busy doing what?"
"Talking to Mommy and Daddy and the Fireman," came the whispered answer.
Growing more worried as he heard a loud noise through the earpiece on the phone, the boss asked, "What is that noise?"
"A helicopter," answered the whispering voice.
"What is going on there?" demanded the boss, now truly apprehensive.
Again, whispering, the child answered, "The search team just landed a helicopter."
Alarmed, confused, and a little frustrated, the boss asked, "What are they searching for?"
Still whispering, the young voice replied with a muffled giggle..."Me!"
One-Liners
Middle age is when you are warned to slow down by a doctor instead of a policeman.
A clean desk is a sign of a cluttered desk drawer.
Anything worth taking seriously is worth making fun of.
Better to understand a little than to misunderstand a lot.
To sit alone with my conscience will be judgment enough for me.
An escalator never breaks... it only becomes stairs.
When you get older, lack of pep is often mistaken for patience.
The secret of success is to know something nobody else knows.
What will today's younger generation tell their children they had to do "without"?
If you're doing the speed limit, you're in the way.
18 out of 10 schizophrenics agree.
It's not an optical illusion. It just looks like one.
Bumper Sticker: Excuse me for driving so closely in front of you.
Today is the last day of your life, so far.
No man really becomes a fool until he stops asking questions.
People never grow up; they just learn how to act in public.
One half of the world will never understand the other half and it doesn't matter which half you're in.
I've discovered the whole problem with the National Debt. Most of us work 5 days a week and the government spends 7.
You'll notice that a turtle only makes progress when it sticks out its neck.
No matter how bad it gets, I'm rich at the dollar store.
The tongue must be heavy indeed, because so few people can't hold it.
The minute a man is convinced that he is interesting, he isn't.
If you want to know more about paranoids, follow them around.
Anything not nailed down is a cat toy.
The reason Las Vegas is so crowded is that no one has the plane fare to leave.
The man was in no shape to dri...
The man was in no shape to drive, so he wisely left his car parked and walked home. As he was walking unsteadily along, he was stopped by a policeman. "What are you doing out here at 2 A.M.?" asked the officer.
"I'm going to a lecture." The man said.
"And who is going to give a lecture at this hour?" the cop asked.
"My wife," said the man.
Dictionary For Women
Argument (ar*gyou*ment) n. A discussion that occurs when you're right, but he just hasn't realized it yet.
Airhead (er*hed) n. What a woman intentionally becomes when pulled over by a policeman.
Bar-be-que (bar*bi*q) n. You bought the groceries, washed the lettuce, chopped the tomatoes, diced the onions, marinated the meat and cleaned everything up, but, he, "made the dinner."
Blonde jokes (blond joks) n. Jokes that are short so men can understand them.
Cantaloupe (kant*e*lope) n. Gotta get married in a church.
Clothes dryer (kloze dri*yer) n. An appliance designed to eat socks.
Diet Soda (dy*it so*da) n. A drink you buy at a convenience store to go with a half pound bag of peanut M&Ms.
Eternity (e*ter*ni*tee) n. The last two minutes of a football game.
Exercise (ex*er*siz) v. To walk up and down a mall, occasionally resting to make a purchase.
Grocery List (grow*ser*ee list) n. What you spend half an hour writing, then forget to take with you to the store.
Hair Dresser (hare dres*er) n. Someone who is able to create a style you will never be able to duplicate again. See "Magician."
Hardware Store (hard*war stor) n. Similar to a black hole in space-if he goes in, he isn't coming out anytime soon.
Childbirth (child*brth) n. You get to go through 36 hours of contractions; he gets to hold your hand and say "focus,...breath...push..."
Lipstick (lip*stik) n. On your lips, coloring to enhance the beauty of your mouth. On his collar, coloring only a tramp would wear...!
Park (park) v./n. Before children, a verb meaning, "to go somewhere and neck." After children, a noun meaning a place with a swing set and slide.
Patience (pa*shens) n. The most important ingredient for dating, marriage and children. See also "tranquilizers."
Waterproof Mascara (wah*tr*pruf mas*kar*ah) n. Comes off if you cry, shower, or swim, but will not come off if you try to remove it.
Valentine's Day (val*en*tinez dae) n. A day when you have dreams of a candlelight dinner, diamonds, and romance, but consider yourself lucky to get a card
Five year old Little Johnny wa...
Five year old Little Johnny was lost, so he went up to a policeman and said, "I've lost my dad!"
The policeman said, "What's he like?"
Little Johnny replied, "Beer and women!"
The light turned yellow, just...
The light turned yellow, just in front of him. He did the right thing,stopping at the crosswalk, even though he could have beaten the red light by accelerating through the intersection.
The tailgating woman was furious and honked her horn, screaming in frustration, as she missed her chance to get through the intersection, dropping her cell phone and makeup.
As she was still in mid-rant, she heard a tap on her window and looked up into the face of a very serious police officer. The officer ordered her to exit her car with her hands up.
He took her to the police station where she was searched, fingerprinted, photographed, and placed in a holding cell.
After a couple of hours, a policeman approached the cell and opened the door. She was escorted back to the booking desk where the arresting officer was waiting with her personal effects.
He said, ''I'm very sorry for this mistake. You see, I pulled up behind your car while you were blowing your horn, flipping off the guy in front of you and cussing a blue streak at him. I noticed the 'What Would Jesus Do' bumper sticker, the 'Choose Life' license plate holder, the 'Follow Me to Sunday-School' bumper sticker, and the chrome-plated Christian fish emblem on the trunk, so naturally....I assumed you had stolen the car.''