Policeman jokes - jokes about policemen (11 to 20)
| | |
| --- | --- |
| | Jokes about policemen. These are funny jokes with policemen! These are the jokes listed 11 to 20. |
First Patrol Shift
A rookie police officer was assigned to ride in a cruiser with an experienced partner. A call came over the car's radio telling them to disperse some people who were loitering.
The officers drove to the street and observed a small crowd standing on a corner. The rookie rolled down his window and said, 'Let's get off the corner.'
No one moved, so he barked again, 'Let's get off the corner!' Intimidated, the group of people began to leave, casting puzzled glances in his direction. Proud of his first official act, the young policeman turned to his partner and asked, 'Well, how did I do?'
'Pretty good,' replied the veteran, 'especially since this is a bus stop.'
What am I supposed to do with this?
"What am I supposed to do with this?" grumbled a motorist as the policeman handed him a speeding ticket.
"Keep it," the cop said, "when you collect four of them you get a bicycle."

Should Have Glasses
A policeman stops a lady and asks for her license. He says "Lady, it says here that you should be wearing glasses."
The woman answered "Well, I have contacts."
The policeman replied "I don't care who you know! You're getting a ticket!"
Identify The Problem
A policeman had a perfect spot to watch for speeders, but was not getting many.
Then, he discovered the problem; a 10 year old boy was standing up the road with a hand painted sign which read, "SPEED TRAP AHEAD".
The officer then found a young accomplice down the road with a sign painted "TIPS" and a bucket of change.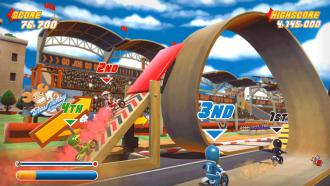 Look carefully the picture a...
Look carefully the picture and guess the game name.
Purchasing The Brain
A client of a hospital where they made brain transplantations asked about the prices.
The doctor said, "Well, this Ph.D. brain costs $10,000. This brain belonged to a NASA top scientist and costs $15,000. Here we have a policeman's brain as well. It costs $50,000."
The client asked, "What? How's that possible?"
The doctor replied, "You see, it's totally unused."
"A drummer who became
"A drummer who became a policeman was pounding a beat."
Avoiding A Big Object
Driving to work, a gentlman had to swerve to avoid a box that fell out of a truck in front of him. Seconds later, a policeman pulled him over for reckless driving. Fortunately, another officer had seen the carton in the road. The policmen stopped traffic and recovered the box. It was found to contain large upholstery tacks.
"I'm sorry sir," the first trooper told the driver, "but I am still going to have to write you a ticket."
Amazed, the driver asked for what.
The trooper replied, "Tacks evasion."
A policeman caught a nasty lit...
A policeman caught a nasty little boy with a penknife in one hand and a squirrel in the other.
"Now listen here," the policeman said, "Whatever yo do to that poor, defenseless creature I shall personally do to you."
"In that case," said the boy, "I'll kiss it's butt and let it go."
Chatting On The Plane
A man was recently flying to New York. He decided to strike up a conversation with his seat mate.
"I've got a great policeman joke. Would you like to hear it?"
"I should let you know first that I am a policeman."
"That's OK. I'll tell it really slow!"
A police officer responded to...
A police officer responded to a report of a barroom disturbance.
The "disturbance" turned out to be well over six feet tall and weighed almost 300 pounds. What's more, he boasted that he could whip the officer and the "Heavy Weight Boxing Champion of the World."
Said the policeman, "I'll bet that you're also an escape artist too, probably better than Houdini."
The giant nodded.
"If I had some chains," the officer continued, "you could show us how strong you really are. But all I've got is a set of handcuffs. Why don't you see just how quickly you can break out of them?"
Once in the cuffs, the man puffed, pulled and jerked for four minutes.
"I can't get out of these," the giant growled.
"Are you sure?" the officer asked.
The fellow tried again. "Nope," he replied. "I can't do it."
"In that case," said the officer, "you're under arrest."