Christmas jokes - jokes about christmas day (1 to 10)
| | |
| --- | --- |
| | Jokes about christmas day. These are the jokes listed 1 to 10. |
Three men die and meet Peter a
Three men die and meet Peter at the pearly gates.
"In honor of this holy season," Saint Peter said, "you must each possess something that symbolizes Christmas to get into heaven."
he first man fumbled through his pockets and pulled out a lighter. He flicked it on. It represents a candle, he said. You may pass through the pearly gates Saint Peter said.
The second man reached into his pocket and pulled out a set of keys. He shook them and said, "They're bells." Saint Peter said you may pass through the pearly gates.
The third man started searching desperately through his pockets and finally pulled out a pair of women's panties. St.Peter looked at the man with a raised eyebrow and asked,"And just what do those Symbolize?"
The man replied, "They're Carols".

12 Dad Jokes for National Tell A Joke Day
Monsters are not good at math.... Unless you Count Dracula.
19 had fight with 20 ... and 21
I would tell a joke about pzza, but its too cheesy
I gave away all my batteries today ... free of charge
I got a universal remote for Christmas ... well this changes everything
I had a joke about construction, but im still working on it
Did u get a haircut? No i cut them all out
Dracula doesnt have many friends because hese a pain in the neck.
I stayed up all night wondering where the Sun had gone. Then it dawned on me.
What did the sushi say to the bumble bee? Wasabi
Mountain aren't just funny, their hill areas.
I asked dad for his best dad joke, he said you.
Question Answer 07

How do you stop squirrels playing football in the garden?
Hide the ball, it drives them nuts!
What's tennis players favourite city?
Volley wood!
How does a physicist exercise?
By pumping ion!
Why does someone who runs marathons make a good student?
Because education pays off in the long run!
What is a runner's favourite subject in school?
Jog-raphy!
What does Paul Inces mum make for Christmas?
Ince pies!
What does a footballer and a magician have in common?
Both do hat tricks!
Which football team loves ice-cream?
Aston Vanilla!


A Week Off
"Boss can I have a week off around Christmas?"
"It's May..."
"Sorry. May I have a week off around Christmas?"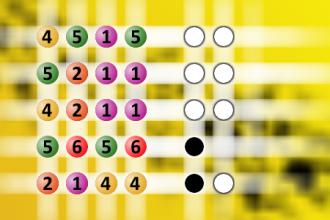 What a winning combination?
The computer chose a secret code (sequence of 4 digits from 1 to 6). Your goal is to find that code. Black circles indicate the number of hits on the right spot. White circles indicate the number of hits on the wrong spot.
Silly Collection 25

What is posthumous work?
Something written by someone after they are dead!

What is the most slippery country in the world?

Greece!

What is the strongest bird?
A crane!

What is the smelliest city in America?
Phew York!
What did the fireman's wife get for Christmas?
A ladder in her stocking!

Who was the best actor in the bible?
Samson, he brought the house down!

What cake wanted to rule the world?
Atilla the Bun!



The Christmas Airport

It was a few days before Christmas. The trip went reasonably well, and he was ready to go back home. The airport on the other end had turned a tacky red and green, and loudspeakers blared annoying elevator renditions of cherished Christmas carols.
Being someone who took Christmas very seriously, and being slightly tired, he was not in a particularly good mood. (Almost a scrooge) Going to check in his luggage (which, for some reason, had become one suitcase with entirely new clothes), he saw hanging mistletoe. Not real mistletoe, but very cheap plastic with red paint on some of the rounder parts and green paint on some of the flatter and pointer parts, that could be taken for mistletoe only in a very Picasso sort of way.
With a considerable degree of irritation and nowhere else to vent it, he said to the attendant, "Even if we were married, I would not want to kiss you under such a ghastly mockery of mistletoe."
"Sir, look more closely at where the mistletoe is."
"Ok, I see that it's above the luggage scale which is the place you'd have to step forward for a kiss."
"That's not why it's there."
"Ok, I give up. Why is it there?"
"It's there so you can kiss your luggage good-bye."


The Biology Song 04

A Mad Scientist Christmas
Twas the night before Christmas and all thru my house,
Not a specimen was stirring, not even a louse.
The test tubes were capped and the rat cages closed,
The mold cultures fuzzy, the mice in repose.
The oven kept warm the ebola and pox,
I still need to locate my husband's clean socks...
But that has to wait till tomorrow, I know;
My buggies still need that much more time to grow.
When from the kitchen came a massive explosion,
I leapt from my bed in perpetual motion.
Grabbing my lab coat I pulled on my pants,
Struggling into them a sick sort of dance.
With fury and haste I put on a shirt,
Running out of the bedroom on feet black with dirt.
Buttoning my lab coat and donning a mask,
I ran into the kitchen holding an Erlenmeyer flask.
I nearly passed out when the man who I saw,
dressed in containment gear sealed without flaw,
Held high a huge sack with his arm stiff and straight,
I could tell he must have a hard time with his weight.
Through the mike from his suit he said without pause,
"Ho Ho Ho, Merry Christmas, I'm Hanta Claus!"
Over his shoulder he hefted the sack,
We walked into the living room, I offered a snack.
He took it and smiled, placed the sack by my bench,
Instantly I noticed the Clostridium stench.
Brimming with joy, I cried out with glee,
"Did you bring all of these germies for me?"
"Oh yes," said Hanta, "I must show propriety;
By bringing you microbes, I'm saving society.
"You are the only one who loves these diseases.
Therefore I'm glad to oblige who it pleases."
Delirious with excitement I sat by his side
While he gave me a year's stock of microscope slides,
And pasteur pipettes, drug resistant bacteria,
Such as staph, strep and cultures from the genus Neisseria.
The gleam in my eyes caused the house to be lit,
The moment he gave me a gram-staining kit,
Clostridium tetani, perfringens and sporogenes,
Salmonella typhi and Streptococcus pyogenes!
Plus viruses known to produce hepatitis,
Herpes, and rabies, yellow fever and meningitis!
But that was not all, he had parasites too,
Plasmodia, trypanosomes and schistosomes true!
Tapeworms and roundworms, plague-carrying fleas.
How sincerely generous, Hanta did aim to please!
At long last he said he must now go away,
His sled was experiencing radioactive decay.
"Thanks for the presents," I said, shaking his hand,
"They'll keep me off the streets, you understand."
Hanta Claus smiled and bid me goodnight,
Shouting "Merry Christmas to all, and to all a good blight!"


University Courses For Men And Women
Whatsamatta University's Seminars For Men Fall Catalogue
Once again, the female staff at Whatsamatta University will be offering courses for men of all marital status in an attempt to help males and females understand each other better. Attendance in at least 10 of the following is required.
1. Combatting Stupidity
2. You Too Can Do Housework
3. Resistance to Beer
4. How To Properly Fill An Ice Tray
5. We Do Not Want Sleazy Underwear For Christmas (Give Us Credit Cards)
6. Understanding The Female Response To Coming Home Drunk At 4:00am
7. Wonderful Laundry Techniques (also called "Don't Wash My Silks")
9. Get A Life - Learn To Cook
10. How Not To Act Like An Idiot When You Are Obviously Wrong
11. Spelling - Even You Can Get It Right
12. Understanding Your Financial Incompetence
13. You, The Weaker Sex
14. Reasons To Give Flowers
15. Garbage - Getting It To The Curb
16. You Cannot Always Wear Whatever You Please
17. How To Put Down A Toilet Seat
18. Give Me A Break - Why We Know Your Excuses Are Lies
19. How To Go Shopping With Your Mate Without Getting Lost
20. The Remote Control - Overcoming Your Dependency
21. Helpful Posture Hints For Couch Potatoes
22. Mother-in-Laws Are People Too
23. The Weekend And Sports Are Not Synonymous
24. How Not To Act Younger Than Your Children
25. You Too Can Be A Designated Driver
26. Male Bonding: Leave Your Friends At Home
27. Attainable Goal - Omitting Foul Expletives From Vocabulary
28. You Don't Really Need That Porsche
Whatsamatta University's Seminars For Women Fall Catalogue
Once again, the male staff at Whatsamatta University will be offering courses for women of all marital status in an attempt to help males and females understand each other better. Attendance in at least 10 of the following is required.
1. Combatting The Impulse To Nag
2. You Can Change The Oil Too
4. How To Properly Fill A Beer Mug
5. We Do Not Want Ties For Christmas
6. Understanding The Female Causes Of Male Drunkenness
7. How To Do All Your Laundry In One Load And Have More Time To Watch Football
8. Parenting - Your Husband Gave You Children So You Could Have Someone Other Than Him To Boss Around
9. How To Encourage Your Husband To Cook More And Be Able To Stomach His Slop
10. How Not To Sob Like A Sponge When Your Husband Is Right
11. Get A Life - Learn To Kill Spiders Yourself
12. Balancing A Checkbook - Even You Can Get It Right
13. Comprehending Credit Card Spending Limits And Financial Responsibility
14. You, The Whining Sex
15. Shopping - Doing It In Less Than 16 Hours
16. If You Want To Know How That Looks On You, Ask Your Mother
17. How To Close The Garage Door
18. If You Don't Want An Excuse, Don't Demand An Explanation
19. How To Go Fishing With Your Mate And Not Catch Pneumonia
20. Living Without Power Windows - How To Turn A Crank
21. Romanticism - The Whole Point Of Caviar, Candles, And Conversation
22. How To Retain Your Composure While Your Husband Is Relaxing By Himself
23. Why You Don't Need To Invite Your Mother Over Every Weekend
24. Payday And Shopping Are Not Synonymous
25. How To Act Younger Than Your Mother
26. You Too Can Carry A Backpack
27. Female Friendship - Why Your Best Friends Are Not The Women Who Complain About You The Most
28. Learning To Appreciate The Beer Belly And Lard Butt Morphologies Of Men
29. Attainable Goal - Catching A Ball Before It Stops Moving
30. How To Close The Top On The Toothpaste
"Why is it so difficu
"Why is it so difficult to find Christmas puns that slay?"
Have A Microsoft Christmas

'Twas the night before Christmas, and all through the house Not a creature was stirring, except father's mouse. The computer was humming, the icons were hopping, As father did last-minute Internet shopping.
The stockings were hung next the modem with care In the hope that Santa would bring new software. The children were nestled all snug in their beds, With visions of computer games filling their heads.
Dark Forces for Billy, Doom II for Dan, Carmen Sandiego for Pamela Ann. The letters to Santa had been sent out by mum, To santa@toyshop.northpole.com--
Which now had been re-routed to Washington State Where Santa's workshop had been moved by Bill Gates. All the elves and the reindeer had had to skedaddle To flashy new quarters in suburban Seattle.
After living a life that was simple and spare, Santa now finds he's a new billionaire, With a shiny red Porsche in place of his sleigh, And a house on Lake Washington just down the way > From where Bill has his mansion. The old fellow preens In black Gucci boots and red Calvin Klein jeans. The elves have stock options and desks with a view, Where they write computer code for Johnny and Sue.
No more dolls or tin soldiers or little toy drums Will be under the tree, only compact disk roms With the Microsoft label. So spin up your drive, >From now on Christmas runs only on Win95.
More rapid than eagles the competitors came, And Bill whistled, and shouted, and called them by name. "Now, ADOBE! now, CLARIS! now, INTUIT! too, Now, APPLE! and NETSCAPE! you're all of you through,
It's Microsoft's SANTA that the kids can't resist, It's the ultimate software with a traditional twist - Recommended by no less than the jolly old elf, And on the package, a picture of Santa himself.
Get 'em young, keep 'em long, is Microsoft's theme, And a merger with Santa is a marketer's dream. To the top of the NASDAQ! To the top of the Dow! Now dash away! dash away! dash away - wow!"
And mum in her 'kerchief and me in my cap, Had just settled down for a long winter's nap, When out on the lawn there arose such a clatter, The whirr and the hum of our satellite platter, As it turned toward that new Christmas star in the sky, The SANTALITE owned by the Microsoft guy. As I sprang from my bed and was turning around, My computer turned on with a Jingle-Bells sound.
And there on the screen was a smiling Bill Gates Next to jolly old Santa, two arm-in-arm mates. And I heard them exclaim in voices so bright, have a Microsoft Christmas, and to all a good night!
The above document was written by Chet Raymo.