Be rady for Thanksgiving
, check out our latest
Thanksgiving jokes of 2021
on:
Thanksgiving jokes collection
An Atheist's Holiday
An atheist became incensed over Christmas holiday preparations. He filed a lawsuit about the constant celebrations given to Christians and Jews while atheists had no holiday to celebrate. The case was brought before a judge. After listening to the long, passionate presentation by the atheist's lawyer, the judge banged his gavel and declared, "Case dismissed!"The lawyer immediately stood and objected to the ruling. "Your honor, how can you possibly dismiss this case? The Christians have Christmas, Easter, and many other observances. Jews have Passover, Yom Kippur, and Hanukkah. Yet, my client and all other atheists have no such holiday!"The judge leaned forward in his chair and simply said, "Obviously, your client is too confused to know about, much less celebrate, his own atheist holiday!" The lawyer pompously said, "Your honor, we are unaware of any such holiday for atheists. Just when might that holiday be?" The judge replied, "Well, it comes every year on exactly the same date. Psalm 14:1 states, 'The fool says in his heart, there is no God.' Thus, if your client says there is no God then, according to the Bible, he is a fool. April Fool's Day is his holiday. Now, get out of my courtroom!"-
Joke shared on Beliefnet's Religious Humor page
Your honour, I am 75 years old
Your honour, I am 75 years old. So here I am, sitting there on my porch on a warm spring evening, when a young man comes creeping up on the porch and sits beside me. He starts to rub my thigh, and it feels good, Your Honour. So I don't stop him, and he begins to rub my old breasts, Your Honour. Why, Your Honour, I haven't felt that good in years! So I just spread my old legs and say to him, "Take me, young man, Take me!"
That's when he yelled, "April Fool" and that's when I shot the F**king Son of a B**ch!!
The # 1 April Fools Prank of All Time - The Swiss Spaghetti Harvest
April 1, 1957: The respected BBC news show Panorama announced that thanks to a very mild winter and the virtual elimination of the dreaded spaghetti weevil, Swiss farmers were enjoying a bumper spaghetti crop. It accompanied this announcement with footage of Swiss peasants pulling strands of spaghetti down from trees. Huge numbers of viewers were taken in. Many called the BBC wanting to know how they could grow their own spaghetti tree. To this the BBC diplomatically replied, 'place a sprig of spaghetti in a tin of tomato sauce and hope for the best.' Even the director-general of the BBC later admitted that after seeing the show he checked in an encyclopedia to find out if that was how spaghetti actually grew (but the encyclopedia had no information on the topic). The broadcast remains, by far, the most popular and widely acclaimed April Fool's Day hoax ever, making it an easy pick for number one.
#1: The Swiss Spaghetti Harvest>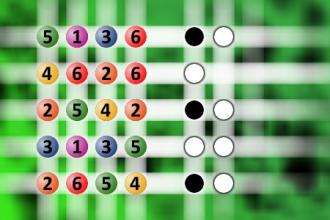 Which is a winning combination of digits?
The computer chose a secret code (sequence of 4 digits from 1 to 6). Your goal is to find that code. Black circles indicate the number of hits on the right spot. White circles indicate the number of hits on the wrong spot.
Food One-liners
The snack bar next door to an atom smasher was called "The Fission Chips."
On April Fools Day, a mother put a fire cracker under the pancakes. She blew her stack.
A new chef from India was fired a week after starting the job. He keep favoring curry.
A couple of kids tried using pickles for a Ping-Pong game. They had the volley of the Dills.
The four food groups: Fast, Frozen, Instant, and Chocolate.
A friend got some vinegar in his ear, now he suffers from pickled hearing.
Overweight is something that just sort of snacks up on you.
Sign in restaurant window: "Eat now - Pay waiter."
I thought you were trying to get into shape?
I am. The shape I've selected is a triangle.
April Fool's Day Pranks
1. Hide food in a trash can and when someone comes by grab some and eat it.
2. Put a balloon on the tailpipe of a someone's car so it will pop when they start their car.
3. Glue the headset of someone's phone down to the cradle.
4. Take the door knob off a door and put it back on backwards, then lock it and leave the door open.
5. Put plastic wrap around the door frame of a commonly used door.
6. Cover a toilet seat with plastic wrap.
April Fool's Day Pranks
1. Take something from someone's office and leave them a ransom note.
2. Add several odd appointments with alarms set to go off during the day to a co-worker's Outlook calendar.
3. Add food coloring to milk that comes in a cardboard container.
4. Add food coloring to the windshield washer fluid of someone's car.
5. Switch around random keys on someone's keyboard who isn't a very good typist.
6. Switch the Push and Pull signs on a set of doors.
Funny video of the day - April Fools' Day Pranks - Look what happened to COCA-COLA!