April Fool's Day (1 to 10)
| | |
| --- | --- |
| | These are the jokes listed 1 to 10. |
Food One-liners
The snack bar next door to an atom smasher was called "The Fission Chips."
On April Fools Day, a mother put a fire cracker under the pancakes. She blew her stack.
A new chef from India was fired a week after starting the job. He keep favoring curry.
A couple of kids tried using pickles for a Ping-Pong game. They had the volley of the Dills.
The four food groups: Fast, Frozen, Instant, and Chocolate.
A friend got some vinegar in his ear, now he suffers from pickled hearing.
Overweight is something that just sort of snacks up on you.
Sign in restaurant window: "Eat now - Pay waiter."
I thought you were trying to get into shape?
I am. The shape I've selected is a triangle.
April Fool's Day Pranks
1. Hide food in a trash can and when someone comes by grab some and eat it.
2. Put a balloon on the tailpipe of a someone's car so it will pop when they start their car.
3. Glue the headset of someone's phone down to the cradle.
4. Take the door knob off a door and put it back on backwards, then lock it and leave the door open.
5. Put plastic wrap around the door frame of a commonly used door.
6. Cover a toilet seat with plastic wrap.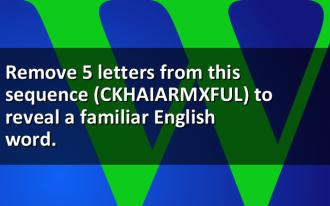 Remove 5 letters from this seq...
Remove 5 letters from this sequence (CKHAIARMXFUL) to reveal a familiar English word.
April Fool's Day Pranks
1. Take something from someone's office and leave them a ransom note.
2. Add several odd appointments with alarms set to go off during the day to a co-worker's Outlook calendar.
3. Add food coloring to milk that comes in a cardboard container.
4. Add food coloring to the windshield washer fluid of someone's car.
5. Switch around random keys on someone's keyboard who isn't a very good typist.
6. Switch the Push and Pull signs on a set of doors.
Funny video of the day - April Fools' Day Pranks - Look what happened to COCA-COLA!
April Fools' Day Pranks - Tell your kid you bought them an iPad
I'm sorry, sweetie, did I say iPad? I meant I bought you an eye pad.
APRIL FOOL'S DAY PRANKS - Drippy
Use a pin to make a few small holes in a plastic disposable cup. The holes should be near the top, just below the rim. Offer a drink to the victim and watch while the liquid dribbles out onto their shirt when they take a drink.
Brilliant Prank For April Fools' Day
Try this "dollar in a book" trick.