Lawyer jokes - jokes about lawyers (1 to 10)
| | |
| --- | --- |
| | Jokes about lawyer. These are funny jokes with lawyers! These are the jokes listed 1 to 10. |
Go Home And Wait

The following is supposedly a true story. To be included, besides being true, the story is most likely strange, weird, surprising, or funny.
February 10, 1993
FBI and Florida authorities arrested Paul E. Flasher, 45, who had been sentenced to five years in prison in 1980 for grand theft but who had never been jailed.
Flasher said he had gone home from the sentencing hearing in Tampa and "sat tight," just as his lawyer had instructed, waiting for notification to report to prison. Authorities forgot him for 12 years.


Listen To Your Lawyer
Taylor was desperate for business, and was happy to be appointed by the court to defend an indigent defendant. The judge ordered Taylor,"You are to confer with the defendant in the hallway, and give him the best legal advice you can."
After a time, Taylor re-entered the courtroom alone. When the judge asked where the defendant had gone, Taylor replied, "You asked me to give him good advice. I found out that he was so guilty, so I told him to split."
Lawyer: I have some good news
Lawyer: I have some good news and some bad news.
Client: Well, give me the bad news first.
Lawyer: The bad news is that the DNA tests showed that it was your blood they found all over the crime scene
Client: Oh no! I'm ruined! What's the good news?
Lawyer: The good news is your cholesterol is down to 130!

A man charged with assault and
A man charged with assault and battery insisted at his trial that he had just pushed his victim "a little bit".

When he was pressured by the prosecutor to illustrate just how hard, the defendant approached the lawyer, slapped him in the face, grabbed him firmly by the lapels and flung him over the table.
He then faced judge and jury and calmly declared, "I would say it was about one-tenth that hard."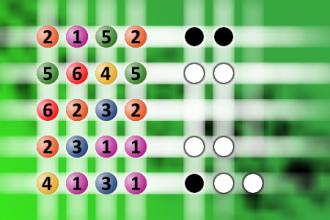 What a winning combination?
The computer chose a secret code (sequence of 4 digits from 1 to 6). Your goal is to find that code. Black circles indicate the number of hits on the right spot. White circles indicate the number of hits on the wrong spot.
A guy walks into a post office
A guy walks into a post office one day to see a middle-aged, balding man standing at the counter systematically pasting "Love" stamps on bright pink envelopes with hearts all over them. He then takes out a perfume bottle and starts spraying scent all over them. The guy's curiosity gets the better of him and he walks up to the balding man and asks him what he is doing.
The man says, "I'm sending out one thousand Valentine cards signed, 'Guess who?'"
"But why?" asks the guy.
The man replies, "I'm a divorce lawyer."

Question And Answer Jokes

Q: How many lawyers does it take to stop a moving bus?
A: Never enough.
Q: How many lawyers does it take to change a lightbulb?
A: How many can you afford?
Q: Did you hear about the new microwave lawyer?
A: You spend eight minutes in his office and get billed as if you'd been there eight hours.
Q: What's the difference between a law firm and a circus?
A: At a circus, the clowns don't charge the public by the hour.
Q: Did you hear about the lawyer hurt in an accident?
A: An ambulance stopped suddenly.
Q: How many lawyers does it take to change a lightbulb?
A: None, they'd rather keep their clients in the dark.
Q: What do lawyers do after they die?
A: They lie still.


Give Him An Orange

One day in Contract Law class, Professor Jepson asked one of his better students, "Now if you were to give someone an orange, how would you go about it?"
The student replied, "Here's an orange."
The professor was livid. "No! No! Think like a lawyer!" The student then recited, "Okay, I'd tell him, 'I hereby give and convey to you all and singular, my estate and interests, rights, claim, title, calim and advantages of and in, said orange, together with all its rind, juice, pulp, and seeds, and all rights and advantages with full power to bite, cut, freeze and otherwise eat, the same, or give the same away with and without the pulp, juice, rind and seeds, anything herein before or hereinafter or in any deed, or deeds, instruments of whatever nature or kind whatsoever to the contrary in anywise notwithstanding..."


A Criminal Lawyer
"Excuse me," a young fellow said to an older man, "I've just moved here and I wonder if this town has any criminal lawyers?"
"Well," replied the older man, "I have lived here all my life and all I can tell you is we are pretty sure we do, but no one has been able to prove it yet."