Short jokes - funny one liners (1 to 10)
| | |
| --- | --- |
| | Short funny jokes. These jokes are less 300 chars long, so easy to remember! These are the jokes listed 1 to 10. |
"I couldn't find the
"I couldn't find the car window scraper this morning, so I used a plastic store discount card to clean my windows. It didn't work very well. I only got 20% off."
The FBI agent was questioning
The FBI agent was questioning the bank teller after the bank had been robbed for the third time in a month by what appeared to be the same bandit.
"Did you notice anything special about the man?"
"Yes, he was better dressed each time!"

"I dropped a potato i
"I dropped a potato into my paper shredder, and that really made a hash of things."
I'm Working At the Moment
My boss texted me, "Send me one of your funny jokes, Pete."
I replied, "I'm working at the moment, Sir, I will send you one later."
He replied, "That was fantastic, send me another one."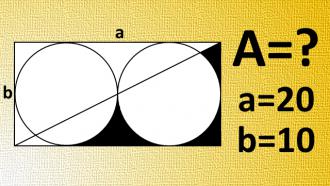 Find the area of the black region
Find the area of the black region accurate up to 3 decimal places. (A=?, a=20, b=10)
Move Heaven and Earth
Golfer: "I'd move heaven and earth to be able to break 100 on this course."
Caddy: "Try heaven. You've already moved most of the earth."
Mummy Can I ?
- Mummy, can I wear a bra now that I'm sixteen?
- No, David.
"When I was studying
"When I was studying environmental science, my favorite professor was an expert on wetlands and quagmires. I still love to read his bog post."
"In 1582 William Shak
"In 1582 William Shakespeare married a lady named Anne. Rumor has it that he often said, 'She hath a way about her.'"
Pete and Mick were in court an
Pete and Mick were in court and standing before the judge.
"Why can't this case be settled out of court?" the judge asked.
Pete looked up at the judge and said, "That's what we were trying to do, your honour, when the police interfered."

"Apparel baron quit b
"Apparel baron quit business to be spiritual as he no longer believed in material wealth!"
Jokes of the day
Daily updated jokes. New jokes every day.
NOTE
: All jokes on this web site are property of the sites they are collected from. Web site Jokes of the day is not responsible for content of jokes. We are not trying to offend, just looking for a good laugh!! If you are offended by any of the jokes, please complain to the site jokes are coming from.
---
This site uses cookies to store information on your computer. Some are essential to help the site properly. Others give us insight into how the site is used and help us to optimize the user experience. See our
privacy policy
.
Jokes partners
Free GPS tracking service for mobile devices that allows you to track any cell phone with built-in GPS (or with Bluetooth GPS receiver) in real time - partner of the jokes of the day
Daily Brain Teasers - daily collection of brain teasers