Short jokes - funny one liners (11 to 20)
| | |
| --- | --- |
| | Short funny jokes. These jokes are less 300 chars long, so easy to remember! These are the jokes listed 11 to 20. |
Not expecting to do well on th...
Not expecting to do well on the economics exam, Bill was heartened by the first question: In any given year, and to the nearest ton, how much wheat did the United States export?
Smiling confidently, he wrote, "In 1492, none."
I was told that I wa...
"I was told that I was allergic to cats, but I have two and I'm feline fine!"
One Million Dollars
Two friends are chatting...
"I will give one million dollars to the person who will fulfill my wish."
"What is your wish?"
"That somebody would give me two million dollars."

Stealing A Board Game
A thief was arrested for breaking into a Toys "R" Us store and stealing a board game...
He got Life.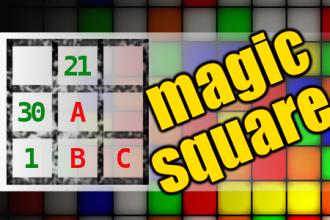 MAGIC SQUARE: Calculate A-B+C
The aim is to place the some numbers from the list (1, 4, 10, 21, 22, 24, 29, 30, 64, 69, 72, 78) into the empty squares and squares marked with A, B an C. Sum of each row and column should be equal. All the numbers of the magic square must be different. Find values for A, B, and C. Solution is A-B+C.
A cosmetics company...
"A cosmetics company had to recall its vanishing cream when many of the women using it were reported missing."
How Many Wives?
Two little boys were at a wedding when one leaned over to the other and asked, "How many wives can a man have?"
His friend answered, "Sixteen... four better, four worse, four richer, and four poorer."

I try to avoid makin...
"I try to avoid making nun jokes, but it's a farce of habit."
We have a giant squi...
"We have a giant squid to catch, so let's get kraken!"
A Dog's Life
I don't know why most people think a dog's life is so easy.
Every time I come home from work, I ask my dog how his day went.
He always says, "Rough!"
Just A Big Mess
After his marriage broke up, my manager became very philosophical. "I guess it was in our genes," he sighed.
"What do you mean?" I asked.
"Her sign is the one for earth. Mine is the one for water. Together we made mud."