Friday jokes - jokes about friday (1 to 10)
| | |
| --- | --- |
| | Jokes about friday. These are the jokes listed 1 to 10. |
12 Dad Jokes for National Tell A Joke Day
Monsters are not good at math.... Unless you Count Dracula.
19 had fight with 20 ... and 21
I would tell a joke about pzza, but its too cheesy
I gave away all my batteries today ... free of charge
I got a universal remote for Christmas ... well this changes everything
I had a joke about construction, but im still working on it
Did u get a haircut? No i cut them all out
Dracula doesnt have many friends because hese a pain in the neck.
I stayed up all night wondering where the Sun had gone. Then it dawned on me.
What did the sushi say to the bumble bee? Wasabi
Mountain aren't just funny, their hill areas.
I asked dad for his best dad joke, he said you.
Answering Machine Message 49

In Joe Friday voice: This is Constable Augie of the Canadian Security and Intelligence Service. The phone line you have just dialed is currently under investigation on a warrant issued by the Attorney General of Canada. To facilitate our investigation, we would appreciate you leaving your name, number, a brief message, and any affiliations you may have made now, or in the past, with communist or terrorist organizations. Thank you.


The Stained Clothes

The other day I was eating in an Italian restaurant when I accidentally spilled some spaghetti sauce on my favorite white sweater.
I wasn't too distressed, though, because Mr. Wong down on High Street has been doing my laundry for years, and I knew that he could remove just about any stain and get it out like it'd never been there.
So I took the sweater down to Wong's Laundry and dropped it off; Mr. Wong said he'd probably be able to have it cleaned by Thursday. So on Thursday afternoon after work I stopped by Wong's again.
Mr. Wong looked quite distressed when he saw me. He brought out the sweater and, apologizing profusely, explained that somehow this stain was beyond even his power to expunge.
And sure enough, though fainter than before, there was still a distinct red stain on the sweater. In an attempt to make up for his failure, Mr. Wong offered to send the sweater to his brother across town, who had been in the laundry business for an even longer time, and who might have a clue as to the method of removal of this extraordinarily persistent stain.
The elder Wong brother would rush it through at no extra charge, and should have it looking as white and clean as new by Friday. So on Friday I went back to Wong's to pick up my sweater, but when I arrived, Mr. Wong regretfully informed me that his brother, too, had failed to remove the red blotch. "No charge," said Wong, "but you must take sweater elsewhere to clean.
The Moral: ... Two Wongs cannot make a white."


Mexican Genie
A Mexican is strolling down the street in Mexico City and kicks a bottle lying in the street. Suddenly out of the bottle comes a Genie.
The Mexican is stunned.
The Genie says,"Hello Master,I will grant you one wish, anything you want."
The Mexican begins thinking, "Well, I really like drinking tequila." Finally the Mexican says, "I wish to drink tequila whenever I want, so make me pee tequila."
The Genie grants him his wish.
When the Mexican gets home, he gets a glass out of the cupboard and pees in it. He looks at the glass and it's clear...looks like tequila. Then smells the liquid...smells like tequila. So he takes a taste, and it is the best tequila he has ever tasted.
The Mexican yells to his wife, "Consuelo, Consuelo, come quickly!"
She comes running down the hall, and the Mexican takes another glass out of the cupboard and fills it. He tells her to drink it. It is tequila.
Consuelo is reluctant but goes ahead and takes a sip. It is the best tequila she has ever tasted. The two drank and partied all night.
The next night the Mexican comes home from work and tells his wife to get two glasses out of the cupboard. He proceeds to fill the two glasses. The result is the same. The tequila is excellent, and the couple drinks until the sun comes up.
Finally, Friday night comes and the Mexican comes home from work and tells his wife, "Consuelo, grab one glass from the cupboard and we will drink Tequila." His wife gets the glass from the cupboard and sets it on the table.
The Mexican begins to fill the glass; and when he fills it, his wife asks him, "But Pancho, why do we need only one glass?"
Pancho raises the glass and says, "BECAUSE TONIGHT, MI AMOR, YOU DRINK FROM THE BOTTLE."
ARRIBA!!!!!!! ARRIBA!!!!!!!!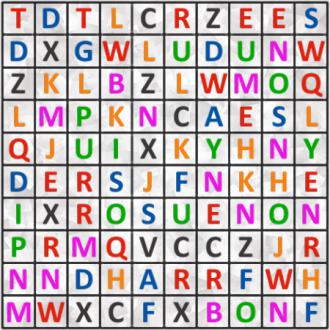 Find a famous person
Find the first and the last name of a famous person. Text may go in all 8 directions. Length of words in solution: 6,7.
The Engineer had just returned
The Engineer had just returned from a week long seminar. His boss, instead of asking about the details, asked if were sick as he looked absolutely terrible.
"Well..." said the Engineer, "I met this blonde and turned out she was an engineer-in-training and wanted me to tutor her. One thing lead to another and we ended up back in her room having wild gorilla sex all night."
"OK," replied the boss, "that may explain your fatigue, but why are your eyes so red?"
"Well..." said the Engineer, "turns out she was married and had a baby at home. She started crying, and I started thinking about my own wife and kids, so I cried too."
"I see," chided the boss, "but that seminar ended Friday. How come you still appear so ragged?"
"Well..." said the Engineer, "you can't sit there and cry 4-5 times a day for four days and not look like this."

A dozen thoughts...
A dozen thoughts
1. Part of a best friend's job should be to immediately clear your computer's history when you die.
2. Nothing sucks more than that moment during an argument when you realize you're wrong.
3. I totally take back all those times when I was younger that I didn't want to nap.
4. Why isn't there a sarcasm font? I really need one!
5. Why doesn't Map Quest start their directions on #5? I'm pretty sure I know how to get out of my own neighborhood ...
6. Obituaries would be a lot more interesting if they told you how the person died.
7. Bad decisions make good stories.
8. You never know when it will strike, but there comes a moment at work when you know that you just aren't going to do anything productive for the rest of the day.
9. Can we all just agree to ignore whatever comes after Blu- Ray? I don't want to have to restart my collection ... again.
10. I hate it when I miss a call by the last ring (Hello? Hello? D@mmit!), but when I immediately call back, it rings nine times and then goes to voicemail. What'd you do after I didn't answer? Drop the phone and run away?
11. I hate leaving my house confident and looking good and then don't seeing anyone I'd like to impress the entire day. What a waste!
12. I disagree with Kay Jewelers. I would bet on any given Friday or Saturday night, more kisses begin with a Budweiser than Kay.
On Fridays
After 35 years of marriage, a husband and wife came for counseling. When asked what the problem was, the wife went into a tirade listing every problem they had ever had in the years they had been married.
On and on and on: neglect, lack of intimacy, emptiness, loneliness, feeling unloved and unlovable, an entire laundry list of unmet needs she had endured.
Finally, after allowing this for a sufficient length of time, the therapist got up, walked around the desk and after asking the wife to stand, he embraced and kissed her long and passionately as her husband watched - with a raised eyebrow. The woman shut up and quietly sat down as though in a daze.
The therapist turned to the husband and said, 'This is what your wife needs at least 3 times a week. Can you do this?'
'Well, I can drop her off here on Mondays and Wednesdays, but on Fridays, I golf.'
This morning I went to sign my
This morning I went to sign my Dog up for welfare. At first the lady said, "Dogs are not eligible to draw welfare". So I explained to her that my Dog is a mix in color, unemployed, lazy, can't speak English and has no frigging clue who his Daddy is. He expects me to feed him, provide him with housing and medical care, and feel guilty because he is a dog.
So she looked in her policy book to see what it takes to qualify. My Dog gets his first check Friday.
This is a great country!

A Blonde goes over to her fri
A Blonde goes over to her friend's houseWearing a T.G.I.F. T-shirt.
'Why are you wearing a Thank GodIt's Friday tee-shirt on Monday?'
'Oh crap!' the blonde says. 'I didn'tRealize it was a religious T-shirt. I thought it meant Tits Go In Front'