Friday jokes - jokes about friday (1 to 10)
| | |
| --- | --- |
| | Jokes about friday. These are the jokes listed 1 to 10. |
Mexican Genie
A Mexican is strolling down the street in Mexico City and kicks a bottle lying in the street. Suddenly out of the bottle comes a Genie.
The Mexican is stunned.
The Genie says,"Hello Master,I will grant you one wish, anything you want."
The Mexican begins thinking, "Well, I really like drinking tequila." Finally the Mexican says, "I wish to drink tequila whenever I want, so make me pee tequila."
The Genie grants him his wish.
When the Mexican gets home, he gets a glass out of the cupboard and pees in it. He looks at the glass and it's clear...looks like tequila. Then smells the liquid...smells like tequila. So he takes a taste, and it is the best tequila he has ever tasted.
The Mexican yells to his wife, "Consuelo, Consuelo, come quickly!"
She comes running down the hall, and the Mexican takes another glass out of the cupboard and fills it. He tells her to drink it. It is tequila.
Consuelo is reluctant but goes ahead and takes a sip. It is the best tequila she has ever tasted. The two drank and partied all night.
The next night the Mexican comes home from work and tells his wife to get two glasses out of the cupboard. He proceeds to fill the two glasses. The result is the same. The tequila is excellent, and the couple drinks until the sun comes up.
Finally, Friday night comes and the Mexican comes home from work and tells his wife, "Consuelo, grab one glass from the cupboard and we will drink Tequila." His wife gets the glass from the cupboard and sets it on the table.
The Mexican begins to fill the glass; and when he fills it, his wife asks him, "But Pancho, why do we need only one glass?"
Pancho raises the glass and says, "BECAUSE TONIGHT, MI AMOR, YOU DRINK FROM THE BOTTLE."
ARRIBA!!!!!!! ARRIBA!!!!!!!!
The Engineer had just returned
The Engineer had just returned from a week long seminar. His boss, instead of asking about the details, asked if were sick as he looked absolutely terrible.
"Well..." said the Engineer, "I met this blonde and turned out she was an engineer-in-training and wanted me to tutor her. One thing lead to another and we ended up back in her room having wild gorilla sex all night."
"OK," replied the boss, "that may explain your fatigue, but why are your eyes so red?"
"Well..." said the Engineer, "turns out she was married and had a baby at home. She started crying, and I started thinking about my own wife and kids, so I cried too."
"I see," chided the boss, "but that seminar ended Friday. How come you still appear so ragged?"
"Well..." said the Engineer, "you can't sit there and cry 4-5 times a day for four days and not look like this."

A dozen thoughts...
A dozen thoughts
1. Part of a best friend's job should be to immediately clear your computer's history when you die.
2. Nothing sucks more than that moment during an argument when you realize you're wrong.
3. I totally take back all those times when I was younger that I didn't want to nap.
4. Why isn't there a sarcasm font? I really need one!
5. Why doesn't Map Quest start their directions on #5? I'm pretty sure I know how to get out of my own neighborhood ...
6. Obituaries would be a lot more interesting if they told you how the person died.
7. Bad decisions make good stories.
8. You never know when it will strike, but there comes a moment at work when you know that you just aren't going to do anything productive for the rest of the day.
9. Can we all just agree to ignore whatever comes after Blu- Ray? I don't want to have to restart my collection ... again.
10. I hate it when I miss a call by the last ring (Hello? Hello? D@mmit!), but when I immediately call back, it rings nine times and then goes to voicemail. What'd you do after I didn't answer? Drop the phone and run away?
11. I hate leaving my house confident and looking good and then don't seeing anyone I'd like to impress the entire day. What a waste!
12. I disagree with Kay Jewelers. I would bet on any given Friday or Saturday night, more kisses begin with a Budweiser than Kay.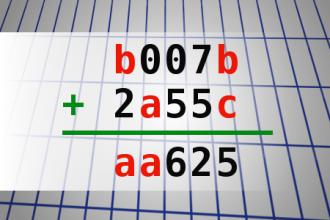 Find number abc
If b007b + 2a55c = aa625 find number abc. Multiple solutions may exist.
On Fridays
After 35 years of marriage, a husband and wife came for counseling. When asked what the problem was, the wife went into a tirade listing every problem they had ever had in the years they had been married.
On and on and on: neglect, lack of intimacy, emptiness, loneliness, feeling unloved and unlovable, an entire laundry list of unmet needs she had endured.
Finally, after allowing this for a sufficient length of time, the therapist got up, walked around the desk and after asking the wife to stand, he embraced and kissed her long and passionately as her husband watched - with a raised eyebrow. The woman shut up and quietly sat down as though in a daze.
The therapist turned to the husband and said, 'This is what your wife needs at least 3 times a week. Can you do this?'
'Well, I can drop her off here on Mondays and Wednesdays, but on Fridays, I golf.'
This morning I went to sign my
This morning I went to sign my Dog up for welfare. At first the lady said, "Dogs are not eligible to draw welfare". So I explained to her that my Dog is a mix in color, unemployed, lazy, can't speak English and has no frigging clue who his Daddy is. He expects me to feed him, provide him with housing and medical care, and feel guilty because he is a dog.
So she looked in her policy book to see what it takes to qualify. My Dog gets his first check Friday.
This is a great country!

A Blonde goes over to her fri
A Blonde goes over to her friend's houseWearing a T.G.I.F. T-shirt.
'Why are you wearing a Thank GodIt's Friday tee-shirt on Monday?'
'Oh crap!' the blonde says. 'I didn'tRealize it was a religious T-shirt. I thought it meant Tits Go In Front'

Kidnapped
Most Friday nights at the naval station in Bermuda, we would assemble at the officer's club after work. Z
One Friday, Rick, a newly married ensign, insisted he had to leave at 6 p.m.
We all tried to talk him into staying, but he'd promised his bride he'd be home by six. I offered to call home for Rick.
When his wife answered the phone, I said, 'Rick has been kidnapped.
Put five dollars in small, unmarked bills in a plain brown paper bag and throw it in the door of the officer's club.' Then I hung up.
A short time later, a waiter brought a grocery bag to our table.
In it were Rick's baseball glove, a tennis racket, and a teddy bear.
Attached to the bear was a note: 'Rick can play kidnapped until 7 p.m. Then he must come home.'
Some 'Senior' personal ads s
Some 'Senior' personal ads seen in "The Villages" Florida newspapers:
(Who says seniors don't have a sense of humor?)
FOXY LADY:
Sexy, fashion-conscious blue-haired beauty,80's, slim, 5'4' (used to be 5'6'),searching for sharp-looking, sharp-dressing companion.Matching white shoes andbelt a plus.
LONG-TERM COMMITMENT:
Recent widow who has just buried fourth husband,and am looking for someone to round out a six-unit plot.Dizziness, fainting, shortness of breath not a problem.
SERENITY NOW:
I am into solitude, long walks, sunrises, the ocean, yoga and meditation.If you are the silent type, let's get together,take our hearing aids out and enjoy quiet times.
WINNING SMILE:
Active grandmother with original teeth seeking a dedicated flosserto share rare steaks, corn on the cob and caramel candy.
BEATLES OR STONES?
I still like to rock,still like to cruise in my Camaro on Saturday nights and still like to play the guitar.If you were a groovy chick, or are now a groovy hen,let's get together and listen to my eight-track tapes.
MEMORIES:
I can usually remember Monday through Thursday.If you can remember Friday, Saturday and Sunday, let's put our two heads together.
MINT CONDITION:
Male, 1932, high mileage, good condition, some hair,many new parts including hip, knee, cornea, valves.Isn't in running condition, but walks well.