Monday jokes - jokes about monday (1 to 10)
| | |
| --- | --- |
| | Jokes about monday. These are the jokes listed 1 to 10. |
A seventy-six-year-old man mar
A seventy-six-year-old man married a woman less than half his age and took her off on honeymoon to the Caribbean. When he returned home, his sister asked him how it had gone.
"Oh, it was wonderful," he said, "We made love almost every night."
"That's quite a feat at your age," said the sister.
"Yes," he continued. "Almost Monday, almost Tuesday, almost Wednesday..."

This is an actual job applicat
This is an actual job application that a 17 year old boy submitted to McDonald's in Florida... and they hired him because he was so honest and funny!
NAME: Greg Bulmash.
SEX: Not yet. Still waiting for the right person.
DESIRED POSITION: Company's President or Vice President. But seriously, whatever's available. If I was in a position to be picky, I wouldn't be applying here in the first place.
DESIRED SALARY: $185,000 a year plus stock options and a Michael Ovitz style severance package. If that's not possible, make an offer and we can haggle.
EDUCATION: Yes.
LAST POSITION HELD: Target for middle management hostility.
SALARY: Less than I'm worth.
MOST NOTABLE ACHIEVEMENT: My incredible collection of stolen pens and post-it notes.
REASON FOR LEAVING: It sucked.
HOURS AVAILABLE TO WORK: Any. PREFERRED HOURS: 1:30-3:30 p.m., Monday, Tuesday, and Thursday.
DO YOU HAVE ANY SPECIAL SKILLS?: Yes, but they're better suited to a more intimate environment.
MAY WE CONTACT YOUR CURRENT EMPLOYER?: If I had one, would I be here?
DO YOU HAVE ANY PHYSICAL CONDITIONS THAT WOULD PROHIBIT YOU FROM LIFTING UP TO 50 LBS?: Of what?
DO YOU HAVE A CAR?: I think the more appropriate question here would be "Do you have a car that runs?"
HAVE YOU RECEIVED ANY SPECIAL AWARDS OR RECOGNITION?: I may already be a winner of the Publishers Clearing house Sweepstakes.
DO YOU SMOKE?: On the job no, on my breaks yes.
WHAT WOULD YOU LIKE TO BE DOING IN FIVE YEARS?: Living in the Bahamas with a fabulously wealthy dumb sexy blonde super model who thinks I'm the greatest thing since sliced bread. Actually, I'd like to be doing that now.
DO YOU CERTIFY THAT THE ABOVE IS TRUE AND COMPLETE TO THE BEST OF YOUR KNOWLEDGE?: Yes. Absolutely.
SIGN HERE: Aries.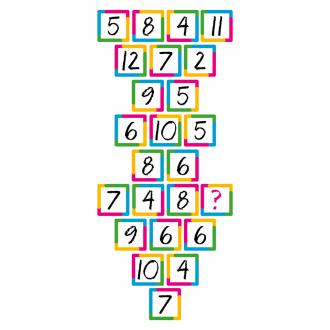 Replace the question mark with a number
MATH PUZZLE: Can you replace the question mark with a number?
One Monday evening Jessica fou
One Monday evening Jessica found her husband Mike with his head cocked looking at their baby's cot. Silently she watched him. As Mike twisted and turned looking at at their infant, Jessica could see on Mike's face a mixture of emotions: disbelief, doubt, joy, surprise, enchantment and skepticism.
Mike did not usually show his emotions and his unusual display brought tears to her eyes. Jessica put her her arm around her husband and asked, "A penny for your thoughts."
"It's amazing!" Mike replied, "I just can't work out how Kiddicare are able to make a cot like that for only $49.99."

One fine day, a bus driver wen...
One fine day, a bus driver went to the bus garage, started his bus, and drove off along the route. No problems for the first few stops, a few people got on, a few got off, and things went generally well.
At the next stop, however, a big hulk of a guy got on. Six foot eight, built like a wrestler, arms hanging down to the ground. He glared at the driver and said, "Big John doesn't pay!" and sat down at the back. Did I mention that the driver was five feet three, thin, and basically meek? Well, he was. Naturally, he didn't argue with Big John, but he wasn't happy about it.
The next day the same thing happened - Big John got on again, made a show of refusing to pay, and sat down. And the next day, and the one after that, and so forth. This grated on the bus driver, who started losing sleep over the way Big John was taking advantage of him. Finally he could stand it no longer. He signed up for body building courses, karate, judo, and all that good stuff. By the end of the summer, he had become quite strong; what's more, he felt really good about himself.
So on the next Monday, when Big John once again got on the bus and said, "Big John doesn't pay!", the driver stood up, glared back at the passenger, and screamed, "And why not?"
With a surprised look on his face, Big John replied, "Big John has a bus pass."

Billy-Bob walks into a bar and...
Billy-Bob walks into a bar and says, "Bartender, one round for everyone, on me!"
The bartender says, "Well, seems you're in a really good mood tonight, hm?"
Billy-Bob says, "Oh, you can bet on it! I just got hired by the city to go around and remove all the money from parking meters. I start on Monday!" The bartender congratulates him and proceeds to pour the round.
Monday evening arrives. Billy-Bob comes back into the bar and says, "Bartender, two rounds for everyone, on me!"
The bartender says, "Well now! If you're so happy just over having this new job, I can just imagine how happy you'll be when you get your paycheck!"
Billy-Bob looks at the bartender with a wondrous look on his face, pulls out a handful of quarters from his pocket, and says, "You mean they'll PAY me too?"
On Fridays
After 35 years of marriage, a husband and wife came for counseling. When asked what the problem was, the wife went into a tirade listing every problem they had ever had in the years they had been married.
On and on and on: neglect, lack of intimacy, emptiness, loneliness, feeling unloved and unlovable, an entire laundry list of unmet needs she had endured.
Finally, after allowing this for a sufficient length of time, the therapist got up, walked around the desk and after asking the wife to stand, he embraced and kissed her long and passionately as her husband watched - with a raised eyebrow. The woman shut up and quietly sat down as though in a daze.
The therapist turned to the husband and said, 'This is what your wife needs at least 3 times a week. Can you do this?'
'Well, I can drop her off here on Mondays and Wednesdays, but on Fridays, I golf.'
Watch Real Baseball

Top Ten Signs you're Not Watching a Real Baseball Team
From Late Show with David Letterman; Monday, February 20, 1995
You recognize batter as the kid who sold you a hot dog a couple minutes earlier.
Everytime a player slides into second, he busts his hip.
They keep shouting "Do over!"
When umpire yells, "Strike 3!" batter looks at him as if the dude's speaking French.
Try as they might, they just can't scratch themselves like professionals.
First base: Siskel. Second base: Ebert.
Game stops when some lady in a house near the stadium shouts "Dinner time!"
Players constantly adjusting each other's cups.
You overheard the coach yelling, "Run, Forrest, run!"
They play like the Mets


Signs No One Reads Your E-M
Signs No One Reads Your E-Mails
1. You get replies with "REMOVE" in the subject header.
2. You accidentally encrypt them and nobody says anything....for months.
3. You reference documents that need review/input, but forget to attach them and everyone emailed back saying the docs looked good.
4. When you send out the message, "Doughnuts in my cubicle!" and they're still there by the end of the day.
5. You send out an invitation to a lunch provided by a vendor, and no one shows.
6. You send repeated e-mails to everyone that the system would be down over the weekend for maintenance. Monday morning, your voice mailbox is full of questions about what happened to the system.
7. You offer increasingly larger amounts of money to whoever responds to your email...still no takers.
8. You request a day off to attend a funeral and your boss replies with, "Fine - have a great time."
9. You announce that the entire department has given two weeks notice and no one responds.