Doctor jokes - jokes about doctors (1 to 10)
| | |
| --- | --- |
| | Jokes about doctor. These are funny jokes with doctors! These are the jokes listed 1 to 10. |
Doctors - What They Say / W
Doctors - What They Say / What They Mean
"This should be taken care of right away."
Meaning: I'd planned a trip to Hawaii next month, but this is so easy and profitable that I want to fix it before it cures itself.
"Well, what do we have here...?"
Meaning: He has no idea and is hoping you'll give him a clue.
"Let me check your medical history."
Meaning: I want to see if you've paid your last bill before spending anymore time with you.
"Why don't we make another appointment later in the week."
Meaning: I'm playing golf this afternoon, and this is a waste of time.
- or -
I need the bucks, so I'm charging you for another office visit.
"We have some good news and some bad news."
Meaning: The good news is, I'm going to buy that new BMW. The bad news is, you're going to pay for it.
"Let's see how it develops."
Meaning: Maybe in a few days it will grow into something that can be cured.
"Let me schedule you for some tests."
Meaning: I have a forty percent interest in the lab.
"I'd like to have my associate look at you."
Meaning: He's going through a messy divorce and owes me a bundle.
"I'd like to prescribe a new drug."
Meaning: I'm writing a paper and would like to use you for a guinea pig.
"If it doesn't clear up in a week, give me a call."
Meaning: I don't know what it is. Maybe it will go away by itself.
"That's quite a nasty looking wound."
Meaning: I think I'm going to throw up.
"This may smart a little."
Meaning: Last week two patients bit off their tongues.
"Well, we're not feeling so well today, are we...?"
Meaning: I'm stalling for time. Who are you and why are you here?
"This should fix you up."
Meaning: The drug company slipped me some big bucks to prescribe this stuff.
"Everything seems to be normal."
Meaning: Rats! I guess I can't buy that new beach condo after all.
"I'd like to run some more tests."
Meaning: I can't figure out what's wrong. Maybe the kid in the lab can solve this one.
"There is a lot of that going around."
Meaning: That's the third one this week. I'd better learn something about this.
"If the symptoms persist, call for an appointment."
Meaning: I've never heard of anything so disgusting. Glad I'm off next week.

Fly Doctor, Doctor Fly
In the world of flies, a young fly needed a heart transplant. After being taken to surgery, the fly anesthesiologist put the young fly to sleep.
The fly doctor assistant cut open the young fly's chest. He then announced to the fly heart doctor, "Your fly is open."
The heart doctor blushed.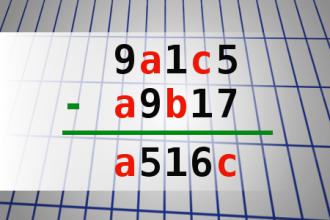 Find number abc
If 9a1c5 - a9b17 = a516c find number abc. Multiple solutions may exist.
A young married couple has dif
A young married couple has difficulties conceiving a baby, so after a while the wife consults her doctor, who recommends the minor of three possible operations.
The operation is performed, but a month later, she's still not pregnant, so she goes to see the doctor again. This time he recommends the medium operation, a somewhat more serious operation, but still not as complicated as the third alternative.
But, there's still no result, and another month later she's back in the doctors office, and this time she gets the big one.
After having recovered in some weeks, the couple resumes normal marital activities, and this time they actually succeed in conceiving a baby.
Filled with joy, the young wife now sees the doctor for the regular examination during pregnancy and says, "We're so happy doctor, we're finally having a baby. But what was this third operation actually all about? The first two weren't that bad, but this last one I think must have been quite a job, I was dizzy for weeks after."
"Well," the doctor replies, "since the first two standard operations failed, we started suspecting your method rather than your ability, so I made a connection from your throat to your uterus."

In Flight Emergency?
On a recent flight from New York to Seattle an elderly lady stands up and shouts, "Is there a doctor here?"

A nice, serious guy approaches her quickly and tells her, "I am. What is the problem?"
She replies, "Do you want to meet my daughter?"
The results of your bold test
Doctor: "The results of your bold test have come in."
"You mean blood test?"
"Hm, must be a Type-O."
Author FinalCaveat user