Doctor jokes - jokes about doctors (11 to 20)
| | |
| --- | --- |
| | Jokes about doctor. These are funny jokes with doctors! These are the jokes listed 11 to 20. |
Doctor Doctor Collection 06

Doctor, Doctor I keep painting myself gold
Don't worry it's just a gilt complex!
Doctor, Doctor I've broke my arm in two places
Well don't go back there again then!
Doctor, Doctor I think I'm a dog.
How long have you felt like this?
Ever since I was a puppy!
Doctor, Doctor I feel like a pack of cards.
I'll deal with you later!
Doctor, Doctor I think I'm turning into a frog
Your just playing too much croquet!
Doctor, Doctor I think I'm a yo-yo.
Are you stringing me along!
Doctor, Doctor I dream there are monsters under my bed, what can I do?
Saw the legs off of your bed!


Top 10 Reasons God Created Eve
10. God worried that Adam would always be lost in the garden because men hate to ask for directions. 9. God knew that Adam would one day need someone to hand him the TV remote.8. God knew that Adam would never buy a new fig leaf when his seat wore out and would therefore need Eve to get one for him. 7. God knew that Adam would never make a doctor's appointment for himself. 6. God knew that Adam would never remember which night was garbage night.5. God knew that if the world was to be populated, men would never be able to handle childbearing. 4. As "Keeper of the Garden," Adam would never remember where he put his tools. 3. The scripture account of creation indicates Adam needed someone to blame his troubles on when God caught him hiding in the garden. 2. As the Bible says, "It is not good for man to be alone!" 1. When God finished the creation of Adam, He stepped back, scratched His head and said, "I can do better than that."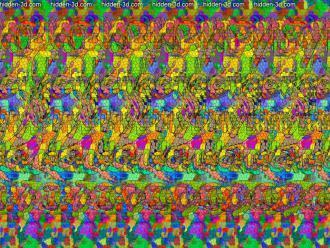 What hides this stereogram?
Stereogram - 3D Image
A man walked into a therapist\
A man walked into a therapist's office looking very depressed.
"Doc, you've got to help me. I can't go on like this."
"What's the problem?" the docotor inquired.
"Well, I'm 35 years old and I still have no luck with the ladies. No matter how hard I try, I just seem to scare them away."
"My friend, this is not a serious problem. You just need to work on your self-esteem. Each morning, I want you to get up and run to the bathroom mirror. Tell yourself that you are a good person, a fun person, and an attractive person. But say it with real conviction. Within a week you'll have women buzzing all around you."
The man seemed content with this advice and walked out of the office a bit excited. Three weeks later he returned with the same downtrodden expression on his face.
"Did my advice not work?" asked the doctor.
"It worked alright. For the past several weeks I've enjoyed some of the best moments in my life with the most fabulous looking women."
"So, what's your problem?"
"I don't have a problem," the man replied. "My wife does."

A couple are sitting around on
A couple are sitting around one evening and the man says to his wife, "Marsha, we are about to celebrate our 40th wedding anniversary. We've had a wonderful life together, full of contentment and blessings. But there's something I've always wondered about. Tell me the truth. Have you ever been unfaithful to me?"
She hesitated a moment, then said, "Yes, Sidney, three times."
"Three times? How could that happen?" Sidney asks.
Marsha replied, "Well, do you remember right after we were married and we were so broke that the bank was about to foreclose on our little house?"
"Yes, dear, those were really difficult times," replied Sidney.
"And remember when I went to see the banker one night, and the next day the bank extended our loan?"
"Gosh, that's really hard to take," said Sidney. "But since things were so bad at the time, I guess I can forgive you. What was the second time? "
"Well," Marsha continued, "do you remember years later when you almost died of that heart problem because we couldn't afford an operation?"
"Yes, of course," said Sidney.
"Then you will remember that right after I went to see the doctor, he performed the operation at no cost?"
"Yes, I remember," said Sidney, "and as much as that shocks me!, I do understand that you did what you did out of love for me, so I forgive you. So, what was the third time?"
Marsha lowered her head and said, "Do you remember when you ran for president of your golf club and you needed 8 more votes?"

Went to the doctor for my year
Went to the doctor for my yearly physical.
The nurse starts with certain basics.
How much do you weigh?' she asks. '135,' I say.
The nurse puts me on the scale. It turns out my weight is 180.
The nurse asks, 'Your height?'
'5 feet 4",' I say.
The nurse checks and sees that I only measure 5'2".
She then takes my blood pressure and tells me it is very high.
'Of course it's high!' I scream, 'When I came in here I was tall and slender! Now I'm short and fat!'
She put me on Prozac. What a bitch.