A Meticulous Plan Goes Completely Wrong
A doctor at an insane asylum decided to take his patients to a baseball game.
For weeks in advance, he coached his patients to respond to his commands.
When the day of the game arrived, everything went quite well. As the national anthem started, the doctor yelled, "Up Nuts", and the patients complied by standing up. After the anthem, he yelled, "Down Nuts", and they all sat back down in their seats.
After a home run was hit, the doctor yelled, "Cheer Nuts" They all broke out into applause and cheered. When the umpire made a particularly bad call against the star of the home team, the Doctor yelled, "Booooo Nuts" and they all started booing and cat calling.
Comfortable with their response, the doctor decided to go get a beer and a hot dog, leaving his assistant in charge. When he returned, there was a riot in progress.
Finding his missing assistant, the doctor asked:" What in the world happened?"
The assistant replied: "Well everything was going just fine until this guy walked by and yelled, "PEANUTS!"
Morris and his wife Esther wen
Morris and his wife Esther went to the state fair every year, andevery year Morris would say, "Esther, I'd like to ride in thathelicopter".
Esther always replied, "I know Morris, but thathelicopter ride is 50 dollars and 50 dollars is 50 dollars".
One year Esther and Morris went to the fair, and Morris said, "Esther, I'm 85years old. If I don't ride that helicopter, I might never get anotherchance."
Esther replied, "Morris that helicopter is 50 dollars and 50dollars is 50 dollars".
The pilot overheard the couple and said, "Folks I'll make you a deal.I'll take the both of you for a ride. If you can stay quiet for theentire ride and not say a word I won't charge you! But if you say oneword, it's 50 dollars."
Morris and Esther agreed and up they went. The pilot did all kinds offancy maneuvers, but not a word was heard. He did his daredevil tricksover and over again, but still not a word. When they landed, the pilot
turned to Morris and said, "By golly, I did everything I could to getyou to yell out, but you didn't. I'm impressed!"
Morris replied, "Well, to tell you the truth, I almost said somethingwhen Esther fell out, but you know -- 50 dollars is 50 dollars".
#joke
Doesn't Even Need Glasses
John: "My grandpa is 98 years old, and he doesn't even use glasses."
Jack: "Wow, that is incredible!"
John: "Yep, he drinks straight from the bottle."
Long Speech
A man giving a long-winded speech finally says, "I'm sorry I talked so long. I left my watch at home."
A voice from the crowd says, "There's a calendar behind you."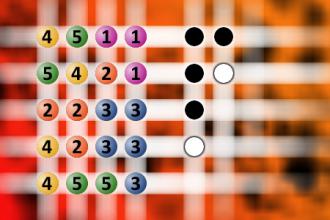 What a winning combination?
The computer chose a secret code (sequence of 4 digits from 1 to 6). Your goal is to find that code. Black circles indicate the number of hits on the right spot. White circles indicate the number of hits on the wrong spot.
In a supermarket Ivan lost sig
In a supermarket Ivan lost sight of his wife. He comes up to a nice young lady and asks, "Will you talk with me for a couple of minutes, please?"
"Why should I?"
"It's always the same -- as soon as I get into talking with a pretty woman my wife abruptly pops up from out of nowhere."
#joke
A lady walks into the drug sto...
A lady walks into the drug store and asks the druggist for some arsenic.
The druggist asks, "Ma'am, what do you want with arsenic?"
The lady says, "To kill my husband."
"I can't sell you any for that reason," says the druggist.
The lady then reaches into her purse and pulls out a photo of a man and a woman in a compromising position, the man is her husband and the lady is the druggist's wife, and shows it to the druggist.
He looks at the photo and says, "Oh I didn't know you had a prescription!"
#joke
Taxi Driver In Heaven
A priest and a taxi driver both died and went to heaven. St. Peter was at the Pearly gates waiting for them.
'Come with me', said St. Peter to the taxi driver.
The taxi driver did as he was told and followed St. Peter to a mansion. It had anything you could imagine from a bowling alley to an olympic size pool.
'Wow, thank you', said the taxi driver.
Next, St. Peter led the priest to a rugged old shack with a bunk bed and a little old television set.
'Wait, I think you are a little mixed up', said the priest. 'Shouldn't I be the one who gets the mansion? After all I was a priest, went to church every day, and preached God's word.'
'Yes, that's true. But during your sermons people slept. When the taxi driver drove, everyone prayed.'
#joke
The doctor said...
The doctor said, 'Joe, the good news is I can cure your headaches. The bad news is that it will require castration.
You have a very rare condition, which causes your testicles to press on your spine and the pressure creates one hell of a headache. The only way to relieve the pressure is to remove the testicles.'
Joe was shocked and depressed. He wondered if he had anything to live for. He had no choice but to go under the knife. When he left the hospital, he was without a headache for the first time in 20 years, but he felt like he was missing an important part of himself. As he walked down the street, he realized that he felt like a different person. He could make a new beginning and live a new life.
He saw a men's clothing store and thought, 'That's what I need... A new suit.'
He entered the shop and told the salesman, 'I'd like a new suit.'
The elderly tailor eyed him briefly and said, 'Let's see... size 44 long.'
Joe laughed, 'That's right, how did you know?'
'Been in the business 60 years!' the tailor said..
Joe tried on the suit it fit perfectly.
As Joe admired himself in the mirror, the salesman asked,'How about a new shirt?'
Joe thought for a moment and then said, 'Sure.'
The salesman eyed Joe and said, 'Let's see, 34 sleeves and 16-1/2 neck.'
Joe was surprised, 'That's right, how did you know?'
'Been in the business 60 years.'
Joe tried on the shirt and it fit perfectly.
Joe walked comfortably around the shop and the salesman asked, 'How about some new underwear?'
Joe thought for a moment and said, 'Sure.'
The salesman said, 'Let's see... size 36.
Joe laughed, 'Ah ha! I got you! I've worn a size 34 since I was 18 years old.'
The salesman shook his head, 'You can't wear a size 34. A size 34 would press your testicles up against the base of your spine and give you one hell of a headache.'
Beware of dog
Upon entering the little country store, the stranger noticed a sign saying "DANGER! BEWARE OF DOG!" posted on the glass door. Inside he noticed a harmless old hound dog asleep on the floor besides the cash register.
He asked the store manager, "Is THAT the dog folks are supposed to beware of?"
"Yep, that's him," he replied.
The stranger couldn't help but be amused. "That certainly doesn't look like a dangerous dog to me. Why in the world would you post that sign?"
"Because," the owner replied, "before I posted that sign, people kept tripping over him."
#joke
Rain Rain Go Away
It's been raining for days now and my husband seems very depressed by it...
He keeps standing by the window, staring. If it continues, I'm going to have to let him in.