House Warming Party
When I moved into my new igloo my friends threw me a surprise house-warming party.
Now I'm homeless.
Brewery accident...
Brenda McCarthy is home making dinner for her husband Patrick when Tim Finnegan knocks at her door.
"May I come in, Brenda darlin'?" says Tim sadly, "I've somethin to tell ya."
"Of course, Tim, come in, but where's Patrick?" she asks.
"That's what I'm here to be tellin ya, Brenda," says Tim. "There was an accident down at the Brewery."
"Oh, God NO!" cries Brenda. "Please don't tell me....."
"I'm so sorry, darlin'" says Tim, his voice breaking, "Your dear husband Patrick is dead."
Brenda buries her face in her hands and asks tearfully "How did it happen, Tim?"
"It was a terrible thing to see, Brenda. He fell into a vat of Guinness Stout and drowned."
"Oh my dear Jesus! But tell me true, Tim, did he at least die quickly?"
Tim hesitated. "Well, no, darlin, not really, no."
"NO?"
"No, in fact he got out three times to pee."
#joke
Dalmatian's Duties
A nursery school teacher was delivering a station wagon full of kids home one day when a fire truck zoomed past. Sitting in the front seat of the fire truck was a Dalmatian dog. The children began discussing the dog's duties.
"They use him to keep crowds back," said one youngster.
"No," said another. "He's just for good luck."
A third child brought the argument to a close with this comment: "They use the dogs," she said firmly, "to find the fire hydrants."
#joke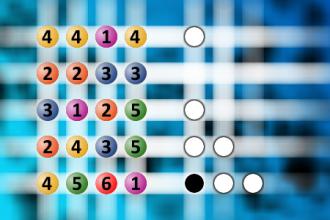 Which is a winning combination of digits?
The computer chose a secret code (sequence of 4 digits from 1 to 6). Your goal is to find that code. Black circles indicate the number of hits on the right spot. White circles indicate the number of hits on the wrong spot.
1. I can't reach my license u...
1. I can't reach my license unless you hold my beer. (OK in Texas)
2. Sorry, Officer, I didn't realize my radar detector wasn't plugged in.
3. Aren't you the guy from the Village People?
4. Hey, you must've been doin' about 125 mph to keep up with me. Good job!
5. Are You Andy or Barney?
6. I thought you had to be in relatively good physical condition to be a police officer.
7. You're not gonna check the trunk, are you?
8. I pay your salary!
9. Gee, Officer! That's terrific. The last officer only gave me a warning, too!
10. Do you know why you pulled me over? Okay, just so one of us does.
11. I was trying to keep up with traffic. Yes, I know there are no other cars around. That's how far ahead of me they are.
12. When the Officer says "Gee Son....Your eyes look red, have you been drinking?" You probably shouldn't respond with, "Gee Officer your eyes look glazed, have you been eating doughnuts?"
Little Johnny watched, fascina
Little Johnny watched, fascinated, as his mother smoothed cold cream on her face. "Why do you do that, mommy?" he asked.
"To make myself beautiful," said his mother, who then began removing the cream with a tissue.
"What's the matter?" asked Little Johnny. "Giving up?"
#joke
A big city lawyer went duck hu...
A big city lawyer went duck hunting in rural North Wairarapa. He shot and dropped a bird, but it fell into a farmer's field on the other side of a fence. As the lawyer climbed over the fence, an elderly farmer drove up on his tractor and asked him what he was doing.The litigator responded, "I shot a duck and it fell in this field, and now I'm going to retrieve it."
The old farmer replied, "This is my property, and you are not coming over here."
The indignant lawyer said, "I am one of the best trial attorneys in New Zealand and, if you don't let me get that duck, I'll sue you and take everything you own."
The old farmer smiled and said, "Apparently, you don't know how we settle disputes in North Wairarapa. We settle small disagreements like this with the 'Three Kick Rule.'"
The lawyer asked, "What is the 'Three Kick Rule'?"
The Farmer replied, "Well, because the dispute occurs on my land, I get to go first. I kick you three times and then you kick me three times and so on back and forth until someone gives up." The attorney quickly thought about the proposed contest and decided that he could easily take the old codger. He agreed to abide by the local custom.
The old farmer slowly climbed down from the tractor and walked up to the attorney.
His first kick planted the toe of his heavy steel toed work boot into the lawyer's groin and dropped him to his knees!
His second kick to the midriff sent the lawyer's last meal gushing from his mouth.
The lawyer was on all fours when the farmer's third kick to his rear end, sent him face-first into a fresh cow pie.
The lawyer summoned every bit of his will and remaining strength and very slowly managed to get to his feet. Wiping his face with the arm of his jacket, he said, "Okay, you old fart. Now it's my turn."
The old farmer smiled and said, "Nah, I give up. You can have the duck."
Slept with
An old couple were talking. The wife asked her husband, "How many women have you slept with?"
"Only you, Darling," the man replied proudly. "With all the others I was awake."
The Reverend and the golf game
The Reverend Francis Norton woke up Sunday morning and realizing it was an exceptionally beautiful and sunny early spring day, decided he just had to play golf.
So... he told the Associate Pastor that he was feeling sick and convinced him to say Mass for him that day. As soon as the Associate Pastor left the room, Father Norton headed out of town to a golf course about forty miles away. This way he knew he wouldn't accidentally meet anyone he knew from his parish.
Setting up on the first tee, he was alone. After all, it was Sunday morning and everyone else was in church!
At about this time, Saint Peter leaned over to the Lord while looking down from the heavens and exclaimed, "You're not going to let him get away with this, are you?"
The Lord sighed, and said, "No, I guess not." Just then Father Norton hit the ball and it shot straight towards the pin, dropping just short of it, rolled up and fell into the hole. It WAS A 420 YARD HOLE IN ONE! St. Peter was astonished. He looked at the Lord and asked, "Why did you let him do that?"
The Lord smiled and replied, "Who's he going to tell?"
#joke
The juggler
A juggler, driving to his next performance, is stopped by the police. "What are these matches and lighter fluid doing in your car?" asks the cop.
"I'm a juggler and I juggle flaming torches in my act."
"Oh yeah?" says the doubtful cop. "Lets see you do it." The juggler gets out and starts juggling the blazing torches masterfully.
A couple driving by slows down to watch. "Wow," says the driver to his wife. "I'm glad I quit drinking. Look at the test they're giving now!"
#joke