Two old friends met for the fi
Two old friends met for the first time in several years. They had a good talk and one asked, "Is your wife still as pretty as ever?"
"She sure is," the other replied. "It just takes her longer."

Restroom Talk
I was barely sitting down when I heard a voice from the other stall saying: 'Hi, how are you?'
I'm not the type to start a conversation in the men's restroom, but I don't know what got into me, so I answered, somewhat embarrassed, 'Doin' just fine.'
And the other guy says: 'So what are you up to?'
What kind of question is that? At that point, I'm thinking this is too bizarre so I say: 'Uhhh, I'm like you, just traveling.'
At this point I am just trying to get out as fast as I can when I hear another question. 'Can I come over?'
Ok, this question is just too weird for me but I figured I could just be polite and end the conversation. I tell him, 'No........I'm a little busy right now!!!'
Then I hear the guy say nervously...

'Listen, I'll have to call you back. There's an idiot in the other stall who keeps answering all my questions.'
#joke
They Call Me the Computer
My boss calls me "the computer"...
Nothing to do with intelligence, I go to sleep if left unattended for 15 minutes.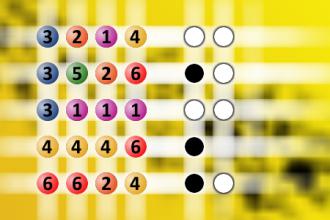 Which is a winning combination of digits?
The computer chose a secret code (sequence of 4 digits from 1 to 6). Your goal is to find that code. Black circles indicate the number of hits on the right spot. White circles indicate the number of hits on the wrong spot.
A large two-engine train was c
A large two-engine train was crossing America. After they had gone some distance one of the engines broke down. "No problem," the driver thought, and carried on at half power. Farther on down the line, the other engine broke down, and the train came to a standstill.
The driver decided he should inform the passengers about why the train had stopped, and made the following announcement: "Ladies and Gentlemen, I have some good news and some bad news. The bad news is that both engines have failed, and we will be stuck here for some time. The good news is that you decided to take the train and not fly."
#joke
Note from Mother
On the first day of school, a first-grader handed his teacher a note from his mother. The note read...
"The opinions expressed by this child are not necessarily those of his parents."
The real reason that we can't
The real reason that we can't have the Ten Commandments posted in a courthouse is this:
You cannot post "Thou Shalt Not Steal," "Thou Shalt Not Commit Adultery," and "Thou Shall Not Lie" in a building full of lawyers, judges and politicians...
It creates a hostile work environment.
Skydiving
The skydiving instructor was going through the question and answer period with his new students when one of them asked the usual question always asked: "If our chute doesn't open; and the reserve doesn't open, how long would we have till we hit the ground?"
The jump master looked at him and in perfect deadpan answered: "The rest of your life."
#joke
Bribe...
Taking his seat in his chambers, the judge faced the opposing lawyers.
"So," he said, "I have been presented, by both of you, with a bribe."
Both lawyers squirmed uncomfortably.
"You, attorney Leon, gave me $15,000. And you, attorney Campos, gave me $10,000."
The judge reached into his pocket and pulled out a check. He handed it to Leon. "Now then, I'm returning $5,000, and we're going to decide this case solely on its merits!"
Old friends...
Mary and Jane are old friends. They have both been married to their husbands for a long time; Mary is upset because she thinks her husband doesn't find her attractive anymore.
"As I get older he doesn't bother to look at me!" Mary cries.
"I'm so sorry for you, as I get older my husband says I get more beautiful every day." replies Jane.
"Yes, but your husband's an antique dealer!"
#joke