Two gay gentlemen are walking ...
Two gay gentlemen are walking through a zoo. They come across the gorillas and after a while they notice that the male gorilla has a massive erection.
The gay men are fascinated by this. One of the men just can't bear it any longer and he reaches into the cage to touch it. The gorilla grabs him, drags him into the cage and mates with him for six hours nonstop. When he's done, the gorilla throws the man back out of the cage.
An ambulance is called and the man is taken away to the hospital. Next day his friend visits him in the hospital and asks, "Are you hurt?"
"AM I HURT?", he shouts, "Wouldn't you be? He hasn't called, he hasn't written...
#joke
New broom...
A woman was waiting in the check-out line at a shopping center. Her basket was filled with a mop and broom and other cleaning supplies. By her actions and deep sighs, it was obvious that she was in a hurry and not happy about the slowness of the line.
When the cashier called for yet another price check on a box of soap, the woman remarked, indignantly, "Well, at this rate, I'll be lucky to get out of here and home before Christmas!"
"Don't worry, Ma'am," replied the clerk. "With all that wind kicking up over there and that brand new broom you have in your basket, you'll be home in no time."
Zen For Those Who Take L...
Zen For Those Who Take Life Too Seriously No 1
1. Save the whales. - Collect the whole set.
2. A day without sunshine is like, night.
3. Othe other hand, you have different fingers.
4. I just got lost in thought. it wasn't familiar territory.
5. 42.7 percent of all statistics are made up on the spot.
6. 99 percent of lawyers give the rest a bad name.
7. I feel like I'm diagonally parked in a parallel universe.
8. Honk if you love peace and quiet.
9. Remember, half the people you know are below average.
10. He who laughs last, thinks slowest.
11. Depression is merely anger without enthusiasm.
12. The early bird may get the worm, but the second mouse gets the cheese.
13. I drive way too fast to worry about cholesterol.
14. Support bacteria. they're the only culture some people have.
15. Monday is an awful way to spend 1/7 of your week.
16. A clear conscience is usually the sign of a bad memory.
17. Change is inevitable, except from vending machines
18. Get a new car for your spouse. it'll be a great trade!
19. Plan to be spontaneous tomorrow.
Continued tomorrow...
Who Took It?
Q: The tooth fairy, a high-priced lawyer, and a low-priced laywer were in a room. There was a $100 dollar bill lying on a nearby table. Then the lights suddenly went out. When the lights came back on, the bill was gone. Who took it?
A: The high-priced laywer took it, because the other two are only figments of your imagination.
Bar Joke
A man was sitting at the bar in a watering hole whose selling point was that it was on top of the largest skyscraper in town. Another man walks in and asks the bartender for a Jack Daniel's. He downs it, and then takes a running leap out the window. Much to everybody's surprise, he floats back up and climbs through the window back into the bar. The man at the bar is amazed and asks the man how he did it.
"Easy," says the man.
"Outside this window are some very strong wind currents which can carry you back to the window."
"Wow," says the man at the bar.
"I gotta try this."
He takes a running leap out the window and falls to a horrible, bloody, and flat death.
"Geez, Superman," says the bartender.
"You can be a real a jerk when you're drunk."
#joke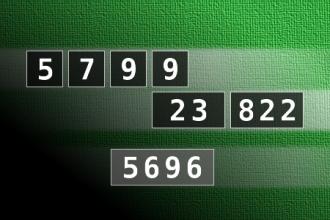 Calculate the number 5696
NUMBERMANIA: Calculate the number 5696 using numbers [5, 7, 9, 9, 23, 822] and basic arithmetic operations (+, -, *, /). Each of the numbers can be used only once.
What did Mrs. Claus say to San...
What did Mrs. Claus say to Santa as they were looking out their front window?
"Looks like rein dear"
Tony White, Loanhead
A manager brings a dog ...
A manager brings a dog into a nightclub to work.
The dog is a brilliant piano player.  He plays all the
standards.  He's sitting there, pounding out the tunes,
when all of a sudden, a big dog comes in and drags him
out.  The nightclub owner asks, "What happened?"
The manager says,
"That's his mother.  She wants him to be a doctor."
The Popemobile
The p... The Popemobile
The pope was coming over to visit Canada and when he was greeted at the airport there was a limo waiting for him. As he was getting in he asked the limo driver if he could drive instead, because being a pope - he never got to do neat things like that.
The driver said sure, after all - you can't say no to the pope.
The pope of course decided to have some fun and drove the limo at about 200 km/h in a 80 km/h zone and a cop spots him and pulls him over.
The cop of course was very surprised when he looked inside the limo, and immediately radioed his supervisor.
Cop: What should I do? I can't ticket this guy!
Supervisor: Why who is it? The Mayor?
Cop: No, much more important!
Supervisor: Not the mayor? Is it the Premiere?
Cop: No, much more important!
Supervisor: Not the mayor? Is it the Premiere?
Cop: No, much more important!
Supervisor: Not the Premiere? The Prime Minister?
Cop: No, much much more important!
Supervisor: Not the Prime Minister? Who the hell can be more important than the Prime Minister?
Cop: I don't know, but he has the Pope as his chauffeur!
#joke
Steve, ...
Steve, Bob, and Jeff were working one day on a very high scaffolding when suddenly, Steve falls off and is killed instantly. After the ambulance leaves with Steve's body, Bob and Jeff realise that one of them is going to have to tell Steve's wife.
Bob says he's good at this sort of sensitive stuff, so he volunteers to do the job. After two hours he returns, carrying a six-pack of beer.
"So did you tell her?" asks Jeff.
"Yep", replied Bob.
"Say, where did you get the six-pack?"
Bob informs Jeff. "She gave it to me!"
"What??" exclaims Jeff, "you just told her her husband died and she gave you
a six-pack??"
"Sure," Bob says.
"Why?" asks Jeff.
"Well," Bob continues, "when she answered the door, I asked her, 'are you
Steve's widow?' 'Widow?', she said, 'no, no, you're mistaken, I'm not a
widow!'
So I said: "I'll bet you a six-pack you ARE!'"
Join us on WhatsApp