Little Peter was taking his ne...
Little Peter was taking his new puppy for a walk when a policeman stopped him.
"Has your dog got a license?" The policeman asked. "Oh, no," answered Peter.
"He's not old enough to drive."
The Italian Secret For a Long Marriage
At Saint Mary's Catholic Church they have a weekly husband's marriage seminar. At the session last week, the Priest asked Giuseppe, who was approaching his 50th wedding anniversary, to take a few minutes and share some insight into how he had managed to stay married to the same woman all these years.
#joke
A Recently Spotted Bumper Sticker:
"Be ye fishers of men -- you catch them and He'll clean them."
The little girl was SO proud o...
The little girl was SO proud of her Christmas presents, her first watch and her first perfume. She really made a pest of herself throughout the morning, going up to all the relatives and sticking that watch in their ear and insisting that they smell her perfume.
The preacher was coming for lunch, but before his arrival, the girl's mother had said, "If you mention that watch or that perfume just once more, I'm going to send you to your room for the rest of the day."
The meal went rather well, and the little girl held her tongue until just when the desert was being served. She wanted to make sure that the preacher, too, knew about her new watch and her perfume: "If you hear anything or smell anything ... it's me!"
Tickets to the theater....
A young couple got married and went away on their honeymoon. After two weeks they came back and finally put away all of the presents they received from friends and family. Since this was a new home, the process took some time.
A week later, they received in the mail two tickets for a popular show where tickets were impossible to get. They were very excited and warmed by the gesture of the person who sent this. Inside the envelope, however, was only a small piece of paper with a single line, "Guess who sent them."
The pair had much fun trying to identify the donor, but failed in the effort. They went to the theatre, and had a wonderful time. On their return home late at night, still trying to guess the identity of the unknown host, they found the house stripped of every article of value.
And on the bare table in the dining room was a piece of paper on which was written in the same hand as the enclosure with the tickets: "Now you know!"
#joke
Idiot one liners
Lets face it, there are a lot of dumb people out there. Sometimes you want to express how stupid they really are and here's how...
An intellect rivaled only by garden tools.
As smart as bait.
Doesn't have all his dogs on one leash.
Doesn't know much, but leads the league in nostril hair.
Elevator doesn't go all the way to the top floor.
Forgot to pay his brain bill.
His belt doesn't go through all the loops.
If he had another brain, it would be lonely.
Missing a few buttons on his remote control.
Proof that evolution CAN go in reverse.
Receiver is off the hook.
Surfing in Nebraska.
An experiment in Artificial Stupidity.
A few beers short of a six-pack.
A few peas short of a casserole.
The cheese slid off his cracker.
Warning: Objects in mirror are dumber than they appear.
Couldn't pour piss out of a boot with instructions on the heel.
He fell out of the stupid tree and hit every branch on the way down.
Not the sharpest knife in the drawer.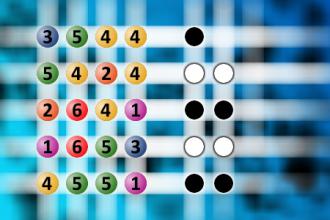 Find the right combination
The computer chose a secret code (sequence of 4 digits from 1 to 6). Your goal is to find that code. Black circles indicate the number of hits on the right spot. White circles indicate the number of hits on the wrong spot.
So you want to marry a millionaire ?
A very rich man met a beautiful lady and he decided he wanted to marry her right away. She said, But we dont know anything about each other. He said,Thats all right, well learn about each other as we go along. So she consented, and they were married, and went on a honeymoon to a very nice resort. So one morning they were lying by the pool, when he got up off of his towel, climbed up to the 10-meter board and did a two and a half tuck gainer, this followed by a three rotations in jackknife position, where he straightened out and cut the water like a knife. After a few more demonstrations, he came back and lay down on the towel.
That was incredible! she said.
I used to be an Olympic diving champion. You see, I told you wed learn more about ourselves as we went along. So she got up, jumped in the pool, and started doing laps. After about thirty laps she climbed back out and lay down on her towel hardly out of breath.
That was incredible! he said. Were you an Olympic endurance swimmer?
No, she said, I was a hooker in Venice and I worked both sides of the canal.
#joke
Seen on the door of a music sh...
Seen on the door of a music shop: "Gone Chopin with my Liszt. Bach at 2pm. Offenbach sooner."

Ideas About Science
The beguiling ideas about science quoted here were gleaned from essays, exams, and classroom discussions. Most were from 5th and 6th graders. They illustrate Mark Twain's contention that the 'most interesting information comes from children, for they tell all they know and then stop.
Q: What is one horsepower?
A: One horsepower is the amount of energy it takes to drag a horse 500 feet in one second.
You can listen to thunder after lightning and tell how close you came to getting hit. If you don't hear it, you got hit, so never mind.
Talc is found on rocks and on babies.
The law of gravity says no fair jumping up without coming back down.
When they broke open molecules, they found they were only stuffed with atoms. But when they broke open atoms, they found them stuffed with explosions.
When people run around and around in circles we say they are crazy. When planets do it we say they are orbiting.
Rainbows are just to look at, not to really understand.
While the earth seems to be knowingly keeping its distance from the sun, it is really only centrificating. [this guy is going to do well in college! *haha* ...Lj]
Someday we may discover how to make magnets that can point in any direction.
South America has cold summers and hot winters, but somehow they still manage.
Most books now say our sun is a star. But it still knows how to change back into a sun in the daytime.
Water freezes at 32 degrees and boils at 212 degrees. There are 180 degrees between freezing and boiling because there are 180 degrees between north and south.
A vibration is a motion that cannot make up its mind which way it wants to go.
There are 26 vitamins in all, but some of the letters are yet to be discovered. Finding them all means living forever.
There is a tremendous weight pushing down on the center of the Earth because of so much population stomping around up there these days.
Lime is a green-tasting rock.
Many dead animals in the past changed to fossils while others preferred to be oil.
Genetics explain why you look like your father and if you don't why you should.
Vacuums are nothings. We only mention them to let them know we know they're there.
Some oxygen molecules help fires burn while others help make water, so sometimes it's brother against brother.
Some people can tell what time it is by looking at the sun. But I have never been able to make out the numbers.
We say the cause of perfume disappearing is evaporation. Evaporation gets blamed for a lot of things people forget to put the top on.
To most people solutions mean finding the answers. But to chemists solutions are things that are still all mixed up.
In looking at a drop of water under a microscope, we find there are twice as many H's as O's.
Clouds are high flying fogs.
I am not sure how clouds get formed. But the clouds know how to do it, and that is the important thing.
Clouds just keep circling the earth around and around. And around. There is not much else to do.
Water vapor gets together in a cloud. When it is big enough to be called a drop, it does.
Humidity is the experience of looking for air and finding water.
We keep track of the humidity in the air so we won't drown when we breathe.
Rain is often known as soft water, oppositely known as hail.
Rain is saved up in cloud banks.
In some rocks you can find the fossil footprints of fishes.
Cyanide is so poisonous that one drop of it on a dogs tongue will kill the strongest man.
A blizzard is when it snows sideways.
A hurricane is a breeze of a bigly size.
A monsoon is a French gentleman.
Thunder is a rich source of loudness.
Isotherms and isobars are even more important than their names sound.
It is so hot in some places that the people there have to live in other places.
The wind is like the air, only pushier.
#joke
Pupil: Please Miss, would you...
Pupil: Please Miss, would you punish someone for something they didn't do?
Teacher: No, Of course not!!
Pupil: Oh good, Because i haven't done my homework!!!
Man's wife asks him to go to t...
Man's wife asks him to go to the store to buy some cigarettes. So he walks down to the store only to find it closed. So he goes into a nearby bar to use the vending machine. At the bar he sees a beautiful woman and starts talking to her. They have a couple of beers and one thing leads to another and they end up in her apartment. After they've had their fun, he realizes its 3AM and says, "Oh no, its so late, my wife's going to kill me. Have you got any talcum powder?" She gives him some talcum powder, which he proceeds to rub on his hands and then he goes home.
His wife is waiting for him in the doorway and she is pretty pissed. "Where the hell have you been?!?!"
"Well, honey, its like this. I went to the store like you asked, but they were closed. So I went to the bar to use the vending machine. I saw this great looking chick there and we had a few drinks and one thing led to another and I ended up in bed with he
"Oh yeah? Let me see your hands!"
She sees his hands are covered with powder and... "You God damn liar!!! You went bowling again!!!"
On the first day of Spring Tra...
On the first day of Spring Training, a baseball scout brings a race horse with him to add to the starting lineup. The coach asks, "What the heck did you bring that horse here for?"
The scout replies, "Wait until you see him bat."
All the players are laughing, until the horse comes to bat. At this point, the horse grabs the bat and everyone quiets down. They stare at the horse.
The pitcher, just shrugs his shoulders, and throws the ball toward home plate, when astonishingly, the horse hits the ball deep into the outfield.
The horse just stands there and does not move. The manager then yells at the baseball scout to tell the horse to run to first base.
The scout looks back at the manager and yells back, "If he could run, he'd be at Belmont!"
#joke
How do you define "subdued"? T...
How do you define "subdued"? That's, like, a guy who, like, works on one of those, like, submarines, man!
A television licence detector ...
A television licence detector calls at a house in Leith and asks to see the licence. But the wee woman is in an awful hurry to catch her bus. As she flies down the stairs she shouts back: "A've got my licence. It's on the mantelpiece under the Wally Dug. Call back when my man's in and he will show you."


When the detector calls back later, her man says: "Aye, we have a licence, but I don't know where it is, and the wife's no in." The inspector says: "It's under the Wally Dug!!"

Back comes the wee man with the licence, saying "Wow, that's some detection machine you guys have got!"

#joke
An executive was attempting to...
An executive was attempting to do some menial office work himself. His assistant found him standing in front of the office shredder holding a piece of paper with a puzzled look on his face.
"Can I help you?" the assistant asked.
"I'm having trouble, I'll have to admit," replied the executive.
"Here let me show you." said the assistant, and he took the piece of paper, placed it in the feed chute and pressed the red 'ON' button. The shredder hummed and sucked in the piece of paper.
"Wow! I'm embarrassed. That's pretty easy," the executive exclaimed. "Oh, and I just need one copy."
#joke
At last; a cause that I can really support!
A minister waited in line to have his car filled with gas just before a long holiday weeend. The attendant worked quickly, but there were many cars ahead of him. Finally, the attendant motioned him toward a vacant pump.
'Reverend,' said the young man, 'I'm so sorry about the delay. It seems as if everyone waits until the last minute to get ready for a long trip.' The minister chuckled, 'I know what you mean. *It's the same in my
business.'
#joke