At an international medical co...
At an international medical conference, and American, a German and a Russian were discussing the shortcomings of their diagnoses.
The American said; "I can't stand it sometimes, "We treat patients for cancer, and they die of AIDS." "I know what you mean," said the German "We treat them for yellow fever; ant it turns out they had malaria." "We don't have that problem in our country," said the Russian doctor. "When we treat patients for a disease, they die of that disease."
The following excerpts are act...
The following excerpts are actual answers given on history tests and in Sunday School quizzes by children between 5th and 6th grade ages in Ohio. They were collected by two teachers over a period of three years. Read carefully for grammar, misplaced modifiers, and, of course, spelling.
Writing at the same time as Shakespeare was Miguel Cervantes. He wrote Donkey Hote. The next great author was John Milton. Milton wrote Paradise Lost. Since then no one ever found it.
Ancient Egypt was old. It was inhabited by gypsies and mummies who all wrote in hydraulics. They lived in the Sarah Dessert. The climate of the Sarah is such that all the inhabitants have to live elsewhere.
Moses led the Hebrew slaves to the Red Sea where they made unleavened bread, which is bread made without any ingredients. Moses went up on Mount Cyanide to get the ten commandos. He died before he ever reached Canada but the commandos made it.
Solomon had three hundred wives and seven hundred porcupines. He was a actual hysterical figure as well as being in the bible. It sounds Like he was sort of busy too.
The Greeks were a highly sculptured people, and without them we wouldn't have history. The Greeks also had myths. A myth is a young female moth.
Socrates was a famous old Greek teacher who went around giving people advice. They killed him. He later died from an overdose of wedlock which is apparently poisonous. After his death, his career suffered a dramatic decline.
In the first Olympic games, Greeks ran races, jumped, hurled biscuits, and threw the java.
Julius Caesar extinguished himself on the battlefields of Gaul. The Ides of March murdered him because they thought he was going to be made king. Dying, he gasped out "Same to you, Brutus."
Queen Elizabeth was the "Virgin Queen." As a queen she was a success. When she exposed herself before her troops they all shouted "hurrah!" and that was the end of the fighting for a long while.
It was an age of great inventions and discoveries. Gutenberg invented removable type and the Bible. Another important invention was the circulation of blood.
Sir Francis Drake circumcised the world with a 100 foot clipper which was very dangerous to all his men.
The greatest writer of the Renaissance was William Shakespeare. He was born in the year 1564, supposedly on his birthday. He never made much money and is famous only because of his plays. He wrote tragedies, comedies, and hysterectomies, all in Islamic pentameter.
Delegates from the original 13 states formed the Contented Congress. Thomas Jefferson, a Virgin, and Benjamin Franklin were two singers of the Declaration of Independence. Franklin discovered electricity by Rubbing two cats backward and also declared, "A horse divided against itself cannot stand." He was a naturalist for sure. Franklin died in 1790 and is still dead.
Abraham Lincoln became America's greatest Precedent. Lincoln's Mother died in infancy, and he was born in a log cabin which he built with his own hands... Abraham Lincoln freed the slaves by signing the Emasculation Proclamation.
On the night of April 14, 1865, Lincoln went to the theater and got shot in his seat by one of the actors in a moving picture show. They believe the assinator was John Wilkes Booth, a supposingly insane actor. This ruined Booth's career.
Johann Bach wrote a great many musical compositions and had a large number of children. In between he practiced on an old spinster which he kept up in his attic. Bach died from 1750 to the present. Bach was the most famous composer in the world and so was Handel. Handel was half German, half Italian, and half English. He was very large.
The nineteenth century was a time of a great many thoughts and inventions. People stopped reproducing by hand and started reproducing by machine. The invention of the steamboat caused a network of rivers to spring up.
Charles Darwin was a naturalist. He wrote the Organ of the Species. It was very long. People got upset about it and had trials to see if it was really true.
Madman Curie discovered radio. She was the first woman to do what she did. Other women have become scientists since her but they didn't get to find radios because they were already taken.
#joke
Quick thinking...
One day, Bubba and Earl were driving down the road, drinking a couple of beers. The passenger, Bubba, said, "Lookey thar up ahead, Earl. It's a po-leece roadblock. We're gonna get busted fer drinkin' these here beers!"
"Don't worry, Bubba," Earl said. "We'll just pull over and finish drinkin' these beers, peel off the labels and stick 'em on our foreheads, then throw the bottles under the seat."
"What fer?" asked Bubba.
"Just let me do the talking, okay?" said Earl. They finished their beers, threw the empty bottles under the seat and slapped the labels on their foreheads.
When they reached the roadblock, the sheriff asked, "Have you boys been drinking?"
"No sir," replied Earl. "We're on the patch!"
Cock A Doodly Doo!
This farmer has about 200 hens, but no rooster, and he wants chicks. So he goes down the road to the next farmer and asks if he has a rooster which he would sell.
The other farmer says, "Yeah, I've this great rooster, named Randy. He'll service every chicken you got, no problem."
Well, Randy the rooster costs a lot of money, but, farmer decides he'd be worth it. So, he buys Randy and takes the rooster home.
He then sets him down in the barnyard and gives the rooster a pep talk, "Randy, I want you to pace yourself now. You've got a lot of chickens to service here, and you cost me a lot of money. Consequently, I'll need you to do a good job.
"So, take your time and have some fun," the farmer ended with a chuckle.
Randy seemed to understand, so the farmer points toward the hen house, and Randy took off like a shot.
WHAM! Randy nails every hen in the hen house three or four times, and the farmer is really shocked.
After that the farmer hears a commotion in the duck pen, sure enough, Randy is in there.
Later, the farmer sees Randy after the flock of geese down by the lake. Once again, WHAM! He gets all the geese.
By sunset he sees Randy out in the fields chasing quail and pheasants. The farmer is distraught -- worried that his expensive rooster won't even last 24 hours.
Sure enough, the farmer goes to bed and wakes up the next day to find Randy dead as a doorknob -- stone cold in the middle of the yard and buzzards are circling overhead.
The farmer, saddened by the loss of such a colorful and expensive animal, shakes his head and says, "Oh, Randy, I told you to pace yourself. I tried to get you to slow down, now look what you've done to yourself."
Randy opens one eye, nods toward the buzzards circling in the sky and says, "SHHHH, they're getting closer..."
#joke
A Fart Smeller or A Smart Feller
Theres a woman that has a big problem when it came to farting. She farts all the time, yet is never able to smell or hear them. So one day she decides to go to the doctor about the problem. She tells him how she is always leaving these long, hard farts that she can never smell or hear. The doctor thinks about it and sends her home with some pills, telling her to come back a week later. When she comes back to his office, she tells him how she still is having these horrible farts, but now they smell like rotting eggs. The doctors only reaction to this was... Its good to know we cleared up your sinuses. Now to work on your hearing....
A woman walked up to a little ...
A woman walked up to a little old man rocking in a chair on his porch. "I couldn't help noticing how happy you look," she said. "What's your secret for a long happy life?"

"I smoke three packs of cigarettes a day," he said. "I also drink a case of whisky a week, eat fatty foods, and never exercise."

"That's amazing," said the woman, "how old are you?"

"Twenty-six," he said.

#joke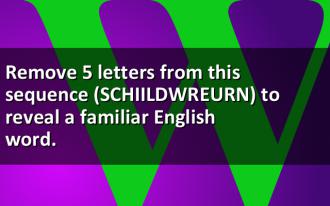 Remove 5 letters from this seq...
Remove 5 letters from this sequence (SCHIILDWREURN) to reveal a familiar English word.
Ten Worst Gifts To Buy A Woman
1. Never give a woman any kind of household appliance or something that is going to make "housework" easier. For instance, a blender, a toaster, a new vacuum, one of those mops they advertise on tv that does everything but suck the life out of you, anything in a informercial. The only wise choice is a new washing machine with a turbo spin cycle. (Makes laundry day go by pretty fast when you can at least sit on it during spin-dry and end up smiling the rest of the day.)
2. Any bulk cleaning supplies, "honey, I got you that large box of Tide you have been wanting." "This Windex should last you a while." "I got a good deal on the industrial strength toilet bowl cleaner." All I can say is, be prepared to run. I have faith that if you would have at least stopped and thought about what would be a much more intimate gift, you would have had the sense to spring for the $5 Chia Pet you were eyeing in Kmart.
3. Any sharp objects made by Ronco which slices or dices, or a set of ginsu knives. These may one day be used as a weapon against you when you come home with lipstick on your collar after a "night out with the boys."
4. Do not buy gifts for yourself and pretend they are for her. "Honey, I'm sure you'll get a lot of use out of the new drill I bought you." By then she will have put it to good use by drilling a quarter inch hole into the side of your skull for even thinking she would accept such a lame gift. After a gift like this, you probably won't be around for NEXT Christmas.
5. Any lingerie made of flannel, such as a pair of feet pajamas with a trap door in back. A Little Mermaid or Barney cartoon character nightgown. It gives her the idea that you do not consider her the sexy woman that she is. Take out that wallet and buy her something sexy from Victoria Secret (just like you did for your mistress or other girlfriend).
6. No name perfume which costs you $1.99, such as Eu de Toilet, which actually smells like the bathroom, moldy fruit, or your dirty socks. If you are going to buy her perfume, spring for the brand names.
7. Any type of cubic zirconia jewelry you see on the Home Shopping Network. It will be quite embarrassing when she is showing off that fabulous diamond to her friends and tries to cut glass with it. (We actually test them you know.) Also, now would not be a good time to buy her that set of diamond nipple clamps you always wanted to, you know how we like to show off our jewelry and it could get embarrassing at the New Year's party when she decides to show them off to your buddies.
8. Please do not buy her clothes because you think for one minute you have good taste in woman's clothing. Well, perhaps you might if you are a transvestite, but all in all, believe me, she'll smile and say its beautiful while choking back tears and mumbling under her breath, "were the hell would I ever wear this outfit without being arrested for bad taste?" An additional hint, plaids do not go with stripes (even though you think your golfing outfit looks just fine). Its a known fact to the rest of the world that that is a taboo. In the Northeast, thats like wearing white after Labor Day.
9. Do not give her a gift certificate to Jenny Craig or Weight Watchers. Most men would know better, especially the ones who have learned the correct response to "do these pants make me look fat." If you are one of the poor souls who still doesn't get it and purchased a gift like this, be prepared for the silent treatment for a month. (Although that may be something you would actually look forward to.) A better alternative would be hiring a Chippendale dancer as a personal trainer to get her motivated into getting fit.
10. Last but not least, never buy a woman anti-wrinkle cream, or a book on "How not to be Nasty Sunday through Saturday." These are not considered gifts, they are considered reasons for seriously injuring the person who bought it and just may stand up in court of law.
The children were lined up in ...
The children were lined up in the cafeteria of a Catholic elementary school for lunch.
At the head of the table was a large pile of apples.
The nun made a note, and posted on the apple tray:
"Take only ONE. God is watching."
Moving further along the lunch line, at the other end of the table was a large pile of chocolate chip cookies.
A child had written a note, "Take all you want. God is watching the apples.
#joke
American-Yiddish Dictionary
JEWBILATION - Pride in finding out that one's favorite celebrity is Jewish.
TORAHFIED - Inability to remember one's lines at one's Bar or Bat mitzvah.
CHUTZPAPA - A father who wakes his wife at 4:00 AM so she can change the baby's diaper.
DISORIYENTA - When Aunt Sadie gets lost in a department store and strikes up a conversation with everyone she passes.
MISHPOCHAMARKS - The assorted lipstick and make-up stains found on one's face and collar after kissing all one's aunts and cousins at a reception.
ROSH HASHANANA - A rock 'n roll band from Brooklyn.
FEELAWFUL - Indigestion from eating Israeli street food.
KINDERSCHLEP - To transport other kids in your car besides yours.
OYVAYSMEAR - What one says when the cream cheese squeezes out of the bagel and falls on your clean pants.
JEWDO - A traditional form of self-defense based on talking one's way out of a tight spot.
#joke
A Dollar for Sunday School
A little boy came home eating a big candy bar. Seeing the candy bar, his mother remembered he had already spent all his allowance money. Surprised, she asked him where he got it.
"I bought it at the store with the dollar you gave me," he said."But that dollar was for Sunday School," his mother replied.
Smiling, the boy said, "I know, Mom, but the Pastor met me at the door and got me in for free!"
#joke
Girl: Are spiders edible? Boy:...
Girl: Are spiders edible? Boy: I donÂ't know, why? Girl: One's just crawled into your sandwich.
Why do mummies make excellent ...
Why do mummies make excellent spies?


They're good at keeping things under wraps.
The Cab Driver Goes to Heaven
A cab driver reaches the Pearly Gates and announces his presence to St. Peter, who looks him up in his Big Book. Upon reading the entry for the cabbie, St. Peter invites him to pick up a silk robe and a golden staff and to proceed into Heaven. A preacher is next in line behind the cabby and has been watching these proceedings with interest. He announces himself to St. Peter. Upon scanning the preacher's entry in the Big Book, St. Peter furrows his brow and says, "Okay, we'll let you in, but take that cloth robe and wooden staff." The preacher is astonished and replies, "But I am a man of the cloth. You gave that cab driver a gold staff and a silk robe. Surely I rate higher than a cabbie." St. Peter responded matter-of-factly: "This is heaven and up here, we are interested in results. When you preached, people slept. When the cabbie drove his taxi, people prayed."
#joke
Debate Military Issue
I have two sons who are at opposite poles on the military issue. Rick thinks the military exists "only to kill people" and says so at every chance he gets.
Mike thinks the military is the greatest thing since sliced bread, and plans to make it his career. Needless to say, when they get together, sparks fly.
A recent interchange went something like this:
Rick: "'Military intelligence' is a contradiction in terms."
Mike: "No more than 'civilian worker'."
#joke