Two Pilots
A C-130 was lumbering along when a cocky F-16 flashed by.
The jet jockey decided to show off.
The fighter jock told the C-130 pilot, 'watch this!' and promptly went into a barrel roll followed by a steep climb. He then finished with a sonic boom as he broke the sound barrier.
The F-16 pilot asked the C-130 pilot what he thought of that?
The C-130 pilot said, 'That was impressive, but watch this!'
The C-130 droned along for about 5 minutes and then the C-130 pilot came back on and said: 'What did you think of that?'
Puzzled, the F-16 pilot asked, 'What the heck did you do?'
The C-130 pilot chuckled. 'I stood up, stretched my legs, walked to the back, took a leak, then got a cup of coffee and a cinnamon roll.'
#joke
A burglar broke into a house o...
A burglar broke into a house one night. He shone his flashlight around looking for valuables, and when he picked up a CD player to place in his sack, a strange, disembodied voice echoed from the dark saying, "Jesus is watching you."
He nearly jumped out of his skin, clicked his flashlight off and froze. When he heard nothing more after a bit, he shook his head, promised himself a vacation after the next big score, then clicked the light back on and began searching more valuables. Just as he pulled the stereo out so he could disconnect the wires, clear as a bell he heard, "Jesus is watching you."
Totally rattled, he shone his light around frantically, looking for the source of the voice. Finally, in the corner of the room, his flashlight beam came to rest on a parrot. "Did you say that?" He hissed at the parrot.
"Yes," the parrot confessed, then squawked, "I'm just trying to warn you."
The burglar relaxed. "Warn me, huh? Who do you think you are any way?"
"Moses," replied the bird.
"Moses," the burglar laughed. "What kind of stupid people would name a parrot 'Moses'?"
The bird promptly answered: "The same kind of people that would name a Rottweiler 'Jesus'!"
#joke
Why rivers flood in springtime...
Why rivers flood in springtime has me absolutely flow maxed. I just didn't bank on it.
"Doc," said the young man lyin...
"Doc," said the young man lying down on the couch, "You've got to help me! Every night I have the same horrible dream. I'm lying in bed when all of a sudden five women rush in and start tearing off my clothes."
The psychiatrist nodded, "And what do you do?"
"I push them away!"
"I see. And what can I do to help you with this?"
The patient implored, "Please break my arms!"
#joke
A salesman telephone a househo...
A salesman telephone a household, and a four-year-old answered.
Salesman: May I speak to your mother?
Child: She is not here.
Salesman: Well, is anyone else there?
Child: My sister
Salesman: O.K., fine. May I speak to her?
Child: I guess so.
There was a long silence on the other phone. Then;
Child: Hello?
Salesman: It's you. I thought you were going to call your sister.
Child: I did. The trouble is: I can't get her out of the playpen.
#joke
Angelic Assistance?
An old-time pastor was riding furiously down the road, hurrying to get to church on time. Suddenly, his horse stumbled and threw him to the ground.
Lying in the dirt, his body wracked with pain, the pastor called out, "All you angels in heaven, help me get up on my horse!"
With extraordinary strength, he leaped onto the horse's back and fell off the other side.
From the ground again, he called out, "All right, just half of you angels this time!"

#joke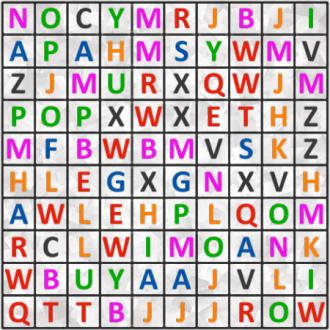 Find a famous person
Find the first and the last name of a famous person. Text may go in all 8 directions. Length of words in solution: 5,8.
These two guys meet after not ...
These two guys meet after not having seen each other for many many years. First guy asks the second guy, "How have things been going?"
The second guy speaking very s..l..o..w..l..y.. tells the first guy, "I w..a..s.. a..l..m..o..s..t m..a..r..r.. i..e..d."
The first guy says in amazement, "Hey; you don't stutter any more."
The answer comes, " Y..e..s, I w..e..n..t t..o a d..o..c..t..o..r.. a..n..d h..e t..o..l..d m..e t..h..a..t i..f I s..p..e..a..k.. s..l..o..w..l..y I w..i..l..l n..o..t s..t..u..t..t..e..r."
The first friend congratulates him and than asks again about how he was almost married.
"W..e..l..l m..y f..i..a..n..c..e..e a..n..d I w..e..r..e s..i...t..t..i..n..g.. o..n h..e..r p..o...r..c..h a..n..d t..h..e d..o..g w..a..s s..c..r..a..t..c..h..i..n..g h..i..s b..a..c..k a..n..d I t..o..l..d h..e..r t..h..a..t w..h..e..n w..e a..r..e m..a..r..r..i..e..d s..h..e c..a..n d..o t..h..a..t f..o..r m..e a..n..d s..h..e t..h..r..e..w t..h..e r..i..n..g i..n m..y f..a..c..e.."
"Why should she throw the ring in your face for that?" asks the first friend.
"W..e..l..l I s..p..e..a..k s..o s..l..o..w..l..y, t..h..a..t b..y t..h..e t..i..m..e s..h..e l..o..o..k..e..d.. a..t t..h..e d..o..g, h..e w..a..s l..i..c..k..i..n..g h..i..s b..a..l..l..s"
#joke
If Women ruled the world...
- Men would sit around and wonder what WE are thinking.
- Singles bars would have metal detectors to weed out men hiding wedding rings in their pockets.
- A man would no longer be considered a 'good catch' simply because he is breathing.
- Fewer women would be dieting because their ideal weight standard would increase by 40 pounds.
- Shopping would be considered an aerobic activity.
- 'Ms.' Magazine would have an annual swimsuit issue featuring scantily clad male models.
- Men would not be allowed to eat gas-producing foods within two hours of bedtime.
- Men would be secretaries for female bosses, working twice as hard for none of the credit.
- Little girls would read 'Snow White and the Seven Hunks.'
- Men would bring drinks, chips and dip to women watching soap operas.
- Men would HAVE to get Playboy for the articles, because there would be no pictures.
- Men would learn phrases like:'I'm sorry,' 'I love you,' 'You're beautiful,' 'Of course you don't look fat in that outfit.'
- Men would be judged entirely by their looks, women by their accomplishments.
- Men would pay as much attention to their woman as to their car.
- All toilet seats would be nailed down.
- Men would work on relationships as much as they work on their careers.
- TV news segments on sports would never run longer than 1 minute.
- All men would be forced to spend one month in a PMS simulator.
- During mid-life crisis, men would get hot-flashes and women would date 19-year-olds.
- Overweight men would have their weight brought to their attention constantly.
- After a baby is born, men would take a six-week paternity leave to wait on their wives hand and foot.
- For basic training, soldiers would have to take care of a two-year old for six weeks.
#joke
Knock Knock Collection 030
Knock Knock
Who's there?
Button!
Button who?
Button in is not polite!
Knock Knock
Who's there?
Cabot!
Cabot who?
Cabotret!
Knock Knock
Who's there?
Cam!
Cam who?
Camalot is where King Arthur lived!
Knock Knock
Who's there?
Candice!
Candice who?
Candice get any better!
Knock Knock
Who's there?
Candy!
Candy who?
Candy cow jump over the moon!
#joke
The Cowboy and the Gay Bar
A cowboy walks into a bar and two steps in, he realizes it's a gay bar. "But what the heck," he says to himself, I really want a drink." When the gay waiter approaches, he says to the cowboy, "What's the name of your penis?"
The cowboy says, "Look, I'm not into any of that. All I want is a drink." The gay waiter says, "I'm sorry but I can't serve you until you
tell me the name of your penis. Mine for instance is called Nike, for the slogan 'Just Do It.' That guy down at the end of the bar calls his Snickers, because 'It really satisfies'."
The cowboy looks dumbfounded so the bartender tells him he will give him a second to think it over. So the cowboy asks the man sitting to his left, who is sipping on a
beer,"Hey bud, what's the name of yours?" The man looks back and says, with a smile "TIMEX." The thirsty cowboy asks, "Why Timex?" The fella proudly replies, "Cause it takes a lickin' and keeps on tickin'!"
A little shaken, the cowboy turns to the fella on his right, who is sipping a fruity Margarita and says, "So, what do you call yours?" The man turns to him and proudly exclaims, "FORD, because Quality is Job One." Then he adds, "Have you driven a Ford, lately?"
Even more shaken, the Cowboy has to think for a moment before he comes up with a name for his manhood. Finally, he turns to the bartender and exclaims, "The name of my penis is SECRET. Now give me a beer." The bartender begins to pour the cowboy a beer, but with a puzzled look asks, "Why Secret?" The cowboy says, "Because it's STRONG ENOUGH FOR A MAN, BUT MADE FOR WOMAN!"
#joke #walksintoabar
#beer
Victorian Ladies
How many Victorian ladies does it take to change a lightbulb? One hundred. One to replace the bulb and ninety-nine to contract consumption and die beautiful, poetic deaths.
Lucky
The cyclist, passing a pedestran crossing, runs into a man, and they both fall down. "Geez, are you lucky." The cyclist says.
"What do you mean by lucky?" The pedestrian angrily asks. "I got hurt really bad."
"Ah, you're lucky because I recently lost my license. I usually drive a bus."
#joke
A piece of black tarmac walks ...
A piece of black tarmac walks into a pub and asks for a pint. The barman serves him, but just as the tarmac is sitting down in walks another piece of tarmac, this time painted orange. Terrified, the black tarmac leaps over the bar to hide.

"What's wrong?" asks the bemused barman, to which the tarmac replies: "I don't mess with him, he's a cycle path!"

#joke
Three Aussie guys were working...
Three Aussie guys were working on a high-rise building project - Steve, Bruce and Kevin.
Steve falls off and is killed instantly.
As the ambulance takes the body away, Bruce says, "Someone should go and tell his wife."
Kevin says, "OK, I'm pretty good at that sensitive stuff, I'll do it."
Two hours later, he comes back carrying a case of Fosters.
Bruce says, "Where did you get that, Kev?"
"Steve's wife gave it to me,"
Bruce replies. "That's unbelievable, you told the lady her husband was dead and she gave you the beer?"
"Well not exactly," Kevin said. "When she answered the door, I said to her, 'You must be Steve's widow'.
She said, 'No, I'm not a widow.'
And I said, 'I'll bet you a case of Fosters you are'."
A man with a pegleg, hook hand and...
A man with a pegleg, hook hand and an eyepatch went to apply to be a pirate.
Interviewer: How did you get that pegleg?
Pirate: Arrr. I got me leg shot off during the first world war.
Interviewer: How did you get that hook?
Pirate: I got me hand cut off by a big knife.
Interviewer: What about your eyepatch?
Pirate: It was a rainy afternoon and I looked up into the sky and a bird crapped in me eye.
Interviewer: And that put your eye out?
Pirate: No, it was the day after I got me hook.
#joke
I must tell
After a woman gave birth to her baby, the Doctor stood solemnly beside her bed. "There is something I must tell you about your baby." "What's wrong," the alarmed mother asked? "Your baby is a hermaphrodite." "What's that?" "It means your baby has both male and female parts." "Oh my God, that's wonderful!", the mother said, "You mean it has a penis and a brain?"
Why did the Siamese twins visi...
Why did the Siamese twins visit England? They wanted to give the other twin a chance to drive!
Living in a Material Wor...
Living in a Material World
One day, there was this lawyer who had just bought a new car, and he was eager to show it off to his colleagues, when all of a sudden an eighteen wheeler came out of nowhere and took of the driver's side door with him standing right there.
"NOOO!" he screamed, because he knew that no matter how good a mechanic tried to fix it, it never would be the same.
Finally, a cop came by, and the lawyer ran up to him yelling. "MY JAGUAR DOOR WAS JUST RUINED BY SOME FOOLISH DRIVER!!!" he exclaimed.
"Your a lawyer aren't you?" asked the policeman. "Yes, I am, but what does this have to do with my car?!?!" the lawyer asked.
"HA! Your lawyers are always so materialistic. All you care about is your possessions. I bet you didn't even notice that your left arm is missing did you?" the cop said.
The lawyer looked down at his side and exclaimed "MY ROLEX!"
A bit apprehensive...
As a sergeant in a parachute regiment I took part in several night time exercises. Once, I was seated next to a Lieutenant fresh from Jump School.He was quiet sad looked a bit pale so I struck up a conversation.
"Scared, Lieutenant?", I asked.
He replied, "No, just a bit apprehensive."
I asked, "What's the difference?"
He replied, "That means I'm scared with a university education."
#joke