Hot sauna in the highe...
Hot sauna in the highest, in excess celsius day-o!
A passerby noticed a couple of...
A passerby noticed a couple of city workers working along the city sidewalks. The man was quite impressed with their hard work, but he couldn't understand what they were doing. 
Finally, he approached the workers and asked, "I appreciate how hard you're both working, but what the heck are you doing? It seems that one of you digs a hole, and then the other guy immediately fills it back up again. 
One of the city workers explained, "The third guy who plants the trees is off sick today."
#joke
Funny video of the day - Funny video of the day Saturday, 03 April 2010
He really loved her but he was...
He really loved her but he was just too shy to propose to her. Now he was up in his years and neither of them had ever been married. Of course, they dated about once a week for the past six years but he was so timid he just never got around to suggesting marriage, much less living together.
But one day, he became determined to ask her the question. So he calls her on the phone, "Judith?"
"Yes, this is Judith."
"Will you marry me?"
"Of course. Who's speaking?"
#joke
A Texan in Ireland
A Texan walks in to a pub in Ireland and clears his voice to the crowd of drinkers. He says, I hear you Irish are a bunch of hard drinkers. Ill give $500 American dollars to anybody in here who can drink 10 pints of Guinness back-to-back.
The room is quiet, and no one takes up the Texans offer. One man even leaves.
Thirty minutes later the same gentleman who left shows back up and taps the Texan on the shoulder. Is your bet still good? asks the Irishman.
The Texan says yes and asks the bartender to line up 10 pints of Guinness. Immediately the Irishman tears into all 10 of the pint glasses, drinking them all back-to-back.
The other pub patrons cheer as the Texan sits in amazement. The Texan gives the Irishman the $500 and says, If ya dont mind me askin, where did you go for that 30 minutes you were gone?
The Irishman replies, Oh I had to go to the pub down the street to see if I could do it first.
#joke
A married couple are driving a...
A married couple are driving along a highway doing sixty mph, the wife behind the wheel.
Her husband suddenly looks over at her and says, "Honey, I know we've been married for twenty years, but I want a divorce."
The wife says nothing but slowly increases speed to seventy mph.
He then says, "I don't want you to try to talk me out of it, because I've been having an affair with your best friend, and she's a better lover than you are."
Again the wife stays quiet but speeds up as her anger increases.
"I want the house," he insists, pressing his luck.
Again the wife speeds up, to eighty mph.
He says, "I want the car, too," but she just drives faster and faster. By now she's up to ninety mph.
"All right," he says, "I want the bank accounts, and all the credit cards, too."
The wife slowly starts to veer toward a bridge overpass piling.
This makes him a bit nervous, so he says, "Isn't there anything you want?"
The wife says, "No, I've got everything I need."
"Oh, really," he says, "so what have you got?"
Right before they slam into the wall at a hundred mph, the wife smiles and says, "The airbag."
#joke
Easter Bunny
Q: Why does the easter bunny hide his eggs? A: He doesnt want anyone to know hes f**king chickens.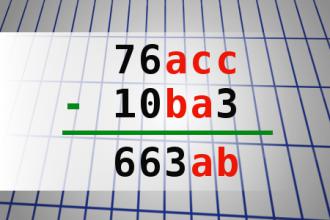 Find number abc
If 76acc - 10ba3 = 663ab find number abc. Multiple solutions may exist.
Mom, how much do you weigh?
There was this little boy. He wanted to know more about his mom so he asked her,' Mom, how much do you weigh?'
His mom answered, 'Don't ask me or any other woman that question.'
He left, then came back again. He asked, 'How old are you?'
She answered yet again, 'Don't ever ask me or any other woman that question.'
He finally asked a pretty subtle question. He asked,' Mother how tall are you?' She told him to get her driver's license.
He came running back asking, 'Mom was the reason you got a divorce, was because you have an 'F' in sex?'
#joke
A bishop, a boy scout and the ...
A bishop, a boy scout and the Brain of Britain were passengers in a small plane. The pilot announced serious trouble and asked everyone to leave the aircraft. However, there were only two parachutes, so the bishop suggested that as he was the oldest, he should stay behind. The scout said: "Don't worry sir! There are still two parachutes. The Brain of Britain has jumped using my haversack!"
#joke
The Bronze Statues
A tourist wanders into a back-alley antique shop in San Francisco's Chinatown. Picking through the objects on display he discovers a detailed, life-sized bronze sculpture of a rat. The sculpture is so interesting and unique that he picks it up and asks the shop owner what it costs.
"Twelve dollars for the rat, sir," says the shop owner, "and a thousand dollars more for the story behind it."
"You can keep the story, old man," he replies, "but I'll take the rat."
The transaction complete, the tourist leaves the store with the bronze rat under his arm. As he crosses the street in front of the store, two live rats emerge from a sewer drain and fall into step behind him. Nervously looking over his shoulder, he begins to walk faster, but every time he passes another sewer drain, more rats come out and follow him. By the time he's walked two blocks, at least a hundred rats are at his heels, and people begin to point and shout. He walks even faster, and soon breaks into a trot as multitudes of rats swarm from sewers, basements, vacant lots, and abandoned cars. Rats by the thousands are at his heels, and as he sees the waterfront at the bottom of the hill, he panics and starts to run full tilt.
No matter how fast he runs, the rats keep up, squealing hideously, now not just thousands but millions, so that by the time he comes rushing up to the water's edge a trail of rats twelve city blocks long is behind him. Making a mighty leap, he jumps up onto a light post, grasping it with one arm while he hurls the bronze rat into San Francisco Bay with the other, as far as he can heave it. Pulling his legs up and clinging to the light post, he watches in amazement as the seething tide of rats surges over the breakwater into the sea, where they drown.
Shaken and mumbling, he makes his way back to the antique shop.
"Ah, so you've come back for the rest of the story," says the owner.
"No," says the tourist, "I was wondering if you have a bronze lawyer."
An old man goes to the Wizard ...
An old man goes to the Wizard to ask him if he can remove a "Curse" he has been living with for the last 40 years.
The Wizard says "maybe, but you will have to tell me the exact words that were used to put the curse on you."
The old man says without hesitation "'I now pronounce you man and wife'".
#joke
A Bunny Story
Once upon a time there was a man who was peacefully driving down a windy road. Suddenly, a bunny skipped across the road and the man couldn't stop. He hit the bunny head on. The man quickly jumped out of his car to check the scene. There, lying lifeless in the middle of the road, was the Easter Bunny.
The man cried out, "Oh no! I have committed a terrible crime! I have run over the Easter Bunny!"
The man started sobbing quite hard and then he heard another car approaching. It was a woman in a red convertible. The woman stopped and asked what the problem was.The man explained, "I have done something horribly sad. I have run over the Easter Bunny. Now there will be no one to deliver eggs on Easter, and it's all my fault."
The woman ran back to her car. A moment later, she came back carrying a spray bottle. She ran over to the motionless bunny and sprayed it. The bunny immediately sprang up, ran into the woods, stopped, and waved back at the man and woman. Then it ran another 10 feet, stopped, and waved. It then ran another 10 feet, stopped, and waved again. It did this over and over and over again until the man and the woman could no longer see the bunny.
Once out of sight, the man exclaimed, "What is that stuff in that bottle?"
The woman replied, "It's harespray. It revitalizes hare and adds permanent wave."
#joke
I'm lost
A small boy was lost, so he went up to a policeman and said, "I've lost my dad!"
The policeman said, "What's he like?"
The little boy replied, "Chips and beer."
Behold, I Come Quickly
The new preacher had just begun his sermon. He was a little nervous, and about ten minutes into the sermon his mind went blank. After a brief second of complete panic, he remembered what they had taught him in seminary about situations like this: repeat the last point. His teacher assured him this would help him remember what was supposed to come next. So he gave it a try.
"Behold, I come quickly," he said. Still his mind was blank. He tried again. "Behold, I come quickly." Still nothing.He tried one more time -- speaking and gesturing with such force that he fell forward, knocking the pulpit to one side, tripping over the flower pot, and falling into the lap of a little old lady in the front row.
The young preacher apologized profusely.
"That's all right, young man," said the little old lady. "It was my fault. I should have gotten out of the way. You told me three times you were coming!"
#joke
GREAT TRUTHS THAT LITTLE CHILD...
GREAT TRUTHS THAT LITTLE CHILDREN HAVE LEARNED:
1) No matter how hard you try, you can't baptise cats.
2) When your Mum is mad at your Dad, don't let her brush your hair.
3) If your sister hits you, don't hit her back. They always catch the second person.
4) Never ask your 3-year old brother to hold a tomato.
5) You can't trust dogs to watch your food.
6) Don't sneeze when someone is cutting your hair.
7) Never hold a Dust-Buster and a cat at the same time.
8) You can't hide a piece of broccoli in a glass of milk.
9) Don't wear polka-dot underwear under white shorts.
10) The best place to be when you're sad is Grandpa's lap.
#joke
Answering Machine Message 256

(For Shakespeare lovers only:)
So long as phones can ring and eyes can see,
So leave a message, and I'll get back to thee.


Good evening, ladies, Sherlock...
Good evening, ladies, Sherlock Holmes said as he passed three women eating bananas on a park bench.
"Do you know them?" Dr. Watson asked.
"No," Holmes replied, "I've never met the nun, the prostitute or the bride we just passed."
"Good Lord, Holmes, how in the world did you know all that?"
"Elementary, my dear Watson. the nun ate the banana by holding it in one hand and using the fingers of the other hand to properly break the fruit into small pieces."
The prostitute, he continued, "grabbed with both hands and crammed the whole thing into her mouth."
"Amazing!" Watson exclaimed, "But how did you know the third was a newlywed?"
"Because she held it with one hand and pushed her head toward it with the
#joke