Swampy Frogs #jokes #humor
A noted biologist, who had been studying little green frogs in a swamp, was stumped. The frog population, despite efforts at predator control, was declining at an alarming rate. A chemist at a nearby college came up with a solution: The frogs, due to a chemical change in the swamp water, simply couldn't stay coupled long enough to reproduce successfully. The chemist then brewed up a new adhesive to assist the frogs' togetherness, which included one part sodium. It seems the little green frogs needed some monosodium glue to mate.
#joke
The poet had been droning on a...
The poet had been droning on at the party about his various sources of inspiration. "Yes, he told the young girl. "I'm at present collecting some of my better poems to be published posthumously." "Lovely," said the girl. "I'll look forward to it."
Funny video of the day - Funny video of the day Saturday, 31 July 2010
Perfect...
A friend asked a gentleman how it is that he never married ?
Replied the gentleman, "Well, I guess I just never met the right woman ... I guess I've been looking for the perfect girl."
"Oh, come on now," said the friend, "Surely you have met at least on girl that you wanted to marry."
"Yes, there was one girl .. once. I guess she was the one perfect girl .. the only perfect girl I really ever met. She was just the right everything .. I really mean that she was the perfect girl for me."
"Well, why didn't you marry her," asked the friend.
"She was looking for the perfect man," he said.
#joke
Detective test
A policeman was interrogating 3 SARDARS who were training to become detectives. To test their skills in recognizing a suspect, he shows the first SARDAR a picture for 5 seconds and then hides it.
"This is your suspect, how would you recognize him?"
The first SARDAR answers, "That's easy, we'll catch him fast because he only has one eye!"
The policeman says, "Well...uh...that's because the picture I showed is his side profile."
Slightly flustered by this ridiculous response, he flashes the picture for 5 seconds at the second SARDAR and asks him, "This is your suspect, how would you recognize him?"
The second SARDAR smiles, flips his hair and says, "Ha! He'd be too easy to catch because he only has one ear!"
The policeman angrily responds, "What's the matter with you two?? Of course only one eye and one ear are showing because it's a picture of his side profile! Is that the best answer you can come up with?"
Extremely frustrated at this point, he shows the picture to the third SARDAR and in a very testy voice asks, "This is your suspect, how would you recognize him? He quickly adds, "Think hard before giving me a stupid answer."
The SARDAR looks at the picture intently for a moment and says, "The suspect wears contact lenses."
The policeman is surprised and speechless because he really doesn't know himself if the suspect wears contacts or not. "Well, that's an interesting answer. Wait here for a few minutes while I check his file and I'll get back to you on that."
He leaves the room and goes to his office, checks the suspect's file in his computer, and comes back with a beaming smile on his face.
"Wow! I can't believe it. It's TRUE! The suspect does in fact wear contact lenses. Good work! How were you able to make such an astute observation?"
"That's easy," the SARDAR replied. "He can't wear regular glasses because he only has one eye and one ear."
Submitted by sai1ram
Edited by calamjo
Myq Kaplan: Five-Tiered Religious Zone
In Obamas inauguration speech, he said, Were a nation of Jews and Muslims, of Christians and Hindus and nonbelievers. And I was like, Yeah, hear that Buddhists? Get out of here. Youre not welcome in Obamas five-tiered religious zone, apparently. Get back to Buddha Land or wherever youre from. Stick it in your fat stomachs and eat it, Buddhists. Eat it. And dont get angry at that cause that wouldnt be a very Buddhist way to behave.
#joke
A burglar broke into a house o...
A burglar broke into a house one night. He shone his flashlight around looking for valuables, and when he picked up a CD player to place in his sack, a strange, disembodied voice echoed from the dark saying, "Jesus is watching you."
He nearly jumped out of his skin, clicked his flashlight off and froze. When he heard nothing more after a bit, he shook his head, promised himself a vacation after the next big score, then clicked the light back on and began searching more valuables. Just as he pulled the stereo out so he could disconnect the wires, clear as a bell he heard, "Jesus is watching you."
Totally rattled, he shone his light around frantically, looking for the source of the voice. Finally, in the corner of the room, his flashlight beam came to rest on a parrot. "Did you say that?" He hissed at the parrot.
"Yes," the parrot confessed, then squawked, "I'm just trying to warn you."
The burglar relaxed. "Warn me, huh? Who do you think you are any way?"
"Moses," replied the bird.
"Moses," the burglar laughed. "What kind of stupid people would name a parrot 'Moses'?"
The bird promptly answered: "The same kind of people that would name a Rottweiler 'Jesus'!"
#joke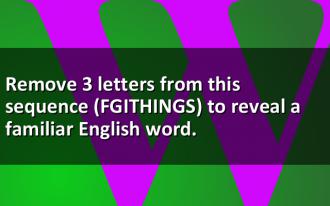 Remove 3 letters from this seq...
Remove 3 letters from this sequence (FGITHINGS) to reveal a familiar English word.
A blonde named Mary decides to...
A blonde named Mary decides to do something really wild. Something she hasn't done before, so she goes out to rent her first X-rated adult video.
She goes to the video store, and after looking around for a while, selects a title that sounds very stimulating.
She drives home, lights some candles, slips into something comfortable, and puts the tape in the VCR.
To her disappointment, there's nothing but static on the screen, so she calls the video store to complain.
"I just rented an adult movie from you and there's nothing on the tape but static," she says.
"Sorry about that. We've had problems with some of those tapes. Which title did you rent?" the clerk replies.
"Head Cleaner," Mary replies.
Ten reas...
Ten reasons why alcohol should be served at work:
1 It's an incentive to show up.
2 It encourages car sharing.
3 Increases job satisfaction because you don't care.
4 It makes fellow employees look better.
5 It makes the canteen food taste a lot better.
6 It reduces stress.
7 Salary negotiations are a lot more profitable.
8 You tell management what you think, not what they want to hear.
9 Burping during meetings isn't so embarrassing.
10 Bosses are more likely to hand out raises.
#joke
An Ideal Marriage

Adam and Eve had an ideal marriage. He didn't have to hear about all the men she could have married, and she didn't have to hear about the way his mother cooked.

Misc Women's Rules for Me...
Misc Women's Rules for Men
* Our cooking and menus are excellent - That isn't, however, an excuse for you to avoid cooking
* Buying us something does not constitute foreplay
* Answering "Who was that?" with "Nobody" doesn't end the conversation - Ditto for "Whose lipstick is this?"
* Believe it or not, you're not more sexy when you're all sweaty
* Silence can mean anything and it could change without notice
Other tidbits
* Women are a pain in the ass, men are a pain EVERYWHERE!
* Men are great! Every woman should own one!!!
* Men are just like computers, and a smart woman keeps a backup.
* Men are only good for one thing... two, if they're good at it.
* Men come in three sizes: small, medium, and OOoohhh yesss!
* Men read Playboy for the articles like women go to malls for the music.
#joke
Senate Slander
A member of the United States Senate, known for his hot temper and acid tongue, exploded one day in mid-session and began to shout, "Half of this Senate is made up of cowards and corrupt politicians!"
All the other Senators demanded that the angry member withdraw his statement, or be removed from the remainder of the session.
After a long pause, the angry member acquiesced. "OK," he said, "I withdraw what I said. Half of this Senate is NOT made up of cowards and corrupt politicians!"
#joke
Jonny Is Off
One day little Johnny went to his father, and asked him if he could buy him a $200 bicycle for his birthday.
Johnny's father said, "Johnny, we have a $80,000 mortgage on the house, and you want me to buy you a bicycle? Wait until Christmas."
Christmas came around, and Johnny asked again.
The father said, "Well, the mortgage is still extremely high, sorry about that. Ask me again some other time."
Well, about 2 days later, the boy was seen walking out of the house with all his belongings in a suitcase. The father felt sorry for him, and asked him why he was leaving.
The boy said, "Yesterday I was walking past your room, and I heard you say that you were pulling out, and mommy said that you should wait because she was coming too, and DAMN if I'll get stuck with an $80,000 mortgage!"