Grandma has changed #jokes #humor
In the dim and distant past
When life's tempo wasn't so fast,
Grandma used to rock and knit,
Crochet, tat and baby sit.
When the kids were in a jam,
They could always call on Gram.
But today she's in the gym
Exercising to keep slim.
She's checking the web or surfing the net,
Sending some e-mail or placing a bet.
Nothing seems to stop or block her,
Now that Grandma's off her rocker.
#joke
How does a farmer pick up wome...
How does a farmer pick up women?
Funny video of the day - Funny video of the day Sunday, 08 August 2010
A kindergarten teacher handed ...
A kindergarten teacher handed out a coloring page to her class. On it was a picture of a duck holding an umbrella. The teacher told her class to color the duck in yellow and the umbrella green, however, Bobby, the class rebel, colored the duck in a bright fire truck red. After seeing this, the teacher asked him: "Bobby, how many times have you see a red duck?" Young Bobby replied with "The same number of times I've seen a duck holding an umbrella."
#joke
The Preachers Paycheck
A pastor's wife was expecting a baby, so he stood before the congregation and asked for a raise. After much discussion, they passed a rule that whenever the preacher's family expanded, so would his paycheck.
After 6 children, this started to get expensive and the congregation decided to hold another meeting to discuss the preacher's expanding salary. A great deal of yelling and inner bickering ensued, as to how much the clergyman's additional children were costing the church, and how much more it could potentially cost.
After listening to them for about an hour, the pastor rose from his chair and spoke, 'Children are a gift from God, and we will take as many gifts as He gives us'.
Silence fell on the congregation.
In the back pew, a little old lady struggled to stand, and finally said in her frail voice, 'Rain is also a gift from God, but when we get too much of it, we wear rubbers.'
The entire congregation said, 'Amen.'
#joke
A Rabbi and a Priest Buy a Car…
A priest and a rabbi operated a church and a synagogue across the street from each other. Since their schedules intertwined, they decided to go in together to buy a car. After the purchase, they drove it home and parked it on the street between them.
A few minutes later, the rabbi looked out and saw the priest sprinkling water on their new car. It didn't need a wash, so he hurried out and asked the priest what he was doing.
"I'm blessing it," the priest replied.
The rabbi considered this a moment, then went back inside the synagogue.
He reappeared a moment later with a hacksaw, walked over to the back of the car and cut off two inches of the tailpipe.
#joke
Extra Money
This girl needed some money, so she is doing odd-jobs around her neighborhood. She decides she's not making enough money, so she goes to a rich neighborhood. She walks up to this house and rings the doorbell. The guy answers and tells her she can paint the porch. He gives her a can of paint and $25. When he goes inside, his wife says, "$25! Does she know that the porch wraps all the way around the house?"
"Oh, she'll do fine." the guy says.
An hour later, the doorbell rings. It's the girl. She says, "I'm finished. I even had some extra paint, so I put another coat on."
The guy is surprised. Then the girl says, "Oh, and by the way, that's not a Porsche, that's a Ferrari."
#joke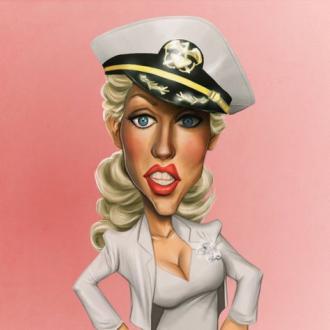 Guess the name of musician
Look carefully caricature and guess the name of musician.
Calming Your Son
In the supermarket was a man pushing a cart which contained a screaming, bellowing baby. The gentleman kept repeating softly, "Don't get excited, Albert; don't scream, Albert; don't yell, Albert; keep calm, Albert."
A woman standing next to him said, "You certainly are to be commended for trying to soothe your son, Albert."
The man looked at her and said, "Lady, I'm Albert."
#joke
Steven Wright 09
What's another word for Thesaurus?
Why is the alphabet in that order? Is it because of that song? The guy who wrote that song wrote everything.
My grandfather invented Cliff's Notes. It all started back in 1912... Well, to make a long story short ...
I'm writing a book. I've got the page numbers done, so now I just have to fill in the rest.
I'm writing an unauthorized autobiography.
I owed my friend George $25. For about three weeks I owed it to him. The whole time I had the money on me -- he didn't know it. Walking through New York City, 2:30 in the morning and got held up. He said, "Gimme all your money." I said, "Wait a minute." I said, "George, here's the 25 dollars I owe you." The the thief took a thousand dollars out of his own money and he gave it to George. At gunpoint made me borrow a thousand dollars from George.
I'd like to sing you a song now about my old girlfriend. It's called, "They'll Find Her When the Leaves Blow Away 'Cause I'm Not Raking 'Til Spring."
My girlfriend asked me how long I was going to be gone on this tour. I said, "the whole time."
My girlfriend does her nails with white-out. When she's asleep, I go over there and write misspelled words on them.
#joke
Fahim Anwar: Biggie Fans
The thing I despise about Biggie fans is when theyre like, Oh man, Biggie was so prolific. Cause he knew he was going to die an early death and he rapped about it in his rhymes. To me, it doesnt take that much imagination to predict an early death when you are a gangster rapper and everyone in your crew carries a submachine gun. Thats basic probability; I dont know if youve taken statistics.
#joke
We noticed that all the waiter...
We noticed that all the waiters in this New York restaurant carried two spoons in their vest pocket. Naturally, we were curious. We asked a waiter why.
'Sir, as a result of an efficiency study by the management, it was determined that the most frequently dropped silverware item was a spoon. Therefore, all the waiters carry two spoons so that the item can be instantly replaced.' As he was explaining that we noticed a string hanging out of the fly of his pants. So, we asked about that.
'Sir, that's another efficiency study result. When we have to go to the bathroom, we use the string to pull ourselves out and aim. Therefore, we do not have to stop to wash our hands.' We replied, 'I understand how you can get yourself out and aim, but how do you get yourself back in.' 'Well,' replied the waiter, 'I don't know about the other guys, but I use the two spoons!'
#joke
Husband and wife had a bitter ...
Husband and wife had a bitter quarrel on the day of their 40th wedding anniversary.
The husband yells, "When you die, I'm getting you a headstone that reads, 'Here Lies My Wife - Cold As Ever.'"
"Yeah?" she replies. "When you die, I'm getting you a headstone that reads, "Here Lies My Husband - Stiff At Last.'"
#joke
Texan in Australia
A Te...
Texan in Australia
A Texan farmer goes to Australia for a vacation. There he meets an Aussie farmer and gets to talking. The Aussie shows off his big wheat field and the Texan says, "Oh! We have wheat fields that are at least twice as large".
Then they walk around the ranch a little, and the Aussie shows off his herd of cattle. The Texan immediately says, " We have longhorns that are at least twice as large as your cows".
The conversation has, meanwhile, almost died when the Texan sees a herd of kangaroos hopping through the field. He asked, "And what are those"?
The Aussie replies with an incredulous look, "Don't you have any grasshoppers in Texas"?
#joke
Punishment for Missing Church
A country preacher decided to skip services one Sunday to spend the day hiking in the wilderness. Rounding a sharp bend in the trail, he collided with a bear and was sent tumbling down a steep grade. He landed on a rock and broke both legs.
With the ferocious bear charging at him from a distance, the preacher prayed, "O Lord, I'm so sorry for skipping services today. Please forgive me and grant me just one wish--make a Christian out of that bear that's coming at me!"
At that very instant, the bear skidded to a halt, fell to his knees, clasped his paws together, and began to pray aloud at the preacher's feet: "Dear God, please bless this food I am about to receive."
#joke
Cowboy's Canine
A cowboy was walking down the street with his new pet dachshund. The passerby asked him why a cowboy would own that kind of dog.
The cowboy answered, "Well, somebody told me to get along little doggie."
TEN GOO...
TEN GOOD EXCUSES FOR FALLING ASLEEP AT YOUR DESK:
"They told me at the blood bank this might happen."
"I was trying to pick up contact lens without hands."
"I was meditating on the mission statement and envisioning a new paradigm!"
"Amen"
"This is just a 15 minute power-nap like they raved about in the last time management course you sent me to."
"Whew! Guess I left the top off the liquid paper"
"I was doing a highly specific Yoga exercise to relieve work related stress."
"This is one of the seven habits of highly effective people!"
"Boy, that cold medicine I took last night just won't wear off!"
"Why did you interrupt me? I had almost figured out a solution to our biggest problem."
#joke
A guy goes to pick up his date...
A guy goes to pick up his date for the evening. She's not ready yet, so he has to sit in the living room with her parents.
He has a BAD case of gas and really needs to relieve some pressure.
At that time, the family dog jumps up on the couch next to him. He decides that he can let a little fart out and if anyone notices they will think that the dog did it.
He farts, and the woman yells "Spot, get down from there."
The guy thinks "great, they think the dog did it." He releases another fart, and the woman again yells for the dog to get down.
This goes on for a couple more farts.
Finally, the woman yells "Damn, Spot, get down before he shits on you."
#joke
Storks
Two storks are sitting in their nest: a father stork and baby stork. The baby stork is crying and crying and father stork is trying to calm him. "Don't worry, son. Your mother will come back. She's only bringing people babies and making them happy."
The next night, it's father's turn to do the job. Mother and son are sitting in the nest, the baby stork is crying, and mother is saying "Son, your father will be back as soon as possible, but now he's bringing joy to new mommies and daddies."
A few days later, the stork's parents are desperate: their son is absent from the nest all night! Shortly before dawn, he returns and the parents ask him where he's been all night.
The baby stork says, "Nowhere. Just scaring the shit out of college students!"
#joke
Join us on WhatsApp