Happy New Year 2021!!
Drunken Irishman
A drunken Irishman is driving through the city of Dublin on St. Patty's Day and his car is weaving violently all over the road. An Irish cop pulls him over.
"So," says the cop to the driver, "where have you been?"
"I've been to the pub," slurs the drunk.
"Well," says the cop, "it looks like you've had quite a few."
"I did all right," the drunk says with a smile.
"Did you know," says the cop, standing straight and folding his arms, "that a few intersections back, your wife fell out of your car?"
"Oh, thank heavens," sighs the man. "For a minute there, I thought I'd gone deaf."
#joke
The story about the boy who ha...
The story about the boy who had imaginary insect friends was very knew antsed.
Funny video of the day - Funny video of the day Sunday, 22 August 2010
The boss had listened in sympa...
The boss had listened in sympathetic silence as Mario went through the reasons why he needed, and felt he deserved, a raise. Then, with a compassionate smile, the CEO patted he younger man on the shoulder. "Yes, Mario," he said kindly, "I know you can't get married on the salary I'm paying you… and some day you'll thank me for it."
#joke
A close shave...
A man enters a barber shop for a shave.
While the barber is foaming him up, he mentions the problem he has getting a close shave around his cheeks.
"I have just the thing," says the barber taking a small wooden ball from a nearby drawer. "Just place this between your cheek and gum."
The client places the ball in his mouth and proceeds with the closest shave the man has ever experienced.
After a few strokes, the client asks in garbled speech "And what if I swallow it?"
"No problem" says the barber. "Just bring it back tomorrow like everyone else does!"
#joke
Scary Collection 15
A werewolf joke
Why did the parents call their child "Camera"?
Because they were always snapping!
A skeleton joke
Why do skeletons hate winter?
Because the wind just goes straight through them!
A vampire joke
What do vampires play poker for?
High stakes!
A Halloween joke
Another boy went to a Halloween party with a sheet on his head.
"Are you an unmade bed?
" asked his friends
"No, I'm an undercover agent!
"
A ghost joke
What kind of ghost has the best hearing?
The eeriest!
A demon joke
What is the demons' favourite TV sitcom?
Fiends!
A cannibal joke
What was the cannibal called who ate his father's sister?
An aunt-eater!
One inch penis
What do you call a guy with a one inch penis?
Justin.
Submitted by Curtis
Edited by Yisman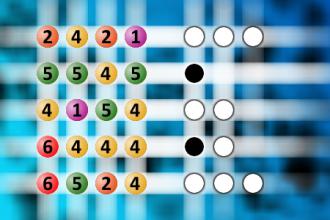 Find the right combination
The computer chose a secret code (sequence of 4 digits from 1 to 6). Your goal is to find that code. Black circles indicate the number of hits on the right spot. White circles indicate the number of hits on the wrong spot.
Whitney Cummings: All Balls
Why do all balls look like theyre 150 years old?
"Information? I need the ...
"Information? I need the number of Caseway Insurance Company."
"Would you spell that, please?"
"Certainly. That's C as in cadence. A as in aye. S as in sea. E as in eye. W as in why. A as in are. Y as in you."
"Just a minute, sir. I'll connect you with my supervisor."
#joke
The new minister's wife had a ...
The new minister's wife had a baby. The minister appealed to the congregation for a salary increase to cover the addition to the family.The congregation agreed that it was only fair, and approved it.
When the next child arrived, the minister appealed again and the congregation approved again.
Several years and five children later, the congregation was a bit upset over the increasing expense. This turned into a rather loud meeting one night with the minister. Finally, the minister stood and shouted out,"Having children is an act of God!!"
An older man in the back stood and shouted back, "Rain and snow are acts of God, too, and we wear rubbers for them."
#joke
Marketing translations
Cracking an international market is a goal of most growing corporations. It shouldn't be that hard, yet even the big multi-nationals run into trouble because of language and cultural differences. For example, observe the following examples below.
The name Coca-Cola in China was first rendered as Ke-kou-ke-la. Unfortunately, the Coke company did not discover until after thousands of signs had been printed that the phrase means "bite the wax tadpole" or "female horse stuffed with wax" depending on the dialect. Coke then researched 40,000 Chinese characters and found a close phonetic equivalent, "ko-kou-ko-le," which can be loosely translated as "happiness in the mouth."
In Taiwan, the translation of the Pepsi slogan "Come alive with the Pepsi Generation" came out as "Pepsi will bring your ancestors back from the dead."
Also in Chinese, the Kentucky Fried Chicken slogan "finger-lickin' good" came out as "eat your fingers off."
The American slogan for Salem cigarettes, "Salem - Feeling Free," got translated in the Japanese market into "When smoking Salem, you feel so refreshed that your mind seems to be free and empty."
When General Motors introduced the Chevy Nova in South America, it was apparently unaware that "no va" means "it won't go." After the company figured out why it wasn't selling any cars, it renamed the car in its Spanish markets to the Caribe.
When Parker Pen marketed a ballpoint pen in Mexico, its ads were supposed to say "It won't leak in your pocket and embarrass you." However, the company mistakenly thought the spanish word "embarazar" meant embarrass. Instead the ads said that "It wont leak in your pocket and make you pregnant."
An American t-shirt maker in Miami printed shirts for the spanish market which promoted the Pope's visit. Instead of the desired "I Saw the Pope" in Spanish, the shirts proclaimed "I Saw the Potato."
Colgate introduced a toothpaste in France called Cue, the name of a notorious porno magazine.
In Italy, a campaign for Schweppes Tonic Water translated the name into Schweppes Toilet Water.
#joke
Song Of The Elements
There's antimony, arsenic, aluminum, selenium,
And hydrogen and oxygen and nitrogen and rhenium
And nickel, neodymium, neptunium, germanium,
And iron, americium, ruthenium, uranium,
Europium, zirconium, lutetium, vanadium
And lanthanum and osmium and astatine and radium
And gold, protactinium and indium and gallium (inhale)
And iodine and thorium and thulium and thallium.
There's yttrium, ytterbium, actinium, rubidium
And boron, gadolinium, niobium, iridium
And strontium and silicon and silver and samarium,
And bismuth, bromine, lithium, beryllium and barium.
There's holmium and helium and hafnium and erbium
And phosphorous and francium and fluorine and terbium
And manganese and mercury, molybdinum, magnesium,
Dysprosium and scandium and cerium and cesium
And lead, praseodymium, platinum, plutonium,
Paladium, promethium, potassium, polonium,
Tantalum, technetium, titanium, tellurium, (inhale)
And cadmium and calcium and chromium and curium.
There's sulfur, californium and fermium, berkelium
And also mendelevium, einsteinium and nobelium
And argon, krypton, neon, radon, xenon, zinc and rhodium
And chlorine, cobalt, carbon, copper,
Tungsten, tin and sodium.
- Tom Lehrer
#joke
See what proper pun...
See what proper punctuation will do!!
Dear John,
I want a man who knows what love is all about. You are generous, kind, thoughtful. People who are not like you admit to being useless and inferior. You have ruined me for other men. I yearn for you. I have no feelings whatsoever when we're apart. I can be forever happy--will you let me be yours?
Sheila
Dear John,
I want a man who knows what love is. All about you are generous, kind, thoughtful people who are not like you. Admit to being useless and inferior. You have ruined me. For other men, I yearn. For you, I have no feelings whatsoever. When we're apart, I can be forever happy. Will you let me be?
Yours, Sheila
#joke
Blessing a Body…?
A newly ordained deacon was asked to hold a graveside service for someone with no family or friends. It was his first official assignment, so he eagerly agreed.
Taking his duties very seriously, the deacon let early the next morning for the cemetery. However, he made several wrong turns and quickly got himself lost. When he finally arrived more than an hour late, the hearse was nowhere to be seen and the two workmen were eating lunch.
The deacon got out of his car, quickly threw on his vestments, and hurried to the open grave. Looking into the pit, he saw that the vault lid was already in place. With a sign, he took out his prayer book and read the burial service.
After he had left, one of the workmen said to the other, "Maybe we should have told him he just blessed a septic tank."
This joke was reprinted from "The Book of Catholic Jokes" by Deacon Tom Sheridan, with permission of ACTA Publications. Copyright 2008. All rights reserved.
#joke