I eat shredded cabbage with ma...
I eat shredded cabbage with mayonnaise: I'm a slaw-biting citizen.
A carrier pigeon stopped to re...
A carrier pigeon stopped to rest on the window sill in the Pentagon building. Close behind him came another pigeon who stopped off to talk. "Where you going?' asked the second pigeon. "To section M to deliver an order," answered the first. "What's the number of the order?" "234XZY-Q78955-421YYTX," replied the first. "Better get a move on," said the second. "I got an order to rescind it."
#joke
Funny video of the day - Funny video of the day Tuesday, 24 August 2010
Can We Have a Hanukkah Tree?
Admiring the Christmas trees displayed in his neighbor's windows, a child asks his father, "Daddy, can we have a Hanukkah Tree?"
"What? No, of course not." says his father.
"Why not?" asks the child again.
Bewildered, his father replies, "Because the last time we had dealings with a lighted bush we spent 40 years in the wilderness."

E.T.s eyes
Why are E.T.s eyes so big?
Because he saw the phone bill.
Chemistry Song 04
Silent Labs
Silent labs, difficult labs
All with math, all with graphs
Observations of colors and smells
Calculations and graph curves like bells
Memories of tests that have past
Oh, how long will chemistry last?
Silent labs, difficult labs
All with math, all with graphs
Lots of equations that need balancing
Gas pressure problems that make my head ring
Santa Chlorine's on his way
Oh, Please Santa bring me an 'A'.
#joke
Arj Barker: Overwhelmed at the Shoe Store
There are so many types of shoes. Theres so many categories, and I really have no idea what type of shoe I need at any given time. And I go in there -- I find it a little bit overwhelming. Welcome to the shoe store! What are you looking for? Are you looking for walking shoes? Well, uh, Id like to have that option. Hopefully, theyre adjustable. I mean, Id like to be able to turn them up to other settings, as well.
#joke
FLEX WORDLE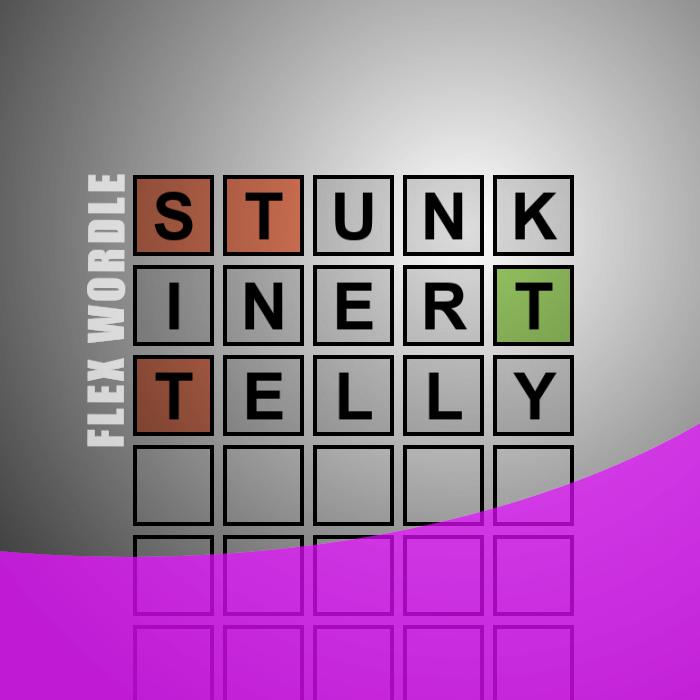 Guess the
WORDLE
in 3 tries. After each guess, the color of the tiles will change to show how close your guess was to the solution.
Fast Eddie
Eddie wanted desperately to have sex with this really cute, really hot girl in his office.... but she was dating someone else.
One day Eddie got so frustrated that he went to her and said, "I'll give you a $100 if you let me have sex with you." The girl looked at him, then said, "NO."
Eddie said, "I'll be real fast. I'll throw the money on the floor, you bend down, and I'll finish by the time you've picked it up."
She thought for a moment and said that she would consult with her boyfriend.... so she called him and explained the situation.
Her boyfriend says, "Ask him for $200, pick up the money really fast... he won't even be able to get his pants down." She agreed and accepts the proposal.
Over half an hour goes by and the boyfriend is still waiting for his girlfriend's call. Finally, after 45 minutes the boyfriend calls and asks, "what happened....?"
Still breathing hard, she managed to reply, "The bastard had all quarters!"
Management Lesson:
Always carefully consider a business proposition in it's entirety before agreeing to it and getting screwed!
#joke
Boyfriend 4.0
Last year, many women upgraded their BOYFRIEND 3.1 to
BOYFRIEND PLUS 1.0
(marketing name: FIANCE 1.0) and then further upgraded
FIANCE 1.0 to
HUSBAND 1.0. They found that 1.0 is a memory hogger and
incompatible to
many other programs in their lives. HUSBAND 1.0 includes
plug-ins such
as MOTHER-IN-LAW, BROTHER-IN-LAW, and ANNOYING LOSER FRIENDS
although
market research has clearly shown that they are unnecessary
and
unwanted.
The upcoming BOYFRIEND 4.0 will change all that. Created by
leading
experts in the field and based upon years of research and
classroom
lectures, it includes the best of the old features, such as
the HANDYMAN
FUNCTION, and includes many new functions such as the
OPTIONAL
COMMITMENT FEATURE. Other immature functions, such as BEER
GUZZLING and
CAT CALLING have been removed, though they can still be
found on FRATBOY
1.1
BOYFRIEND 4.0 will include:
- An AUTOMATIC REMINDER BUTTON AND PAY ATTENTION FEATURE (so
I don't
have to repeat myself)
- MINIMIZE BUTTON
- SHUTDOWN FEATURE
- SHOPPING FUNCTION
- A BACK-UP ENERGY SUPPLY, so it won't fall asleep after sex
- A LAUNDRY, COOKING, & HOUSECLEANING FUNCTION
- DIAPER-CHANGING FUNCTION, for the more advanced users
- A SELF DESTRUCT SEQUENCE, so once it's uninstalled it
won't come back
- A MONOGAMY FEATURE
- AUTOMATIC OVERRIDE that kicks in right before they're
about to say
ANYTHING even remotely stupid
A very shy guy goes into a bar...
A very shy guy goes into a bar and sees a beautiful woman sitting at thebar. After an hour of gathering up his courage he finally goes over to herand asks, tentatively, "Um, would you mind if I chatted with you for awhile?"
She responds by yelling, at the top of her lungs, "No, I won't sleep withyou tonight!" Everyone in the bar is now staring at them.
Naturally, the guy is hopelessly and completely embarrassed and he slinksback to his table.
After a few minutes, the woman walks over to him and apologizes. Shesmiles at him and says, "I'm sorry if I embarrassed you. You see, I'm agraduate student in psychology and I'm studying how people respond toembarrassing situations."
To which he responds, at the top of his lungs, "What do you mean $200?"
#joke
One morning, a company CEO rea...
One morning, a company CEO read an unusual letter from one of his employees:
Dear Bo$$,
A$ all of u$ have read in the new$paper$, the U$ economy ha$ come out of the rece$$ion.
In thi$ life, we all need $ome thing mo$t de$perately. I think you $hould be under$tanding of the need$ of u$ worker$ who have given $o much $upport including $weat and $ervice to your company.
I am $ure you will gue$$ what I mean and re$pond $oon.
Your$ $incerely,
Norman
-----------------------------------------
The next day, the employee received this reply:
Dear NOrman,
I kNOw you have been working very hard. NOwadays, NOthing much has changed. You must have NOticed that our company is NOt doing NOticeably well as of yet.
NOw the newspapers are saying the world's leading ecoNOmists are NOt sure if the United States may go into aNOther recession. After the NOvember presidential elections things may turn bad.
I have NOthing more to add NOw. You kNOw what I mean.
Yours truly,
Manager
#joke
ATTORNEY: Were you present wh...
ATTORNEY: Were you present when your picture was taken?
WITNESS: Are you shittin' me?

A MAN was out walking in the c...
A MAN was out walking in the country when he saw a little girl struggling to drive a cow along the road.

He asked her what she was doing and she said: "I've got to take this cow to the bull."

"Couldn't your father do that?" asked the man.

The little girl replied: "Oh no, it has to be the bull."

Craig Black
Stenhouse.

An elderly man was reminiscing to his young granddaughter about his wartime experiences.

He said: "I fought in Africa, in Italy and in Germany. I fought with Montgomery, with Wavell and with Alexander."

His granddaughter looked up at him and said: "Couldn't you get on with anybody, Grandpa?"

Alex Paterson
Lochend Road
Edinburgh

What's the difference between a teacher and a train?

A teacher says "Spit that gum out", but a train says "Chew chew".

John Allen
Portobello

What do you call a fairy who never takes a bath?

Stinkerbell

Karen Crawford
Leith Walk

If you have a joke you would like to share with us, send it by e-mail to: letters_en@ edinburghnews.com




The full article contains 184 words and appears in Edinburgh Evening News newspaper.