Be rady for Thanksgiving
, check out our latest
Thanksgiving jokes of 2021
on:
Thanksgiving jokes collection
Slovaks have ...
Slovaks have the dirtiest floors.
A kindergarten pupil told his ...
A kindergarten pupil told his teacher he'd found a cat, but it was dead. "How do you know that the cat was dead?" she asked her pupil.
"Because I pissed in its ear and it didn't move," answered the child innocently.
"You did WHAT?! ?" the teacher exclaimed in surprise.
"You know," explained the boy, "I leaned over and went 'Pssst!' and it didn't move."
#joke
Funny video of the day - Funny video of the day Monday, 25 October 2010
Passing Gas
An elderly couple was attending church services when about halfway through she leans over and says to him, "I just had a silent passing of gas, what do you think I should do?"
He leans over to her and replies, "Put a new battery in your hearing aid..."

Letter Home
A college student wrote a letter home:
Dear folks,
I feel miserable cause I have to keep writing for money. I feel ashamed and unhappy. I have to ask for another hundred, but every cell in my body rebels. I beg on bended knee that you forgive me.
Your son, Marvin
P.S. I felt so terrible I ran after the mailman who picked this up at the box at the corner. I wanted to take this letter and burn it. I prayed to God that I could get it back, but I was too late.
A few days later, he received a letter from his father:
Dear Son,
Good news! Your prayers were answered. Your letter never came!
This joke was reprinted from "Laugh Yourself Healthy" by Charles and Frances Hunter, with permission of Strang Communications. Copyright 2008. All rights reserved.

#joke
Random Thoughts...
If you mixed vodka with orange juice and milk of magnesia, would you get a Phillip's Screwdriver?
Why do we say something is out of whack? What is a whack?
If love is blind, why is lingerie so popular?
When someone asks you, 'A penny for your thoughts,' and you put your two cents in, what happens to the other penny?
Why is the man who invests all your money called a broker?
When cheese gets it's picture taken, what does it say?
Why are a wise man and a wise guy opposites?
If lawyers are disbarred and clergymen defrocked, doesn't it follow that electricians can be delighted, musicians denoted, cowboys deranged, models deposed, tree surgeons debarked and dry cleaners depressed?
If you take an Oriental person and spin them around several times, do they become disoriented?
If people from Poland are called 'Poles,' why aren't people from Holland called 'Holes?'
A Cold Winter Night
Lorenzo Dow, an evangelist of the last century, was on a preaching tour when he came to a small town one cold winter's night.
He entered the local general store to get some warmth, and saw the town's lawyers gathered around the pot-bellied stove, discussing the town's business. Not one offered to allow Dow into the circle.
Dow told the men who he was, and that he had recently had a vision where he had been given a tour of Hell, much like the traveler in Dante's Inferno.
When one of the lawyers asked him what he had seen, he replied, "Very much what I see here: All of the lawyers, gathered in the hottest place."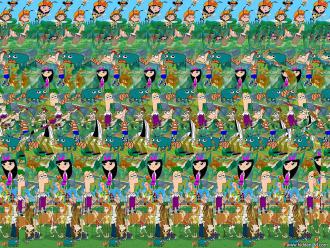 What hides this stereogram?
Stereogram - 3D Image
Submarine
Did you know that the Pollacks recently built their own submarine?
It's got wire mesh on the windows to keep out the flies.
Submitted by Curtis
Edited by calamjo
Gilbert Gottfried: Spoke to the Animals
A traveling salesman goes to a farm house. The farmer goes, I could put you up for one night, but youll have to stay in the barn. So he spends the night there and the next morning the farmer comes in, he goes, Were you comfortable? He goes, I had a great time; I talked to all the animals. He goes, You talked to the animals? He goes, Yeah I spoke to the chickens, they say you collect the eggs every morning exactly at five minutes after six. He goes, Thats exactly right. He says, The horse tells me his name is Otis, youve owned him for 10 years. He goes, Thats incredible. And he goes, I spoke to the cow, the cow says that her name is Elsie and you milk her every morning at exactly 8:30. And then I spoke to the sheep. And the farmer goes, Those sheep are lying.
#joke
One day, shortly after having ...
One day, shortly after having her 9th baby, the good Irish lady ran into her parish priest.
He congratulated her on the new offspring then said, "Isn't having nine babies a little much?"
"Well," she said, "I don't know why I get pregnant so often, it must be something in the air."
"Yes," said the priest, "your legs!"
#joke
A burglar broke into a house o...
A burglar broke into a house one night. He shone his flashlight around looking for valuables, and when he picked up a CD player to place in his sack, a strange, disembodied voice echoed from the dark saying, "Jesus is watching you."
He nearly jumped out of his skin, clicked his flashlight off and froze. When he heard nothing more after a bit, he shook his head, promised himself a vacation after the next big score, then clicked the light back on and began searching more valuables. Just as he pulled the stereo out so he could disconnect the wires, clear as a bell he heard, "Jesus is watching you."
Totally rattled, he shone his light around frantically, looking for the source of the voice. Finally, in the corner of the room, his flashlight beam came to rest on a parrot. "Did you say that?" He hissed at the parrot.
"Yes," the parrot confessed, then squawked, "I'm just trying to warn you."
The burglar relaxed. "Warn me, huh? Who do you think you are any way?"
"Moses," replied the bird.
"Moses," the burglar laughed. "What kind of stupid people would name a parrot 'Moses'?"
The bird promptly answered: "The same kind of people that would name a Rottweiler 'Jesus'!"
#joke
Two avid fishermen go on a fis...
Two avid fishermen go on a fishing trip. They rent all the equipment: the reels, the rods, the wading suits, the rowboat, the car, and even a cabin in the woods. They spend a fortune.
The first day they go fishing, but they don't catch anything. The same thing happens on the second day, and on the third day. It goes on like this until finally, on the last day of their vacation, one of the men catches a fish.
As they're driving home they're really depressed. One guy turns to the other and says, "Do you realize that this one lousy fish we caught cost us fifteen hundred dollars?"
The other guy says, "Wow! It's a good thing we didn't catch any more!"
#joke
A young woman said to her d...
A young woman said to her doctor, 'You have to help me, I hurt all over.' 'What do you mean?' said the doctor. The woman touched her right knee with her index finger and yelled,'Ow, that hurts.' Then she touched her left cheek and again yelled, 'Ouch! That hurts, too.' Then she touched her right earlobe. 'Ow, even THAT hurts.' The doctor asked the woman, 'Are you a natural blonde?' 'Why yes,' she said. 'I thought so,' said the doctor. 'You have a sprained finger.'
Two aliens landed in the New M...
Two aliens landed in the New Mexico desert near a gas station that had been closed for the night. They approached one of the gas pumps and the younger of the two aliens addressed it.
"Greetings, Earthling. We come in peace. Take us to your leader."
The gas pump (of course) didn't respond.
The younger alien started to get mad at the lack of response and the older one said, "I wouldn't do that if I were you."
The younger alien ignored the warning and repeated the greeting. Again, there was no response.
Annoyed by what he perceived to be the pump's haughty attitude, he drew his ray gun and said impatiently, "Greetings, Earthling. We come in peace. Do not ignore us in this way! Take us to your leader, or I will fire."
The older alien again warned his comrade, "You don't want to do that. You really don't want to make him mad!"
"Rubbish," replied the younger alien.
He aimed his weapon at the pump and fired. There was a huge explosion. A massive fireball roared outwards and towards them and blew the younger alien off his feet and deposited him in a burnt and crumpled mess 200 yards away in a cactus patch.
Thirty-five Earth minutes later, when he finally regained consciousness, refocused his three eyes and straightened his bent antenna, he looked dazedly up at the wiser one, who was standing over him, slowly shaking his big green head.
"What a ferocious creature," said the young fried one. "It damn near killed us! How did you know it was so dangerous?"
The older alien leaned over, placed a friendly feeler onto the crispy, peeling flesh and shared some knowledge.
"If there's one thing I've learned during my travels through the galaxy," said the wise old alien. "When a guy has a penis he can wrap around himself twice and then stick it in his ear, you don't mess with him."
#joke
One Wish..
A man exploring the ancient Pyramids of Egypt while on vacation stumbled across a secret room. He sneaked away from the tour group and explored the room. He found a dusty lamp and picked it up. While he wiped the dust off the lamp a genie appeared in a puff of smoke.
"For freeing me from my prison, I will grant you a wish, what will it be sire?"
The man thought for a moment, then said, "I want a spectacular job, a job that no man has ever succeeded at or has ever attempted to do."
"Allah Ka Zam!" said the genie.
"You're a housewife!"
#joke
Three handsome male dogs are w...
Three handsome male dogs are walking down the street when they see a beautiful, enticing, female Poodle. The three male dogs fall all over themselves in an effort to be the one to reach her first, but end up arriving in front of her at the same time. The males are speechless before her beauty, slobbering on themselves and hoping for just a glance from her in return. Aware of her charms and her obvious effect on the three suitors, she decides to be kind and tells them "The first one who can use the words "liver" and "cheese" together in an imaginative, intelligent sentence can go out with me." The sturdy, muscular black Lab speaks up quickly and says "I love liver and cheese." "Oh, how childish," said the Poodle. "That shows no imagination or intelligence whatsoever." She turned to the tall, shiny Golden Retriever and said "How well can you do?" "Ummmm...I HATE liver and cheese," blurts the Golden Retriever. "My, my," said the Poodle. "I guess it's hopeless. That's just as dumb as the Lab's sentence." She then turns to the last of the three dogs and says, "How about you, little guy?" The last of the three, tiny in stature but big in fame and finesse, is the Taco Bell chihuahua. He gives her a smile, a sly wink, turns to the Golden Retriever and the Lab and says... 
"Liver alone. Cheese mine."
#joke
Employee Want Ad Translations
Energetic self-starter: You'll be working on commission.
Entry level position: We will pay you the lowest wages allowed by law.
Experience required: We do not know the first thing about any of this.
Fast learner: You will get no training from us.
Flexible work hours: You will frequently work long overtime hours.
Good organizational skills: You'll be handling the filing.
Make an investment in you future: This is a franchise or a pyramid scheme.
Management training position: You'll be a salesperson with a wide territory.
Much client contact: You handle the phone or make "cold calls" on clients.
Must have reliable transportation: You will be required to break speed limits.
Must be able to lift 50 pounds: We offer no health insurance or chiropractors.
Opportunity of a lifetime: You will not find a lower salary for so much work.
Planning and coordination: You book the bosses travel arrangements.
Quick problem solver: You will work on projects months behind schedule already.
Strong communication skills: You will write tons of documentation and letters.
#joke