Have a great time for
Christmas
, check out our latest
Christmas jokes of 2022
on:
Christmas jokes collection
I made a rousing speech about ...
I made a rousing speech about pickled fruits that start with 'Q'.  Far and wide I became known for my grand dill o' quince.

A young man tutored his s...
A young man tutored his sweetheart maths,
he thought of it as his mission,
he kissed her once then once again and said
"There, that's addition!"
She took it upon herself to return the pleasant action,
she kissed once and once again,
smiled and said "and that's subtraction!"
Now she'd learned the basics without too much complication,
they kissed each other once, then twice,
and said "that must be multiplication!"
Meanwhile the young lady's father
had this 'lesson' in his vision,
he kicked that boy ten foot out the door and said
"Then that is long division!"
#joke
Funny video of the day - Funny video of the day Sunday, 28 November 2010
Moshe Reads an Arab Newspaper
A story is told of a Jewish man who was riding on the subway reading an Arab newspaper. A friend of his, who happened to be riding in the same subway car, noticed this strange phenomenon. Very upset, he approached the newspaper reader.
"Moshe, have you lost your mind? Why are you reading an Arab newspaper?"Moshe replied, "I used to read the Jewish newspaper, but what did I find? Jews being persecuted, Israel being attacked, Jews disappearing through assimilation and intermarriage, Jews living in poverty. So I switched to the Arab newspaper. Now what do I find? Jews own all the banks, Jews control the media, Jews are all rich and powerful, Jews rule the world. The news is so much better!"
#joke
Corporate Lesson 2

A ...
Corporate Lesson 2
A priest was driving along and saw a nun on the side of the road. He stopped and offered her a lift which she accepted. She got in and crossed her legs, forcing her gown to open and reveal a lovely leg. The priest had a look and nearly had an accident.
After controlling the car, he stealthily slid his hand up her leg. The nun looked at him and immediately said, "Father, remember Psalm 129?" The priest was flustered and apologized profusely. He forced himself to remove his hand. Changing gear, he let his hand slide up her leg again. The nun once again said, "Father, remember Psalm 129?" Once again the priest apologized "Sorry sister but the flesh is weak."
Arriving at the convent, the nun got out gave him a meaningful glance and went on her way. On his arrival at the church, the priest rushed to retrieve a bible and looked up Psalm 129. It said, "Go forth and seek, further up, you will find glory."
Moral of the story: If you are not well informed in your job, you might miss a great opportunity.
#joke
Lawyers Arrive In Japan
Source: Sunday Daily Breeze
Take heart, America. Three monkey wrenches have been thrown into Japan's well-oiled economic machine. It's only a mater of time before that powerful engine of productivity begins to sputter and fail.
What could cause such a sharp turnaround? High interest rates? Increased unemployment? Lower productivity? No, it's something much more economically debilitating - and permanent.
Three American lawyers have become the first foreign attorneys permitted to practice law in Japan. What's more, two of them are from New York!
The decline has begun.
Japan has one attorney for every 10,000 residents, compared to the U.S. ratio of one attorney for every 390 residents. For every 100 attorneys trained in Japan, there are 1,000 engineers. In the United States, that ratio is reversed.
But a law that became effective on April 1 permits foreigners to practice in Japan for the first time since 1955. Already, an additional 20 American and six British lawyers have applied for permission to open practices in Japan.
If anything can slow the Japanese economy, it's the presence of American attorneys. What better way to even our balance of trade than to send Japan our costliest surplus commodity?
Senior Year
You might be a red neck if you refer to the 5th grade as "my senior year."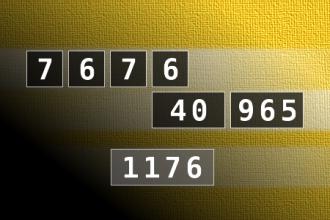 Calculate the number 1176
NUMBERMANIA: Calculate the number 1176 using numbers [7, 6, 7, 6, 40, 965] and basic arithmetic operations (+, -, *, /). Each of the numbers can be used only once.
Finesse Mitchell: Revolving Doors in New York City
Sometimes, Im scared to come out of my house. Im right down there on 42nd, and I got one of those revolving doors, and I see people walking so fast. I dont walk that fast. And Ill just be standing in the doorway, like a little girl, just watching people. Then I see a little opening come, so its like Double Dutch; I get excited.
#joke
Executive recruiting...
One day while walking down the street a highly successful executive woman was tragically hit by a bus and died. Her soul arrived up in heaven where she was met at the pearly gates by St. Peter himself.
"Welcome to Heaven," said St. Peter. "Before you get settled in though, it seems we have a problem. You see, strangely enough, we've never once had an executive make it this far, and we're not really sure what to do with you."
"No problem, just let me in." said the woman.
"Well, I'd like to, but I have higher orders. What we're going to do is let you have a day in Hell and a day in Heaven and then you can choose whichever one you want, to spend an eternity in."
"Actually, I think I've made up my mind; I prefer to stay in Heaven", said the woman.
"Sorry, we have rules..."
And with that, St. Peter put the executive in an elevator and it went down-down-down to hell.
The doors opened and she found herself stepping out onto the putting green of a beautiful golf course. In the distance was a country club and standing in front of her were all her friends - fellow executives whom she had worked with, and they were all dressed in evening gowns and cheering for her.
They ran up and kissed her on both cheeks and they talked about old times. They played an excellent round of golf and at night went to the country club where she enjoyed an excellent steak and lobster dinner.
She met the Devil who was actually a really nice guy (kinda cute) and she had a great time telling jokes and dancing. She was having such a good time that before she knew it, it was time to leave. Everybody shook her hand and waved good bye as she got on the elevator. The elevator went up-up-up and opened back up at the Pearly Gates and she found St. Peter waiting for her.
"Now it's time to spend a day in Heaven," he said. So she spent the next 24 hours lounging around on clouds and playing the harp and singing. She had a great time and before she knew it her 24 hours were up and St. Peter came and got her.
"So, you've spent a day in Hell and you've spent a day in Heaven. Now you must choose your eternity," he said.
The woman paused for a second and then replied, "Well, I never thought I'd say this, I mean, Heaven has been really great and all, but I think I had a better time in Hell."
So St. Peter escorted her to the elevator and again she went down-down-down, back to Hell. When the doors of the elevator opened she found herself standing in a desolate wasteland covered in garbage and filth.
She saw her friends were dressed in rags and were picking up the garbage and putting it in sacks. The Devil came up to her and put his arm around her.
"I don't understand," stammered the woman, "yesterday I was here and there was a golf course and a country club and we ate lobster and we danced and had a great time. Now all there is, is a wasteland of garbage and all my friends look miserable."
The Devil looked at her and smiled. "Yesterday we were recruiting you. Today, you're STAFF."
#joke
A man walks in a bank, pulls o...
A man walks in a bank, pulls out a gun, and robs the bank...
Then he turns around and asks the next customer in line, "Did you see me
rob this bank?"
The customer replies, "YES!"
The robber raises his gun, points to his head and BANG!!!!!... shoots him
in the head and kills him!
He then moves to the next customer in line and says to the man, "DID ...
YOU ... SEE ... ME ... ROB THIS BANK????"
The man calmly responds, "No ... But My Wife Did!"
#joke
Police officer pulled this ...
Police officer pulled this guy over for speeding and told him that his eyes were bloodshot, and asked him if he'd been drinking. The guy said "Your eyes are glazed, have you been eating donuts?"
A little boy wanted $100.0...
A little boy wanted $100.00 badly and prayed for two weeks but nothing happened. Then he decided to write GOD a letter requesting the $100. When the postal authorities received the letter addressed to GOD USA, they decided to send it to President Clinton. the President was so impressed, touched, and amused that he instructed his secretary to send the little boy a $5.00 bill. President Clinton thought this would appear to be a lot of money to a little boy. The little boy was delighted with the $5.00 and sat down to write a thank you note to GOD, which read: Dear GOD, Thank you very much for sending the money, however, I noticed that for some reason you had to send it through Washington D.C. and, as usual, those jerks deducted $95.00.
#joke
A FARMER and his wife decided ...
A FARMER and his wife decided to hold a talent show for their animals in which each contestant would recite a passage from Shakespeare. The prize would be a big marquee with a glitter ball inside. The pig performed a piece from Hamlet; the cow chose Richard III and the sheep picked MacBeth. After much deliberation the farmer and his wife picked the best entry, announcing: "Cow is the winner of our disco tent."
#joke
Waking Up for Church
One Sunday morning, a mother went in to wake her son and tell him it was time to get ready for church, to which he replied, "I'm not going."

"Why not?" she asked."I'll give you two good reasons," he said. "One, they don't like me, and two, I don't like them."
His mother replied, "I'll give YOU two good reasons why you SHOULD go to church. One, you're 54 years old, and two, you're the pastor!"
#joke
Bob, a middle-aged Canadian to...
Bob, a middle-aged Canadian tourist on his first visit to Orlando, Florida, finds the red-light district and enters a large brothel. The madam asks him to be seated and sends over a young lady to entertain him.
They sit and talk, frolic a little, giggle a bit, drink a bit, and she sits on his lap. He whispers in her ear and she gasps and runs away! Seeing this, the madam sends over a more experienced lady to entertain the gentleman. They sit and talk, frolic a little, giggle a bit, drink a bit, and she sits on his lap. He whispers in her ear, and she too screams: "No!" and walks quickly away.
The madam is surprised that this ordinary looking man has asked for something so outrageous that her two girls will have nothing to do with him. She decides that only her most experienced lady, Lola, will do. Lola has never said no, and it's not likely anything would surprise her. So the madam sends her over to Bob. They sit and talk, frolic a little, giggle a bit, drink a bit, and she sits on his lap. He whispers in her ear and she screams: "NO WAY, BUDDY!" and smacks him as hard as she can and leaves.
The madam is by now absolutely intrigued, having seen nothing like this in all her years of operating a brothel. She hasn't done the bedroom work herself for a long time, but she's sure she has said yes to everything a man could possibly ask for. She just has to find out what this man wants that has made her girls so angry. Besides she sees a chance to teach her employees a lesson. So she goes over to Bob and says that she's the best in the house and is available. She sits and talks with him. They frolic, giggle, drink, and then she sits in his lap.
Bob leans forwards and whispers in her ear: "Can I pay in Canadian currency?"
#joke
An inebriated man and his drun...
An inebriated man and his drunken friend were sitting at a bar.
"Do you know what time it is?" asked the drunk.
"Sure" said the man.
"Thanks" said the drunk.