Solving constipation is a matt...
Solving constipation is a matter of bran over brown.
A poet and a scientist were tr...
A poet and a scientist were traveling together on a plane. The scientist was bored and said to the poet, "Hey, you, do you want to play a game? I'll ask you a question, and if you get it wrong, you give me $5. Then, you ask me a question, and if I can't answer it, I'll give you $5."
The poet thought about this for a moment, but he decided against it, seeing that the scientist was obviously a very bright man. He politely turned down the scientist's offer.
The scientist, who was really bored, tried again. "Look, I'll ask you a question, and if you can't answer it, you give me $5. Then you ask me a question, and if I can't answer it, I'll give you $50."
The poet agreed. "Okay," the scientist said, "what is the exact distance between the Earth and the Moon?"
The poet, obviously not knowing the answer, didn't stop to think about the scientist's question. He took a $5 bill out of his pocket and handed it to the scientist.
The scientist happily accepted the bill and promptly said, "Okay, now it's your turn."
The poet thought about this for a few minutes, then asked, "All right, what goes up a mountain on three legs, but comes down on four?"
The bright glow quickly vanished from the scientist's face. He thought about this for a long time, taking out his notepad and making numerous calculations. He finally gave up on his notepad and took out his laptop, using his Multimedia Encyclopedia. As the plane was landing the scientist gave up. He reluctantly handed the poet a $50 bill.
The poet accepted it graciously, getting ready to stand up. "Wait!" the scientist shouted, "you can't do this to me! What's the answer?"
The poet looked at the scientist and calmly put a $5 bill into his hand.
#joke
Funny video of the day - Funny video of the day Sunday, 12 December 2010
Tribe
A young Native American woman went to a doctor for her first ever physical exam. After checking all of her vitals and running the usual tests, the doctor said, "Well, Running Doe, you are in fine health. I could find no problems. I did notice one abnormality however."
"Oh, what is that, Doctor?"
"Well, you have no nipples."
"None of the people in my tribe have nipples," She replied.
"That is amazing," said the doctor."I'd like to write this up for The Montana Journal of Medicine if you don't mind.
She said, "OK."
"First of all" asked the doctor, "how many people are in your tribe?"
She answered, "Approximately 500."
"And what is the name of your tribe?" Asked the doctor.
Running Doe replied, "We're called
(You know me, I hate to do this to you)
"The Indiannippleless Five Hundred"
Answering Machine Message 72
Thank you for calling Uncle Tom's Mortuary and Delicatessen. You stab 'em and we slab 'em. We have specials on Mondays and Thursdays. We are currently unable to come to the phone, but if you leave your number and address at the tone, we'll be by to pick up the corpse as soon as possible.
Hospital visit
A girl walked up to the information desk in a hospital and asked to see the "upturn".
"I think you mean the 'intern,' don't you?" asked the nurse on duty.
"Yes," said the girl. "I want to have a 'contamination.'"
"You mean 'examination,'" the nurse corrected her.
"Well I want to go to the 'fraternity ward', anyway."
"I'm sure you mean the maternity ward."
To which the girl replied, "Upturn, intern; contamination, examination; fraternity, maternity....what's the difference? All I know is I haven't demonstrated in two months and I think I'm stagnant."
Submitted by Curtis
Edited by Glaci
#joke
Mike Birbiglia: Fear the Most
I was living with a girl for a while. We worried about different things. One day, I was like, What do you fear the most? And she was like, I fear youll meet someone else, and youll leave me, and Ill be all alone. And she was like, What do you fear the most? And I was like, Bears.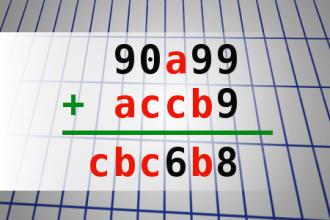 Find number abc
If 90a99 + accb9 = cbc6b8 find number abc. Multiple solutions may exist.
Hearing aid...
John: I got this great new hearing aid the other day.
Mary: Are you wearing it now?
John: Yup. Cost me four thousand dollars, though. But it's top of the line.
Mary: What kind is it?
John: Twelve-thirty.
Twins
A woman has twins, and gives them up for adoption. One of them goes to a family in Egypt and is named "Amal." The other goes to a family in Spain; they name him "Juan". Years later, Juan sends a picture of himself to his mum. Upon receiving the picture, she tells her husband that she wishes she also had a picture of Amal. Her husband responds, "But they are twins. If you've seen Juan, you've seen Amal."
#joke
Three blondes were taking a wa...
Three blondes were taking a walk in the country when they came upon a line of tracks.
The first blonde said, "Those must be deer tracks!"
The second blonde said, "No, stupid, anyone can tell those are rabbit tracks!"
The third blondie said, "No, you idiots, those are horse tracks!"
They where still arguing ten minutes later when a train hit them.
A businessman boarded a fli...
A businessman boarded a flight and was lucky enough to be seated next to an absolutely gorgeous woman...... They exchange brief hellos and he noticed she is reading a manual about sexual statistics. He asks her about it and she replied, "This is a very interesting book about sexual statistics. It identifies that American Indians have the longest average penis and Polish men have the biggest average diameter. By the way, my name is Jill. What's yours?" "Tonto Kawalski, nice to meet you."
#joke
A Recently Spotted Bumper Sticker:
"What if the Hokey Pokey really is what it's all about?"
"Dick Cheney gave an inte...
"Dick Cheney gave an interview to Fox News. Some are accusing Fox of giving softball questions. My answer to that is, 'Well, does a vice president shoot in the woods?'" -- David Letterman

There was once a great actor, ...
There was once a great actor, who had a problem. He could no longer remember his lines. Finally after many years he finds a theatre where they are prepared to give him a chance to shine again. The director says,"This is the most important part, and it has only one line. You must walk onto the stage carrying a rose, you must hold the rose with just one finger and your thumb to your nose, sniff the rose deeply and then say the line... 'Ah, the sweet aroma of my mistress.'" The actor is thrilled.All day long before the play he's practicing his line, over and over again. Finally the time came.
The curtain went up, the actor walked onto the stage, and with great passion, he delivered the line; "Ah, the sweet aroma of my mistress".
The theatre erupted, the audience screamed with laughter... and the director was steaming! "You bloody fool!" he cried, "You have ruined me!"
The actor, quite bewildered, asked, "What happened, did I forget my line?" he asked.
"No!" the director screamed.... "You forgot the bloody rose!"
#joke
limos and headlights
One time there was a little boy who was really dirty. so the little boy asked his mom if he could take a shower with her. he begged and begged so his mother finally said ok! as long as he didn't look up or down. so when they got inthe shower, the little boy loked up and siad mommy what r those? the mother repied headlights! then he looked down and asked her what that was? she said that was the garage. ok the litle oy said. the next week the little boy was really dirty again but this time he took a shower with his dad. The dad said, You can as long as you don't look down . so the little boy looked down and asked what he named it? the limo said the dad! That night the litle boy had a bad dream, so he went into his parents room to see if he could sleep with them? they finally agreed to it as long as he didn't look under the covers. so after about 5 min. he looked under the covers and said mommy turn on your headlights open the garage daddys long stechy limo's commin in!
#joke
What do you do?
"What do you do?" a young man asked the beautiful girl he was dancing with.
"I'm a nurse."
"I wish I could be ill and let you nurse me," he whispered in her ear.
"That would be miraculous. I work on the maternity ward."
I'm such a loser. I went into ...
I'm such a loser. I went into my bank the other day and asked the cashier to check my balance. She pushed me off my feet!