Chuck Norris knows where Carme...
Chuck Norris knows where Carmen Sandiego is.
Lost in a balloon
Two hobbyists get into their balloon for an excursion. After a while, the wind unexpectedly picks up, and the balloon goes out of control. The two balloonists, with great effort, manage to keep the balloon stable, upright, and away from power lines. But they are lost. With more effort, they get the balloon near the ground. While floating over a country road, they see a man walking below. One of the balloonists calls down to him:
"We're lost! Can you tell us where we are?"
The man thinks for a while, looks down, looks up, looks down again, stares into space for a minute, and then cries out:
"You're in a balloon!"
The wind picks up, and the balloon floats off. After a moment, one balloonist says to the other:
"That man must be a manager."
"Why?"
"Three reasons. First, he took a long time to answer. Second, he was perfectly correct. Third, his answer was perfectly useless!"
#joke
Funny video of the day - Winter Fails 2011 Part one
The old man had died. A wonder...
The old man had died. A wonderful funeral was in progress and the town's preacher talked at length of the good traits of the deceased, what an honest man he was, and what a loving husband and kind father he was. Finally, the widow leaned over and whispered to one of her children, "Go up there and take a look in the coffin and see if that's your pa."
#joke
Gallery Sale
An artist asked the gallery owner if there had been any interest in her paintings that were on display.
"Well, I have good news and bad news," the owner responded. "The good news is that a gentleman noticed your work and wondered if it would appreciate in value after your death. I told him it would and he bought all 10 of your paintings."
"That's wonderful," the artist exclaimed. "What's the bad news?"
"The gentleman was your doctor."
"As Cheney told CNN, he h...
"As Cheney told CNN, he has been 100 percent heart attack free since ascending to the vice presidency. He added, 'In fact, rather than giving me stress, being vice president has actually fueled my blackened soul, allowing me to gorge vampire --like on the bloody nectar of unlimited power.' I'm sorry that should have read 'I never felt better.'" -- Jon Stewart, on Dick Cheney's insistence that he is the picture of health
#joke
How Fast Was I Going?

"When I saw you driving down the road, I guessed 55 at least."
"You're wrong, officer, it's only my hat that makes me look that old."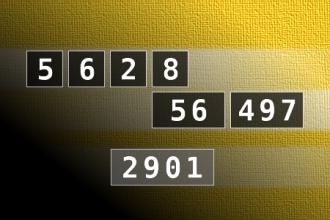 Calculate the number 2901
NUMBERMANIA: Calculate the number 2901 using numbers [5, 6, 2, 8, 56, 497] and basic arithmetic operations (+, -, *, /). Each of the numbers can be used only once.
David Alan Grier: Stopped Smoking Reefer
I stopped smoking reefer because I started thinking, if great men throughout history had smoked reefer, no tellin what would have happened. Like if somebody like Martin Luther King Jr. had smoked reefer, he would have been giving speeches like, I had a dream, but the hell if I could remember what it was about. It was either about freedom or Fritos.
#joke
Chinese Jews
Sid and Al were sitting in a Chinese restaurant.
"Sid," asked Al, "Are there any Jews in China?"
"I don't know," Sid replied. "Why don't we ask the waiter?"When the waiter came by, Al said, "Are there any Chinese Jews?"
"I don't know sir, let me ask," the waiter replied and he went into the kitchen.
He quickly returned and said, "No, sir. No Chinese Jews."
"Are you sure?" Al asked.
"I will check again, sir." the waiter replied and went back to the kitchen.
While he was still gone, Sid said, "I cannot believe there are no Jews in China. Our people are scattered everywhere."
When the waiter returned he said, "Sir, no Chinese Jews."
"Are you really sure?" Al asked again. "I cannot believe there are no Chinese Jews."
"Sir, I ask everyone," the waiter replied exasperated. "We have orange jews, prune jews, tomato jews and grape jews, but no one ever hear of Chinese jews!"
#joke
It's wise to remember how easi...
It's wise to remember how easily this wonderful technology canbe misused, sometimes unintentionally, with serious consequences.
Consider the case of the Illinois man who left the snow-filledstreets of Chicago for a vacation in Florida. His wife was on abusiness trip and was planning to meet him there the next day.When he reached his hotel, he decided to send his wife aquicke-mail. Unable to find the scrap of paper on which he hadwritten her e-mail address, he did his best to type it in frommemory.
Unfortunately, he missed one letter, and his note was directedinstead to an elderly preacher's wife, whose husband had passedaway only the day before. When the grieving widow checked here-mail, she took one look at the monitor, let out a piercingscream, and fell to the floor in a dead faint.
At the sound, her family rushed into the room and saw this noteon the screen:
Dearest Wife,
Just got checked in. Everything prepared for your arrivaltomorrow.
PS. Sure is hot down here.
#joke
How do you expect to get into heaven?
An exasperated mother, whose son was always getting into mischief, finally asked him, "How do you expect to get into heaven?"
The boy thought it over and said, "Well, I'll just run in and out and in and out and keep slamming the door until St. Peter says, 'For heaven's sake, Jimmy, either come in or stay out!'"
#joke
God Takes a Vacation
"Hmmm," St. Peter reflected. "Well, how about Mercury?"
"No way!" God muttered. "It's way too hot for me there!"
"I've got it," St. Peter said, his face lighting up. "How about going down to Earth for your vacation?"
Chuckling, God remarked, "Are you kidding? Two thousand years ago I went there, had an affair with some nice Jewish girl, and they're STILL talking about it!"
#joke
Jeff Dunham: How Women Age
Jeff Dunham: Walter, your wife is a lovely woman.
Walter: Shes getting old.
Jeff Dunham: Well, you know, they say that women age like fine wine.
Walter: Shes aging like milk.
Jeff Dunham: Coffee as a Sex-Enhancer?
Walter: My wife and I heard that coffee is good for your sex life. Jeff Dunham: Oh, and is it? Walter: No. It kept me awake for the whole damn thing. I actually had to participate!
I Marked The Spot
Two friends rented a boat and fished in a lake every day. One day they caught 30 fish. One guy said to his friend,
"Mark this spot so that we can come back here again tomorrow."
The next day, when they were driving to rent the boat, the same guy asked his friend, "Did you mark that spot?"
His friend replied, "Yeah, I put a big 'X' on the bottom of the boat."
The first one said, "You stupid fool! What if we don't get that same boat today!?!?"
#joke