Q: Why did the chicken cr...
Q: Why did the chicken cross the beach?

A: To get to the other tide.

Celebrity jokes-Three hours fast!
Prince William's watch is three hours fast and they can't fix it. So he's going to move to New York.
Funny video of the day - Best Fails Of 2011 Compilation || YDL
Chuck Norris was once a knight...
Chuck Norris was once a knight in King Arthur's court. He was known as Sir Beatdown.
GIFTS FOR MEN
Here are some gift ideas for those special men in your life!
Buying gifts for men is not nearly as complicated as it is for women. Follow these rules and you should have no problems.
Rule #1: When in doubt – buy him a cordless drill. It does not matter if he already has one. I have a friend who owns 17 and he has yet to complain. As a man, you can never have too many cordless drills. No one knows why.
Rule #2: If you cannot afford a cordless drill, buy him anything with the word ratchet or socket in it. Men love saying those two words. "Hey George, can I borrow your ratchet?" "OK. Bye-the-way, are you through with my 3/8-inch socket yet?" Again, no one knows why.
Rule #3: If you are really, really broke, buy him anything for his car. A 99-cent ice scraper, a small bottle of deicer or something to hang from his rear view mirror. Men love gifts for their cars. No one knows why.
Rule #4: Do not buy men socks. Do not buy men ties. And never buy men bathrobes. I was told that if God had wanted men to wear bathrobes, he wouldn't have invented Jockey shorts.
Rule #5: You can buy men new remote controls to replace the ones they have worn out. If you have a lot of money buy your man a big- screen TV with the little picture in the corner. Watch him go wild as he flips, and flips, and flips.
Rule #6: Do not buy a man any of those fancy liqueurs. If you do, it will sit in a cupboard for 23 years. Real men drink whiskey or beer.
Rule #7: Do not buy any man industrial-sized canisters of after- shave or deodorant. I'm told they do not stink – they are earthy.
Rule #8: Buy men label makers. Almost as good as cordless drills. Within a couple of weeks there will be labels absolutely everywhere. "Socks. Shorts. Cups. Saucers. Door. Lock. Sink." You get the idea. No one knows why.
Rule #9: Never buy a man anything that says "some assembly required" on the box. It will ruin his Special Day and he will always have parts left over.
Rule #10: Good places to shop for men include Northwest Iron Works, Parr Lumber, Home Depot, John Deere, Valley RV Center, and Les Schwab Tire. (NAPA Auto Parts and Sears Clearance Centers are also excellent men's stores. It doesn't matter if he doesn't know what it is. "From NAPA Auto, eh? Must be something I need. Hey! Isn't this a starter for a '68 Ford Fairlane? Wow! Thanks.")
Rule #11: Men enjoy danger. That's why they never cook – but they will barbecue. Get him a monster barbecue with a 100-pound propane tank. Tell him the gas line leaks. "Oh the thrill! The challenge! Who wants a hamburger?"
Rule #12: Tickets to a football game are a smart gift. However, he will not appreciate tickets to "A Retrospective of 19th Century Quilts." everyone knows why.
Rule #13: Men love chainsaws. Never, ever, buy a man you love a chainsaw. If you don't know why – please refer to Rule #8 and what happens when he gets a label maker.
Rule #14: It's hard to beat a really good wheelbarrow or an aluminum extension ladder. Never buy a real man a stepladder. It must be an extension ladder. No one knows why.
Rule #15: Rope. Men love rope. It takes us back to our cowboy origins, or at least The Boy Scouts. Nothing says love like a hundred feet of 3/8″ manila rope. No one knows why.
Which jedi didn't get en...
Which jedi didn't get enough sun? Wan kenobi
The National Game warden put o...
The National Game warden put out a warning to all hikers in his area. Warning that they should wear small bells on their boots so not to startle the bears. To distinguish the grizzly bear the notice read-- small bears droppings are small with nut and berries in it. Grizzly bear droppings are much larger with nuts and berries and little tiny bells in it.
#joke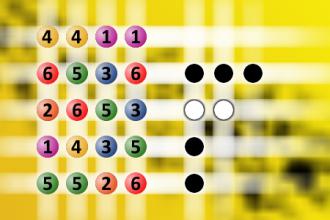 Find the right combination
The computer chose a secret code (sequence of 4 digits from 1 to 6). Your goal is to find that code. Black circles indicate the number of hits on the right spot. White circles indicate the number of hits on the wrong spot.
A Poisonous Wife
A man goes to see his Rabbi.
"Rabbi, something terrible is happening and I have to talk to you about it."
The Rabbi asks, "What's wrong?"
The man replied, "My wife is poisoning me."
The Rabbi, very surprised by this, asks, "How can that be?"
The man then pleads, "I'm telling you I'm certain she's poisoning me, what should I do?"The Rabbi then offers, "Tell you what. Let me talk to her, I'll see what I can find out and I'll let you know."
The next day the Rabbi calls the man and says, "Well, I spoke to your wife on the phone yesterday for over three hours. You want my advice?"
The man anxiously answers, "Yes."
"Take the poison," says the Rabbi.
#joke
A Kansas farm wife called the ...
A Kansas farm wife called the local phone company to report her telephone failed to ring when her friends called and that on the few occasions, when it did ring, her dog always moaned right before the phone rang.
The telephone repairman proceeded to the scene, curious to see this psychic dog or senile lady.
He climbed a telephone pole, hooked in his test set, and dialed the subscriber's house. The phone didn't ring right away, but then the dog moaned and the telephone began to ring.
Climbing down from the pole, the telephone repairman found:
1. The dog was tied to the telephone system's ground wire with a steel chain and collar.
2. The wire connection to the ground rod was loose.
3. The dog was receiving 90 volts of signaling current when the number was called.
4. After a couple of jolts, the dog would start moaning and then urinate.
5. The wet ground would complete the circuit, thus causing the phone to ring.
Which demonstrates that some problems CAN be fixed by pissing and moaning.
#joke
The Welsh and sheep
Did you hear that Welsh people have discovered a new use for sheep?
Wool.
Submitted by ¤Çúrtí§¤
Edited by Clark Kent
Kevin Hart: When You Lost a Fight to Your Woman
One time, she got me so mad, we got into a fist fight. You know how you know when you lost a fight to your woman? When the cops come to your house and ask you do you want to press charges. Thats how you know it didnt go as you planned.
This duck walks into a conveni...
This duck walks into a convenience store and asks the clerk, "Do you have any grapes?"
The clerk says no, and the duck leaves. The next day, the duck returns and asks, "Do you have any grapes?" The clerk again says no, and the duck leaves.
The day after that, the duck walks in the store again and asks "Do you have any grapes?" The clerk screams at the duck, "You've come in here the past two days and asked if we had any grapes. I told you no every time that we don't have any grapes!
I swear if you come back in here again, and ask for grapes, I'll nail your webbed feet to the floor!!" The duck left, and returned the next day. This time he asked, "Do you have any nails?"
The clerk replied, "No," and the duck said, "Good! Got any grapes?"
#joke
You know that you are living in 2009 when...
1. You accidentally enter your PIN on the microwave.
2. You haven't played solitaire with real cards in years.
3. You have a list of 15 phone numbers to reach your family of three.
4. You e-mail the person who works at the desk next to you.
5. Your reason for not staying in touch with friends and family is that they don't have e-mail addresses.
6. You pull up in your own driveway and use your cell phone to see if anyone is home to help you carry in the groceries.
7. Every commercial on television has a web site at the bottom of the screen
8. Leaving the house without your cell phone, which you didn't even have the first 20 or 30 (or 60) years of your life, is now a cause for panic and you turn around to go and get it.
10. You get up in the morning and go on line before getting your coffee.
11. You start tilting your head sideways to smile. : )
12 You're reading this and nodding and laughing.
13. Even worse, you know exactly to whom you are going to send this list.
14. You are too busy to notice there was no #9 on this list.
15. You actually scrolled back up to check that there wasn't a #9 on this list.
#joke
A blonde was hard up for money...
A blonde was hard up for money, so she walked around her neighborhood, trying to find a job.
She met a nice man who said he would give her work. All she had to do was paint his porch white. He gave her a bucket of paint and left.
He walked into his house, laughing. He told his brunette wife what he had done. "Frank, our porch covers half of the house! You're so mean." his wife replied. Three hours later, the blonde went in the house, and gave the bucket of white paint back to the man.
The astonished man handed her a $100 bill, and asked how she finished it so quickly.
"It takes time, but it was easy." was her reply. "Oh, and it's a Ferrari, not a Porsche."
The Pope vs. Moishe
About a century or two ago, the Pope challenged the Jewish community of Rome to a debate.
The Jews looked around for a champion who could defend their faith, but no one wanted to volunteer. It was too risky. So they finally picked an old man named Moishe who spent his life sweeping up after people to represent them. Being old and poor, he had less to lose, so he agreed. He asked only for one addition to the rules of debate. Not being used to saying very much, he asked that neither side be allowed to talk. The Pope agreed.The day of the great debate came. Moishe and the Pope sat opposite each other for a full minute before the Pope raised his hand and showed three fingers. Moishe looked back at him and raised one finger. The Pope waved his fingers in a circle around his head. Moishe pointed to the ground where he sat. The Pope pulled out a wafer and a glass of wine. Moishe pulled out an apple. The Pope stood up and said, "I give up. This man is too good. The Jews win."
An hour later, the cardinals were all around the Pope asking him what happened. The Pope said, "First I held up three fingers to represent the Trinity. He responded by holding up one finger, to remind me that there was still one God common to both our religions. Then I waved my finger around me to show him, that God was all around us. He responded by pointing to the ground, showing that God was also right here with us. I pulled out the wine and the wafer to show that God absolves us from our sins. He pulled out an apple to remind me of original sin. He had an answer for everything. What could I do?"
Meanwhile, the Jewish community had crowded around Moishe, amazed that this old, almost feeble-minded man had done what all their scholars had insisted was impossible. "What happened?" they asked.
"Well," said Moishe, "first he said to me that the Jews had three days to get out of here. I told him that not one of us was leaving. Then he told me that this whole city would be cleared of Jews. I let him know that we were staying right here."
"And then?" asked a woman.
"I don't know," said Moishe. "He took out his lunch and I took out mine."
#joke
Psychiatrist Phone
Hello. Welcome to the Psychiatric Hotline
If you are obsessive-compulsive, please press 1 repeatedly.
If you are co-dependent, please ask someone to press 2.
If you have multiple personalities, please press 3, 4, 5, and 6.
If you are paranoid-delusional, we know who you are and what you want. Just stay on the line so we can trace the call.
If you are schizophrenic, listen carefully and a little voice will tell you which number to press.
If you are manic-depressive, it doesn't matter which number you press. No one will answer.
If you are anxious, just start pressing numbers at random.
If you are phobic, don't press anything.
If you are anal retentive, please hold.
#joke
"Pull over the curb," said the...
"Pull over the curb," said the policeman. "You don't have a taillight."
The motorist stepped out, looked in back of the car, and stood quivering and speechless. "Oh, it's not that bad," said the policeman. The man mumbled, "It's not the taillight I am worried about. Where are my wife and trailer?"