Gallery Sale
An artist asked the gallery owner if there had been any interest in her paintings that were on display.
"Well, I have good news and bad news," the owner responded. "The good news is that a gentleman noticed your work and wondered if it would appreciate in value after your death. I told him it would and he bought all 10 of your paintings."
"That's wonderful," the artist exclaimed. "What's the bad news?"
"The gentleman was your doctor."
Really funny jokes-Sensitive stuff
Three Aussie guys, Shane, Ricky and Jeff, were working on a high-rise building project in Wagga Wagga. Unfortunately, Shane falls off the scaffolding and is killed instantly.

As the ambulance takes the body away, Ricky says, 'Someone should go and tell his wife.'
Jeff says, 'OK, I'm pretty good at that sensitive stuff, I'll do it.'

Two hours later, he comes back carrying a case of Fosters.

Ricky says, 'Where did you get that, Jeff?'

'Shane's wife gave it to me.'

Ricky continues, 'That's unbelievable, you told the lady her husband was dead and she gave you the beer?'

'Well not exactly,' Jeff said. 'When she answered the door, I said to her, "You must be Shane's widow."

She said, 'No, I'm not a widow.'

And I said, 'I'll bet you a case of Fosters you are.'
Funny video of the day - September Win Compilation 2012 || MC
Q: Why don't cannibals eat c...
Q: Why don't cannibals eat clowns?

A: Because they taste funny.

The blind salesman....
A guy goes into Wal-Mart to buy a rod and reel. He doesn't know which one to get, so he just grabs one and goes over to the register. There is a Wal-Mart associate standing there with dark shades on. He says, "Excuse me, Sir...can you tell me anything about this rod and reel?"
He says, "Sir, I'm blind, but if you will drop it on the counter I can tell you everything you need to know about it from the sound that it makes." The guy didn't believe him but dropped it on the counter anyway.
He said, "Thats a 6' graphite rod with a Zebco 202 reel and 10 lb. test line...It's a good all around rod and reel, and it's $20.00."
The guy says, "It is amazing that you can tell all that just by the sound of it dropping on the counter. I think it's what I'm looking for, so I'll take it."
He walks behind the counter to the register, and in the meantime the guy farts. At first he is embarrassed but then realizes that there is no way he could tell it was him. Being blind, the salesman wouldn't know that he was the only other person around. He rings up the sale and says, "That will be $25.50."
The guy says, "But didn't you say it was $20.00?" He says, "Yes sir, the rod and reel is $20.00, the duck call is $3.00, and the catfish stink bait is $2.50."
#joke
Paint my house
A man was sitting at a bar enjoying an after-work cocktail when an exceptionally gorgeous and sexy young woman entered. She was so striking that the man could not take his eyes away from her.
The young woman noticed his overly-attentive stare and walked directly toward him.
Before he could offer his apologies for being so rude, the young woman said to him, "I'll do anything, absolutely anything, that you want me to do, no matter how kinky, for $100 on one condition."
Flabbergasted, the man asked what the condition was.
The young woman replied, "You have to tell me what you want me to do in just three words."
The man considered her proposition for a moment, withdrew his wallet from his pocket and slowly counted out five $20 bills, which he pressed into the young woman's hand.
He looked into her eyes and slowly, meaningfully said, "Paint my house."
#joke
Family Bible
A little boy opened the big and old family Bible with fascination, looking at the old pages as he turned them. Then something fell out, and he picked it up and looked at it closely. It was an old leaf from a tree that had been pressed in between the pages.
"Momma, look what I found," the boy called out.
"What have you got there, dear?" his mother asked.
With astonishment in the his voice, he answered, "It's Adam's Suit!"
#joke
FLEX WORDLE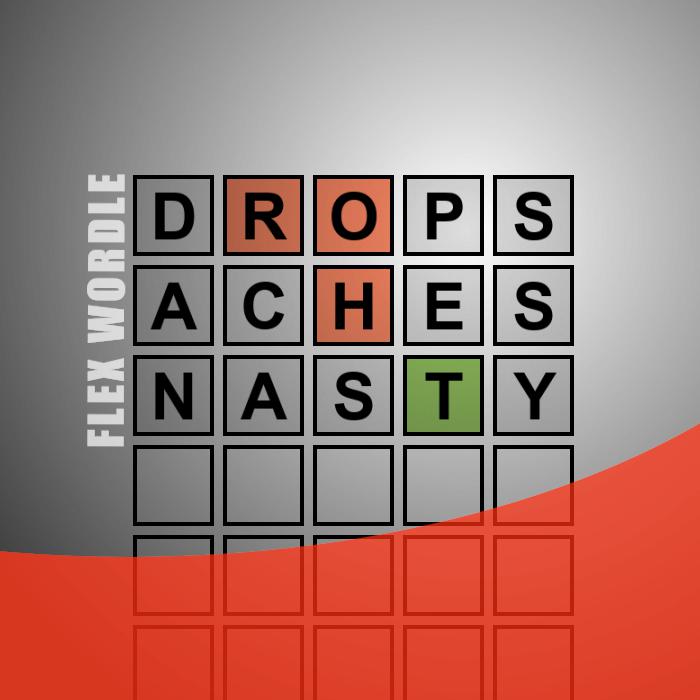 Guess the
WORDLE
in 3 tries. After each guess, the color of the tiles will change to show how close your guess was to the solution.
Whitney Cummings: Problem With Vampires
The problem with vampires is they look like theyre 20, but theyre actually 100 years old. So youll be dating this hot, young guy who grew up in the Great Depression and hates Irish people. And then you take him out to a nightclub, and hes doing the Charleston. Or you think hes cheating on you, so you go through his journal. Youre like, Who the hell is this slut? Harriet Tubman? Who the f**k is that?
#joke
Chuck Norris can lick his elbo...
Chuck Norris can lick his elbow.
An Apocalyptic One-Liner
Every time someone predicts the date of the end of the world, God pushes the date back a little just to be funny.
Chuck Norris sleeps with a nig...
Chuck Norris sleeps with a night light. Not because Chuck Norris is afraid of the dark, but the dark is afraid of Chuck Norris.
Horse back riding
A blonde goes horse back riding.
It starts out slow, but then it starts to gallop.
The blonde is enjoying herself. All of a sudden she slips off and her foot gets caught in the reins.
The horse doesn't stop and the blonde is still being dragged upside down.
She doesn't know what to do. Finally the Wal-Mart manager comes and unplugs it.
Three Nurses Tricks
Three nurses all decided to play a joke on the doctor they worked for. Later in the day, they all got together on break and discussed what they had done to the doctor.
The first nurse said, "I put cotton in his stethoscope so he couldn't hear.
The second nurse said, "Well, I did worse than that. I poked holes in all his condoms.
The third nurse fainted.
Demetri Martin: Futon World
Theres a store in my neighborhood called Futon World. I love that name, Futon World. Makes me think of a magical place that becomes less comfortable over time.
A woman called a local hospita...
A woman called a local hospital . . . .
"Hello. Could you connect me to the person who gives information about patients? I'd like to find out if a patient is getting better, doing as expected or getting worse."
The voice on the other end said, "What is the patient's name and room number?"
"Sarah Finkel, room 302."
"I'll connect you with the nursing station . . . ."
"3-A Nursing Station. How can I help you?"
"I'd like to know the condition of Sarah Finkel in room 302."
"Just a moment. Let me look at her records. Mrs. Finkel is doing very well. In fact, she's had two full meals, her blood pressure is fine, she is to be taken off the heart monitor in a couple of hours and, if she continues this improvement, Dr. Cohen is going to send her home Tuesday at noon."
The woman said, "What a relief! Oh, that's fantastic... that's wonderful news!"
The nurse said, "From your enthusiasm, I take it you are a close family member or a very close friend!"
"Neither! I AM Sarah Finkel in 302! Nobody here tells me sh*t!
#joke
Join us on WhatsApp