Bad memory
There are three old men seated inside a doctor's cabin - all suffering from bad memory.

The doctor wants to take a little test - so he asks the first old man, "Can you tell me what is four times four?"

The first man replies, "756".

The doctor can't believe this. So he moves on to the second old man asks him, "Your turn. What is four times four?"

The second man replies, "Friday".

The doctor shakes his head in disbelief and then asks the third man, "Do you think you have the answer?"

The third old man replies, "Sixteen".

"Wonderful!" says the doctor. "How did you get that?"

"Easy," the third old man replies, "Just add 756 to Friday."
"Even covered in sala...
"Even covered in salad dressing my lettuce looked bare, so I put some cloves on it."
Hot Water
John works hard and spends two nights each week bowling and plays golf every Saturday.
His wife thinks he's pushing himself too hard, so for his birthday she blindfold him and takes him to a local strip club.
The doorman at the club greets them and says, "Hey, John! How ya doin?"
Once inside his wife removes the blindfold but she's puzzled and asks if he's been to this club before.
"Oh no," says John. "He's on my bowling team."
When they are seated, a waitress asks John if he'd like his usual and brings over a Budweiser.
His wife is becoming increasingly uncomfortable and says, "How did she know that you drink Budweiser?"
"I recognize her, she's the waitress from the golf club. I always have a Bud at the end of the first nine, honey.
A stripper then comes over to their table, throws her arms around John, starts to rub herself all over him and says, "Hi Johnny. Want your usual table dance, big boy?"
John's wife, now furious, grabs her purse and storms out of the club. John follows and spots her getting into a cab. Before she can slam the door, he jumps in beside her.
John tries desperately to explain how the stripper must have mistaken him or someone else, but his wife is having none of it. She is screaming at him at the top of her lungs, calling him every four letter word in the book.


The cabby turns around and says, "Geez John, you picked up a real bitch this time."
Joke of the Day, posted everyday on getfrank.co.nz - Click to see the past weeks worth right here...

#joke
Canadian geese are known to fl...
Canadian geese are known to fly in a "V" shaped as they migrate across the county. The lead goose in the "V" cuts through the air making it easier for the rest of the geese behind him. As that lead goose becomes tired, he will drop off and join one of the sides and a new lead goose will take over. This is done several times as they are flying long distances. So if you look up in the sky and see a "V" shape of geese and one side is longer than the other, do you know what that means?
A:(There are more geese on that side)
#joke
Still talking about taxes...
A visitor from Holland was chatting with his American friend and was jokingly explaining about the red, white and blue in the Netherlands flag.
"Our flag symbolizes our taxes," he said. "We get red when we talk about them, white when we get our tax bill, and blue after we pay them."
"That's the same with us," the American said, "only we see stars, too."
#joke
Answering Machine Message 69

Hi! This is Mary. I'm afflicted with lysdexic procrastination. Please leave your message before the tone and I'll get around to getting it straight.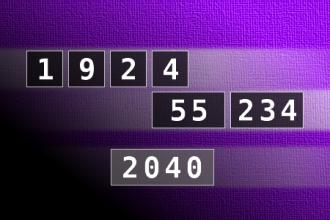 Calculate the number 2040
NUMBERMANIA: Calculate the number 2040 using numbers [1, 9, 2, 4, 55, 234] and basic arithmetic operations (+, -, *, /). Each of the numbers can be used only once.
Mad Dog!
What do you call a dog that hears voices?
A Shih-Tzu-Phrenic!
Reaching the end of a job inte...
Reaching the end of a job interview, the Human Resources Officer asked a young Engineer fresh out of MIT, "And what starting salary were you looking for?"
The Engineer replies, "In the region of $125,000 a year, depending on the benefits package."
The interviewer inquires, "Well, what would you say to a package of 5-weeks vacation, 14 paid holidays, full medical and dental, company matching retirement fund to 50% of salary, and a company car leased every 2 years say, a red Corvette?"
The Engineer sits up straight and says, "Wow! Are you kidding?"
And the interviewer replies, "Yeah, but you started it."
#joke
Chuck Norris' credit cards hav...
Chuck Norris' credit cards have no limit. Last weekend, he maxed them out.
A Birthday Wish
Little Sonia was shouting her prayers. "Please God send me a new doll for my birthday."
Her mother, overhearing this, said, "Don't shout dear, God isn't deaf."
"No, but Grandad is, and he's in the next room," Sonia replied.
John Oliver: Falling in Love with America
It was like falling in love with a girl who was just throwing up all over herself -- softly holding her hair back and whispering to her that everything was going to be alright. To me, thats what the last eight years were like, here in America: projectile vomiting all over yourself as the rest of the world rubbed your back, saying, Sssshhh, thats it. Let it all out.
#joke
French fries
There was once a sheep farmer who had a French farmhand working with him to help castrate his sheep.
As the farmer castrated the first sheep, the French farmhand took the parts and was about to throw them into the trash.
"No!" yelled the farmer, "Don't throw those away! My wife fries them up, and we eat them, they're delicious! They're called Sheep Fries!"
The farmhand saved the parts and took them to the farmer's wife who cooked them up for supper. This went on for three days....and each evening they had Sheep Fries for supper.
On the fourth night the farmer came in to the house for supper.
He asked his wife where the farmhand was, and she replied, "It's the strangest thing! When he came in and asked what was for supper, I told him French Fries, and he ran like hell!"
Submitted by Calamjo
EDited by Tanilazing
#joke
Rudolph the Red Nosed Reindeer
A Russian couple was walking down the street in St. Petersburg the other night, when the man felt a drop hit his nose. "I think it's raining," he said to his wife.
"No, that felt more like snow to me," she replied. "No, I'm sure it was just rain, he said." Well, as these things go, they were about to have a major argument about whether it was raining or snowing. Just then they saw a minor communist party official walking toward them. "Let's not fight about it," the man said, "let's ask Comrade Rudolph whether it's officially raining or snowing."
As the official approached, the man said, "Tell us, Comrade Rudolph, is it officially raining or snowing?"
"It's raining, of course," he answered and walked on. But the woman insisted: "I know that felt like snow!" To which the man quietly replied: "Rudolph the Red knows rain, dear!"
#joke
Ralphie May - Dora the Explorer
Have you seen this show? If you havent, its about a five-year-old little Mexican girl thats always lost. It should be called Dora the Amber Alert.
Christopher Titus: Post-Weiner Politics
Im thinking of a presidential bid; currently indexing and cross-referencing everyone Ive tweeted my junk to. 8x10s available.