A cowboy walks into a bar, sit...
A cowboy walks into a bar, sits down, and asks for a shot. Across the bar, a Mexican man is sitting and glaring at the cowboy. The cowboy takes the shot and slams the shot glass down on the counter, yelling, "TGIF!" The Mexican orders a shot, takes it, and slams his glass down, yelling, "SPIT!" The cowboy looks over at him and notices the Mexican guy is still staring at him. The cowboy once again orders a shot, slams it down, and yells again "TGIF!" Once again, the Mexican orders a shot, slams it down after consuming it, and yells out, "SPIT!" This goes on for a while, and the bartender stands puzzled and annoyed. Finally, the bartender asks the cowboy, "Just checking, but do you know what TGIF means?" and the cowboy replies, "Hell ya I know what it means, 'Thank God It's Friday!'" The bartender asks the Mexican guy, "Okay, so what does 'SPIT' mean?" and the Mexican replies, "Stupid Pendejo It's Thursday!"
Walking economy....
A guy is walking down the street with his friend. He says to his friend, "I'm just a walking economy."
His friend replies, "What do you mean?"
"It's like this: My hairline is in recession, my stomach is a victim of inflation, and the combination of these factors is putting me into a deep depression.
#joke
Man with no arms
An armless man walked into a bar which is empty except for the bartender. He ordered a drink and when he was served, asked the bartender if he would get the money from his wallet in his pocket, since he has no arms.
The bartender obliged him. He then asked if the bartender would tip the glass to his lips. The bartender did this until the man finished his drink. He then asked if the bartender would get a hanky from his pocket and wipe the foam from his lips. The bartender did it and commented it must be very difficult not to have arms and have to ask someone to do nearly everything for him.
The man said, "Yes, it is a bit embarrassing at times. By the way, where is your restroom?"
The bartender quickly replied, "The closest one is in the gas station three blocks down the street."
#joke
Another Bull Name
Q: What do you call a masturbating bull?
A: Beef Strokinoff.
"I've been trying to ...
"I've been trying to come up with a joke about a Mobius strip but I don't know where to begin."
College Rules
On the first day of college, the dean addressed the students, pointing out some of the rules:
"The female dormitory will be out-of-bounds for all male students, and the male dormitory to the female students. Anybody caught breaking this rule will be fined $20 the first time. Anybody caught breaking this rule the second time will be fined $60. Being caught a third time will cost you $180. Are there any questions?"

One student raised his hand and asked, "How much for a season pass?"
#joke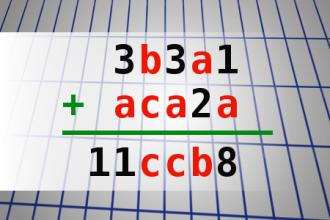 Find number abc
If 3b3a1 + aca2a = 11ccb8 find number abc. Multiple solutions may exist.
True Marketing Errors
Below are fine examples of what happens when marketing translations fail to reach a foreign country in an understandable way.
Coors put its slogan, "Turn it loose," into Spanish, where it was read as "Suffer from diarrhea."
Clairol introduced the "Mist Stick," a curling iron, into German only to find out that "mist" is slang for manure. Not too many people had use for the "manure stick".
Scandinavian vacuum manufacturer Electrolux used the following in an American campaign: Nothing sucks like an Electrolux.
The American slogan for Salem cigarettes, "Salem-Feeling Free", was translated into the Japanese market as "When smoking Salem, you will feel so refreshed that your mind seems to be free and empty."
When Gerber started selling baby food in Africa, they used the same packaging as in the US, with the beautiful baby on the label. Later they learned that in Africa, companies routinely put pictures on the label of what's inside, since most people can't read English.
An American T-shirt maker in Miami printed shirts for the Spanish market which promoted the Pope's visit. Instead of "I saw the Pope" (el Papa), the shirts read "I saw the potato" (la papa).
In Italy, a campaign for Schweppes Tonic Water translated the name into "Schweppes Toilet Water."
Pepsi's "Come alive with the Pepsi Generation" translated into "Pepsi brings your ancestors back from the grave," in Chinese.
When Parker Pen marketed a ballpoint pen in Mexico, its ads were supposed to say "It won't leak in your pocket and embarrass you." However, the company mistakenly thought the spanish word "embarazar" meant embarrass. Instead the ads said that "It wont leak in your pocket and make you pregnant."
The name Coca-Cola in China was first rendered as Ke-kou-ke-la. Unfortunately, the Coke company did not discover until after thousands of signs had been printed that the phrase means "bite the wax tadpole" or "female horse stuffed with wax" depending on the dialect. Coke then researched 40,000 Chinese characters and found a close phonetic equivalent, "ko-kou-ko-le," which can be loosely translated as "happiness in the mouth."
Also in Chinese, the Kentucky Fried Chicken slogan "finger-lickin' good" came out as "eat your fingers off."
When General Motors introduced the Chevy Nova in South America, it was apparently unaware that "no va" means "it won't go." After the company figured out why it wasn't selling any cars, it renamed the car in its Spanish markets to the Caribe.
Colgate introduced a toothpaste in France called Cue, the name of a notorious porno magazine.
#joke
How to Produce Ugly Children
Q: Which sexual position produces the ugliest children?
A: Ask your Mom.
Unlucky Parachutist
A man is skydiving, enjoying his free-fall, when he realizes that he has reached the altitude where he must open his parachute. So he pulls on the rip cord, but nothing happens.
"No problem," he says to himself, "I still have my emergency chute." So he pulls the rip cord on his emergency parachute, and once again, nothing happens.
Now the man begins to panic. "What am I going to do?" he thinks, "I'm a goner!"
Just then he sees a man flying up from the earth toward him. He can't figure out where this man is coming from, or what he's doing, but he thinks to himself, "Maybe he can help me. If he can't, then I'm done for."
When the man gets close enough to him, the skydiver cups his hands and shouts down, "Hey, do you know anything about parachutes?"
The other man replies, "No! Do you know anything about gas stoves?"
#joke
Lewis Black: Absolute Faith
You cant deny the faith of these people that we fight: its absolute. They believe that if they kill themselves, theyll be met in heaven with 70-some-odd virgins. Imagine that kind of faith -- to think that that would happen, when I havent met one on earth.
Neal Brennan: Shut It Down
If you work in porn, I dont know if you and your coworkers know this, but we have enough porn. You dont have to keep making it. You did a great job, we appreciate your service, but you can shut it down.