Jokes of the day for Friday, 04 September 2015
Funny jokes, funny photo and funny video collected from the internet on Friday, 04 September 2015
Three doctors are discussing w
Three doctors are discussing which types of patients they prefer. Doctor Watson says, ''I prefer librarians. All their organs are alphabetized.'' Doctor Fitzpatrick says, ''I prefer mathematicians. All their organs are numbered.'' Doctor Ahn says, ''I prefer lawyers. They're gutless, heartless, brainless, spineless, and their heads and rear-ends are interchangeable.''
"Economists report th
"Economists report that garden centers are attempting to stem a fall in the sales of fresh flowers."
A Recently Spotted Bumper Sticker:
"Where will you spend eternity: Smoking or Non-Smoking?"
Three weeks after her wedding
Three weeks after her wedding day, Joanna called her minister.
"Reverend," she wailed, "John and I had a dreadful fight!"
"Calm down, my child," said the minister, "it's not half as bad as you think. Every marriage has to have its first fight!"
"I know, I know!" said Joanna. "But what am I going to do with the body?"
#joke
" Dad who built the Suez Canal
" Dad who built the Suez Canal"
" I don't know son"
" Dad who discovered penicillin "
" I've no idea son"
" Dad what's the capital of Italy "
" I ain't got a clue son"
"Dad you don't mind me asking all these questions do you"
"No son, if you don't ask you won't learn anything "
#joke
A guy receives an ad in the ma
A guy receives an ad in the mail for a golf resort where everything costs one dollar. He jumps at the offer and heads off for a weekend of fun in the sun.
He arrives and plays a round of golf. It cost him a buck. When he goes for dinner that evening, it costs him another buck. His room is only a buck a day!
The day before he's to check out, he heads out to play a last round and stops by the pro shop and charges a sleeve of three balls to his room.
When he's checking out next morning, he looks at the bill and sees:
Golf: $1.00
Dinner: $1.00
Room: $1.00.
Sleeve of golf balls: $3,000.00
He asks the Manager, "What is this all about? Everything is supposed to cost one dollar, and you charged me three thousand for three golf balls?"
"I'm sorry, sir, said the manager, but you didn't read the fine print in our promotional brochure. That's what our golf balls cost."
"Well, said the man, If I wanted to spend that kind of money, I could've gone to that luxury hotel across the street and paid them a thousand dollars a day for a room. At least I would've known what I was paying for!"
"That's right, sir, you could have, said the manager. Over there they get you by the room. Over here we get you by the balls!"
#joke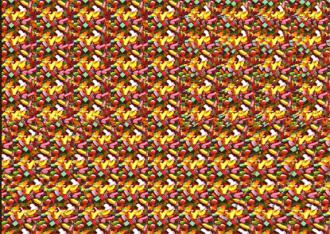 What is hidden in 3D image?
Stereogram - 3D Image
Actual instruction lables found on products...
ON A HAIR DRYER:
Do not use while sleeping.
ON A BAG OF FRITOS:
You could be a winner! No purchase necessary. Details inside.
ON A BAR OF DIAL SOAP:
Directions: Use like regular soap.
ON A FROZEN DINNER:
Serving suggestion: Defrost.
ON A HOTEL-PROVIDED SHOWER CAP:
Fits one head.
ON TESCO'S TIRAMISU DESERT:
Do not turn upside down. (Printed on the bottom of the box.)
ON MARKS & SPENCER BREAD PUDDING:
Product will be hot after heating.
ON PACKAGING FOR A ROWENTA IRON:
Do not iron clothes on body.
ON BOOTS CHILDRENS' COUGH MEDICINE:
Do not drive car or operate machinery.
ON NYTOL (A SLEEP AID):
Warning: may cause drowsiness.
ON A KITCHEN KNIFE:
Warning keep out of children.
ON A STRING OF CHRISTMAS LIGHTS: For indoor or outdoor use only.
ON A FOOD PROCESSOR:
Not to be used for the other use.
ON SAINSBURY'S PEANUTS:
Warning: contains nuts.
ON AN AMERICAN AIRLINES PACKET OF NUTS:
Instructions: open packet, eat nuts.
ON A CHAINSAW:
Do not attempt to stop chain with your hands.
The Pirate
There was this young pirate, and he walks in to this bar, and he has a steering wheel on his crotch. The bartender looks at him and says, "Hey what's that?"
and the pirate says, " I dunno, but Arrrrr! It's driving me nuts!"
Busy Bus Stop
In a crowded city at a busy bus stop, a woman who was waiting for a bus was wearing a tight leather skirt. As the bus stopped and it was her turn to get on, she became aware that her skirt was too tight to allow her leg to come up to the height of the first step of the bus. Slightly embarrassed and with a quick smile to the bus driver, she reached behind her to unzip her skirt a little, thinking that this would give her enough slack to raise her leg.

Again, she tried to make the step only to discover she still couldn't. So, a little more embarrassed, she once again reached behind her to unzip her skirt a little more. For the second time, attempted the step, and, once again, and much to her chagrin, she could not raise her leg. With a little smile to the driver, she again reached behind to unzip a little more and again was unable to make the step.

About this time, a big man who was standing behind her picked her up easily by the waist and placed her gently on the step of the bus.

She went ballistic and turned to the would-be Samaritan and screeched, "How dare you touch my body! I don't even know who you are!'

The man smiled and drawled, "Well, ma'am, normally I would agree with you, but after you unzipped my fly three times, I kinda figured we was friends."

#joke
Air & Sex
Q: Why is air a lot like sex?
A: Because it's no big deal unless you're not getting any.
Dog Jokes 03
Q: What is a dog's favorite sport?
A: Formula 1 drooling!
Q: What do you get if you take a really big dog out for a walk?
A: A Great Dane out!
Q: Where does a Rottweiller sit in the cinema?
A: Anywhere it wants to!
Q: What did the angry man sing when he found his slippers chewed up by the new puppy?
A: "I must throw that doggie out the window!"
Q: What kind of dog does Dracula have?
A: A bloodhound!
Q: Why did the dog wear white sneakers?
A: Because his boots were at the menders!
Q: What is a dog's favorite food?
A: Anything that is on your plate!
Q: What is the only kind of dog you can eat?
A: A hot dog!
Q: What kind of dog sounds like you can eat it?
A sausage dog!
Q: What do you do if your dog eats your pen?
A: Use a pencil instead!
#joke
No a Member
Three women are in a gym locker room dressing up to play racquetball when suddenly a guy runs through the room wearing nothing but a bag over his head.
He passes the first woman, who looks down at his penis. "He's not my husband," she says.
He passes by the second woman, who also looks down at his penis. "He's not my husband either."
He passes by the third woman, who also looks down as he runs by her.
"Wait a minute," she says. "He's not even a member of this club."
#joke
Brian Regan: Pick Somebody at Random
You know whats fun? You pick somebody at random, like out of the phone book, and send them about 100 Just Because cards. They cant even ask you why you did it.
Two Priests on Vacation
Two priests were going to Hawaii on vacation and decided that they would make this a real vacation by not wearing anything that would identify them as clergy.
As soon as the plane landed, they headed for a store and bought some really outrageous shorts, shirts, sandals, sunglasses, and etc.
The next morning they went to the beach, dressed in their "tourist" garb and were sitting on beach chairs, enjoying a drink, the sunshine and the scenery when a "drop dead gorgeous" blonde in a tiny bikini came walking straight towards them. They couldn't help but stare and when she passed them, she smiled and said, "Good morning, Father" – "Good morning, Father," nodding and addressing each of them individually, then passed on by.
They were both stunned. How in the world did she recognize them as priests?
The next day they went back to the store, bought even more outrageous outfits-these were so loud, you could hear them before you even saw them-and again settled on the beach in their chairs to enjoy the sunshine, etc.
After a while, the same gorgeous blonde, wearing a string bikini this time, came walking toward them again. (They were glad they had sunglasses, because their eyes were about to pop out of their heads.)
Again, she approached them and greeted them individually: "Good morning, Father," "Good morning Father," and started to walk away.
One of the priests couldn't stand it and said. "Just a minute, young lady. Yes, we are priests, and proud of it, but I have to know, how in the world did YOU know?"
"Oh, Father, don't you recognize me? I'm Sister Angela!"
When you say "no one's perfect...
When you say "no one's perfect", Chuck Norris takes it as a personal insult.