Jokes of the day for Saturday, 24 October 2015
Funny jokes, funny photo and funny video collected from the internet on Saturday, 24 October 2015
Three old men were talking abo
Three old men were talking about how much their hands shook.
The first old guy said, "My hands shake so bad, that when I shaved his morning, I cut my face."
The second old fogey one-upped him and said, "My hands shake so bad, that when I trimmed my garden yesterday, I sliced all my flowers."
The third old man laughed and said, "That's nothing. My hands shake so bad that when I took a piss yesterday, I came three times!"
#joke
Adam Strays
When Adam stayed out very late for a few nights, Eve became upset. "You're running around with other women," she told her mate.
"Eve, honey, you're being unreasonable," Adam responded. "You know you're the only woman on earth."
The quarrel continued until Adam fell asleep, only to be awakened by a strange pain in the chest. It was his darling Eve poking him rather vigorously about the torso.
"What do you think you're doing?" Adam demanded.
"Counting your ribs," said Eve.
#joke
1. If you're too open minded
1. If you're too open minded, your brains will fall out.
2. Age is a very high price to pay for maturity.
3. Going to church doesn't make you a Christian any more than going to a garage makes you a mechanic.
4. Artificial intelligence is no match for natural stupidity.
5. If you must choose between two evils, pick the one you've never tried before.
6. My idea of housework is to sweep the room with a glance.
7. Not one shred of evidence supports the notion that life is serious.
8. It is easier to get forgiveness than permission.
9. For every action, there is an equal and opposite government program.
10. If you look like your passport picture, you probably need the trip.
11. Bills travel through the mail at twice the speed of checks.
12. A conscience is what hurts when all your other parts feel so good.
13. Eat well, stay fit, die anyway.
14. Men are from earth. Women are from earth. Deal with it.
15. No husband has ever been shot while doing the dishes.
16. A balanced diet is a cookie in each hand.
17. Middle age is when broadness of the mind and narrowness of the waist change places.
18. Opportunities always look bigger going than coming.
19. Junk is something you've kept for years and throw away three weeks before you need it.
20. There is always one more imbecile than you counted on.
21. Experience is a wonderful thing. It enables you to recognize a mistake when you make it again.
22. By the time you can make ends meet, they move the ends.
23. Thou shalt not weigh more than thy refrigerator.
24. Someone who thinks logically provides a nice contrast to the real world.
25. Blessed are they who can laugh at themselves for they shall never cease to be amused.
#joke
A Little Extra In The Soup....
Two missionaries in Africa were apprehended by a tribe of very hostile cannibals who put them in a large pot of water, build a huge fire under it, and left them there.A few minutes later, one of the missionaries started to laugh uncontrollably. The other missionary can't believe it!
He said, "What's wrong with you? We're being boiled alive! They're gonna eat us! What could possibly be funny at a time like this?"
The other missionary said, "I just peed in the soup!"
#joke
10 Ways To Get Fired
10 Ways to Get Fired
1. Whenever answering the phone, and its for your boss, say "He's under his desk screwing his secretary. Can I take a message?"
2. Strip off all your clothes. Complain about how hot it is in the office, regardless of the temperature.
3. When your boss is on the phone scream "Dammit! I'm expecting a call!! Stay off the phone!!"
4. If your boss bumps into you, start screaming sexual harassment. Talk in great lengths about the state laws on harassment. Get the authorites involved. Threaten to sue.
5. Sleep with your boss's daughter. Videotape it. Pass out copies around the office. Brag about how easy she was.
6. Steal various office equipment (pencils, staplers, desks). Frame your boss for it.
7. When asked to do something start laughing hysterically. Continue this for five minutes. Calm down and say, "Oh, you were being serious?"
8. Loosen the bolts on the boss's chair.
Laugh loudly when he/she falls down. Play innocent.
9. Whenever the boss starts to tell you a story, interrupt him/her with a story of your own. Make sure the story is boring and has no point whatsoever.
10. Send a dozen roses to your boss's house when their spouse is home. Sign an ex-flames name on the card. Next day, ask him/her how their evening was. Be obvious.
#joke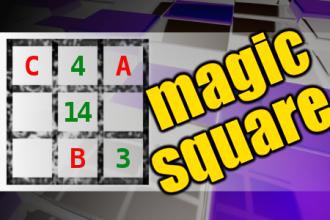 MAGIC SQUARE: Calculate A*B-C
The aim is to place the some numbers from the list (3, 4, 10, 14, 15, 21, 33, 42, 70, 71, 77, 88) into the empty squares and squares marked with A, B an C. Sum of each row and column should be equal. All the numbers of the magic square must be different. Find values for A, B, and C. Solution is A*B-C.
Getting On The Bus
Ted and his wife where waiting at the bus stop with Harry, his spouse and Harry's nine children.
At last the bus drew up, packed with poeple.
The two women, and the nine children managed to get on. but the men where left behind and had to walk.
After trotting along the road for an hour, Ted's walking stick got on Harry's nerves with its continual tapping.
"Why don't you put a rubber on that stick!" Harry complained.
Ted snapped back "If you'd put a rubber on your stick, we'd have got on that blasted bus."
#joke
"What is the most non
"What is the most non-confrontational age of kids? When they benign."
A blonde and a redhead have a...
A blonde and a redhead have a ranch. They have just lost their bull. The women need to buy another, but only have $500. The redhead tells the blonde, "I will go to the market and see if I can find one for under that amount. If I can, I will send you a telegram." She goes to the market and finds one for $499. Having only one dollar left, she goes to the telegraph office and finds out that it costs one dollar per word. She is stumped on how to tell the blonde to bring the truck and trailer. Finally, she tells the telegraph operator to send the word "comfortable." Skeptical, the operator asks, "How will she know to come with the trailer from just that word?" The redhead replies, "She's a blonde so she reads slow: 'Come for ta bull.'"
One night, a man on his way...
One night, a man on his way home happened upon a drunk, down on his hands and knees searching for something under a street light. The man asked the drunk what he was looking for so diligently and the drunk said he had tripped and his Rolex wrist watch had broken loose from his wrist. The man, being a kindhearted soul, got down on his hands and knees and began assisting the drunk looking for his watch. After about ten minutes without any success, the man asked the drunk exactly where he tripped. "About a half a block up the street," the drunk said. "Why, pray tell," the man asked the drunk, "are you looking for your watch here if you lost it a half a block up the street?" The drunk replied, "The light is a lot better here."
#joke
A man with no arms and no legs...
A man with no arms and no legs is out lying on the beach one day, enjoying his chance to get some sun.
All of a sudden, a beautiful woman walks by and stops. "You poor man," she says. "I bet you've never been kissed have you?"
The man has to admit, no, he never has, so she bends down and plants a good one right on the mouth.
A few minutes later, another gorgeous babe walks up. "You look like you need a hug," she says.
He agrees that would be nice, she gives him a great one, and walks away. A few minutes later, a drop-dead gorgeous girl walks by. She stops, a sultry
smile on her face and looks down at him.
"Mister," she says, "have you ever been fucked?"
"No," he says with a hopeful grin.
"Well, you are now, The tide's coming in."
#joke
Damn he can drive!
This guy is on the street corner spitting and cussing.
A little old lady goes and gets a cop, telling him there is a guy spitting and cussing.
Sure enough when the cop come up to the guy he spits and says, "Damn, that guy can drive a car."
The cop tells him to stop spitting and cussing. And then asks him what the problem is.
The man again spits and says, "Damn, that guy can drive a car."
The cops again tells him not to spit and cuss and asks him what the problem is.
The man replies, "I was thumbing a ride when this guy stops and picked me up. He takes off at 100 miles an hour, and I am scared to death.
"As we entered town the guy slows down to about 60 miles per hour and skids into a alley where again he picks up speed.
"Right in front of us are two 18 wheelers parked on either side of the alley with only 4 feet between them.
"I screamed out 'We are going to die!'
"Then right before we were going to crash I looked over and told the guy, 'If you get us out of this I will suck your dick!'"
Again he spits and tells the cop, "Damn, that guy can drive a car."
Submitted by Greg
Edited by The whole team
#joke
When Chuck Norris plays Monopo...
When Chuck Norris plays Monopoly, it affects the actual world economy.