An 18 year old Italian girl te
An 18 year old Italian girl tells her Mom that she has missed her period for 2 months. Very worried, the mother goes to the drugstore and buys a pregnancy kit. The test result shows that the girl is pregnant. Shouting, cursing, crying, the mother says, "Who was the pig that did this to you? I want to know!" The girl picks up telephone and makes a call.
Half an hour later, a Ferrari stops in front of their house. A mature and distinguished man with grey hair and impeccably dressed in an Armani suit steps out of the of the Ferrari and enters the house. He sits in the living room with the father, mother, and the girl and tells them: "Your daughter has informed me of the problem. I can't marry her because of my personal family situation but I'll take charge. I will pay all costs and provide for your daughter for the rest of her life. Additionally, if a girl is born, I will bequeath a Ferrari, 2 retail stores, a townhouse, a beach front villa, and a $2,000,000 bank account. If a boy is born, my legacy will be a couple of factories and a $4,000,000 bank account. If twins, they will receive a factory and $2,000,000 each... However, if there is a miscarriage, what do you suggest I do?"
At this point, the father, who had remained silent, places a hand firmly on the man's shoulder and tells him, "You're gonna try again."
#joke
An attorney arrived home late,
An attorney arrived home late, after a very tough day trying to get a stayof execution.
His last minute plea for clemency to the governor had failed and he wasfeeling worn out and depressed.
As soon as he walked through the door at home, his wife started on himabout, "What time of night to be getting home is this? Where have you been?Dinneris cold and I'm not reheating it."
And on and on and on. Too shattered to play his usual role in this familiarritual, he poured himself a shot of whiskey and headed off for a long hotsoak in the bathtub, pursued by the predictable sarcastic remarks as hedragged himself up the stairs.
While he was in the bath, the phone rang. The wife answered and was toldthat her husband's client, James Wright, had been granted a stay ofexecution after all. Wright would not be hanged tonight.
Finally realizing what a terrible day he must have had, she decided to goupstairs and give him the good news.
As she opened the bathroom door, she was greeted by the sight of herhusband, bent over naked, drying his legs and feet.
"They're not hanging Wright tonight," she said.
He whirled around and yelled, "FOR THE LOVE OF GOD WOMAN, DON'T YOU EVERSTOP?!"
#joke
How Far To The Town?
A unit of soldiers was marching a long dusty march across the rolling prairie. It was a hot blistering day and the men, longing for water and rest, were impatient to reach the next town.
A rancher rode past.
"Say, friend", called out one of the men, "how far is it to the next town?"
"Oh, a matter of two miles or so, I reckon," called back the rancher. Another long hour dragged by, and another rancher was encountered.
"How far to the next town?" the men asked him eagerly.
"Oh, a good two miles."
A nearly half hour longer of marching, and then a third rancher. "Hey, how far's the next town?"
"Not far," was the encouraging answer, "only about two miles."
"Well," sighed the optimistic sergeant, "thank God, we're holding our own, anyhow!"
#joke
Monkey blowjob
This is a secret that Joe once told me...
About a year ago Joe wanted to go to south California, and because of lack of means he decided to hitch hike. So, Joe is walking along side the road for about three hours and the sun is blazing down on him and he starts to think "why did I choose to do this, this sucks ass".
Just after that thought, a truck pulled up in front of him.
Joe ran up to the cab, popped open the door and said. "Hey, how far south you headed?"
The trucker answered, "Just about another five hundred miles, do you want to ride with me?"
Of course Joe was like hell yeah, so he hopped up in the cab. The trucker starts pulling back onto the road and Joe puts his seat belt on.
Then Joe notices this strange little monkey sitting on the seat between him and the driver. He thought it was a little strange for a trucker to have a pet monkey, but didn't question the trucker. About twenty miles down the road from where Joe was picked up the trucker finally started a conversation with him.
Trucker says, "Hey, you wanna see something cool?"
Joe replies, "yeah, sure".
SMACK!, the trucker wacked the monkey upside the head. The monkey jumped up, crawled on the truckers lap, unzipped his pants and starting sucking him off. The trucker got off and was done so the monkey sat back down between him and Joe.
The trucker turns to Joe, "Hey ya wanna give that a try?"
Joe replies, "Yeah, but you won't have to hit me as hard!"
Submitted by Admin
Edited by Calamjo
#joke
Q: What do you get when you cr
Q: What do you get when you cross a fish and an elephant?
A: Swimming trunks.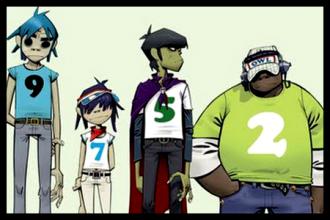 Guess the Band Name
Look carefully the picture and guess the band name.
How About a Drink?
A Jesuit was out for a drive and crashed into another car, only to discover that the other driver was a Franciscan.
"It was my fault," each insisted—as is only right and proper with religious men.
Concerned, the Jesuit said, "You look badly shaken up, Father. You could probably use a good stiff drink right now to calm down."
He produced a flask and the Franciscan drank from it and said, "Thank you, Father; I feel much better now. But you're probably shaken up too. Why don't you have a drink as well?"
"I will," the Jesuit replied, "but I think I'll wait until after the police have come."
This joke was reprinted from "
The Book of Catholic Jokes
" by Deacon Tom Sheridan, with permission of
ACTA Publications
. Copyright 2008. All rights reserved.
#joke
"Library rules regard
"Library rules regarding personal hygiene are a matter of lore and odor."
Door To Door
Two salesmen were going door to door, and knocked on the door of a woman who was not happy to see them. She told them in no uncertain terms that she did not want to hear their offer and slammed the door in their faces. To her surprise, however, the door did not close and, in fact, bounced back open. She tried again, really put her back into it, and slammed the door again with the same result-the door bounced back open.
Convinced these rude young people were sticking their foot in the door,she reared back to give it a slam that would teach them a lesson, when one of them said:
"Ma'am, before you do that again you need to move your cat."
#joke
The only sure things are Death...
The only sure things are Death and Taxes...and when Chuck Norris goes to work for the IRS, they'll be the same thing.
Ever since we got married...
Ever since we got married, my wife has tried to change me. She got me to stop drinking, smoking and running around until all hours of the night. She taught me how to dress well, enjoy the fine arts, gourmet cooking, classical music, even how to invest in the stock market."
"Sounds like you may be bitter because she changed you so drastically," remarked his friend.
"I'm not bitter. Now that I'm so improved, she just isn't good enough for me."
#joke
Ron White: Death Penalty in Texas
In Texas, we have the death penalty and we use it. If you come to Texas and kill somebody, we will kill you back.
John was driving when a police...
John was driving when a policeman pulled him over. He rolled down his window and said to the officer, "Is there a problem, Officer?"
"No problem at all. I just observed your safe driving and am pleased to award you a $5,000 Safe Driver Award. Congratulations. What do you think you're going to do with the money?"
John thought for a minute and said, "Well, I guess I'll go get that drivers' license."
Judi, sitting in the passenger seat said to the policeman, "Oh, don't pay attention to him -- he's just a wise guy when he's drunk and stoned."
Brian from the back seat said, "I told you guys we wouldn't get far in a stolen car!"
At that moment, there was a knock from the trunk and a muffled voice said, "Are we over the border yet?"