These days, even Hallowe'
These days, even Hallowe'en comes with tricker warnings.
Anagrams
George Bush: When you rearrange the letters: He Bugs Gore
Dormitory: When you rearrange the letters: Dirty Room
Evangelist: When you rearrange the letters: Evil's Agent
Desperation: When you rearrange the letters: A Rope Ends It
The Morse Code: When you rearrange the letters: Here Come Dots
Slot Machines: When you rearrange the letters: Cash Lost in Em
Animosity: When you rearrange the letters: Is No Amity
Snooze Alarms: Wen you rearrange the letters: Alas No More Z's
A Decimal Point: When you rearrange the letters: I'm a Dot in Place
Eleven plus two: When you rearrange the letters: Twelve plus one
#joke
The Smell of Confusion
If people say they just love the smell of books, I always want to pull them aside and ask, To be clear, do you know how reading works?
"While walking throug
"While walking through the jungle with a black marker, I spotted a leopard."
Button Up
A man lost two buttons from his shirt and put them in his pants pocket. But the pocket had a hole, so the buttons fell into his shoe. Unfortunately, the shoe sole also had a hole, so he lost the buttons. As pockets with holes, holes without buttons, and shoe soles with holes are useless, the man ripped the buttonholes out of his shirt and the pocked from his pants and tossed them in the trash along with the soles of his shoes.A police officer who was observing the man asked him for some identification. The man gave the officer a document that shoed he was an ordained minister of the gospel. When the officer began to escort him to a mental institution, the minister protested violently, asking why he was receiving such unjust treatment."Look, we both know it's the best place for you now," the officer replied. "Anyone claiming to be a preacher who doesn't save souls or wear holy clothes has probably lost his buttons."From "
The Book of Church Jokes
," published by
Barbour Publishing, Inc.
, Uhrichsville, Ohio. Copyright 2009. Used by permission of Barbour Publishing, Inc.
#joke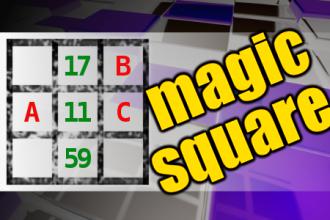 MAGIC SQUARE: Calculate A+B-C
The aim is to place the some numbers from the list (7, 10, 11, 12, 15, 16, 17, 59, 60, 61) into the empty squares and squares marked with A, B an C. Sum of each row and column should be equal. All the numbers of the magic square must be different. Find values for A, B, and C. Solution is A+B-C.
1. The later you are, the more
1. The later you are, the more excited your dogs are to see you.
2. Dogs don't notice if you call them by another dog's name.
3. Dogs like it if you leave a lot of things on the floor.
4. A dog's parents never visit.
5. Dogs agree that you have to raise your voice to get your point across.
6. You never have to wait for a dog; they're ready to go 24 hours a day.
7. Dogs find you amusing when you're drunk.
8. Dogs like to go hunting and fishing.
9. A dog will not wake you up at night to ask, If I died, would you getanother dog??
10. If a dog has babies, you can put an ad in the paper and give them away.
11. A dog will let you put a studded collar on it without calling you apervert.
12. If a dog smells another dog on you, they don't get mad. They just thinkit's interesting..
13. Dogs like to ride in the back of a pickup truck.
And last, but not least:
14. If a dog leaves, it won't take half of your stuff.
#joke
You Might Be A Redneck If 19
You might be a redneck if...
You own more cowboy boots than sneakers.
You've been to a funeral and there were more pick-ups than cars.
You have a picture of Johnny Cash, Willie Nelson, or Elvis over your fireplace.
You just bought an 8-track player to put in your car.
There are four or more cars up on blocks in the front yard.
It's easier to spray weed killer on your lawn than mow it.
You think that John Deere Green, Ford Blue, and Primer Gray are the three of the primary colors.
You've ever climbed a water tower with a bucket of paint to defend your sister's honor.
Your vehicle has a two-tone paint job--primer red and primer gray.
The tobacco chewers in your family aren't just men.
#joke
NASA Mars Mission
NASA was interviewing professionals they were planning on sending to Mars. The touchy part was that only one guy could go and it would be a one way trip, the guy would never return to Earth.
The interviewer asked the first applicant, an engineer, how much he wanted to be paid for going.
"One million dollars," the engineer answered. "And I want to donate it all to my alma mater -- Rice University."
The next applicant was a doctor, and the interviewer asked him the same question.
"Two millions dollars," the doctor said. "I want to give a million to my family and leave the other million for the advancement of medical research."
The last applicant was a lawyer. When asked how much money he wanted, he whispered in the interviewer's ear, "Three million dollars."
"Why so much more than the others?" the interviewer asked.
The lawyer replied, "You give me three million, I'll give you one million, I'll keep a million, and we'll send the engineer."
10 Things You Never Hear in Church
1. Hey! It's my turn to sit in the front pew!
2. I was so enthralled, I never noticed your sermon went 25 minutes over time.
3. Personally I find witnessing much more enjoyable than golf.
4. I've decided to give our church the $500 a month I used to send to TV evangelists.
5. I volunteer to be the permanent teacher for the Junior High Sunday School class.6. Forget the denominational minimum salary. Let's pay our pastor so he can live like we do.
7. I love it when we sing hymns I've never heard before!
8. Since we're all here, let's start the service early.
9. Pastor, we'd like to send you to this Bible seminar in the Bahamas.
10. Nothing inspires me and strengthens my commitment like our annual stewardship campaign!
#joke
Redneck quickies 2
You might be a redneck if...
Your home has more miles on it than your car.
Your Christmas tree is still up in February.
You've ever been arrested for loitering.
You think that potted meat on a saltine is an hors d'ouvre.
There is a stuffed possum anywhere in your house.
You hammer bottle caps into the frame of your front door to make it look nice.
You've ever shot anyone for looking at you.
You own a homemade fur coat.
Your wife can climb a tree faster than your cat.
Your momma has "ammo" on her Christmas list.
Stop Credit Card Fraud
The following is supposedly a true story. To be included, besides being true, the story is most likely strange, weird, surprising, or funny.
Many folks have written with perfectly plausible explanations about why merchants take my phone number on a credit card charge. What these fail to address, however, is that if I'm perpetrating a fraud in the use of this credit card, I'm not about to give out a correct phone number. They make no effort to validate the phone number before I leave, so what they're doing is collecting the phone numbers of a bunch of honest people.
Now then... Why are they collecting the phone numbers of a bunch of honest people?
I once asked why you are asked for your phone number when using your charge cards. The clerk explained that theives have been caught because they stupidly put down THEIR home phone number, not the phone number of the person who "owned" the card.
#joke