Jokes of the day for Thursday, 29 March 2018
Funny jokes, funny photo and funny video collected from the internet on Thursday, 29 March 2018
A housewife, an accountant and
A housewife, an accountant and a lawyer were asked "How much is 2+2?"
The housewife replies: "Four!"
The accountant says: "I think it's either 3 or 4. Let me run those figures through my spreadsheet one more time."
The lawyer pulls the drapes, dims the lights and asks in a hushed voice, "How much do you want it to be?"
"The farmer who got a
"The farmer who got arrested couldn't make bale so he asked his best friend to combine his money with his so he could be set free."
In the Beginning…
In the beginning, God created the heavens and the earth, and then He rested.Then God created man, and then they both rested.Then God created woman, and since then neither God nor man has ever rested.
The Captain called the Sergean
The Captain called the Sergeant in. "Sarge, I just got a telegram that Private Jones' mother died yesterday.Better go tell him and send him in to see me." So the Sergeant calls for his morning formation and lines upall the troops.
"Listen up, men," says the Sergeant. "Johnson, report to the mess hall for KP. Smith, report to Personnel tosign some papers. The rest of you men report to the Motor Pool for maintenance.Oh by the way, Jones, your mother died, report to the commander."
Later that day the Captain called the Sergeant into his office. "Hey, Sarge, that was a pretty cold way to informJones his mother died. Couldn't you be a bit more tactful, next time?"
"Yes, sir," answered the Sarge.
A few months later, the Captain called the Sergeant in again with, "Sarge, I just got a telegram that Private McGrath's mother died. You'd better go tell him and send him in to see me.This time be more tactful." So the Sergeant calls for his morning formation. "Ok, men, fall in and listen up."
"Everybody with a mother, take two steps forward." "Not so fast, McGrath!"
#joke
Dead or Alive...
GENUINE COURT TRANSCRIPT...
Q: Doctor, before you performed the autopsy, did you check for a pulse?
A: No.
Q: Did you check for blood pressure?
A: No.
Q: Did you check for breathing?
A: No.
Q: So, then it is possible that the patient was alive when you began the autopsy?
A: No.
Q: How can you be so sure, Doctor?
A: Because his brain was sitting on my desk in a jar.
Q: But could the patient have still been alive nevertheless?
A: Yes, it is possible that he could have been alive and practicing law somewhere.
Letters From Charities

I am always getting those return address labels from charities wanting money.
The other day, I got one from an Alzheimer's group. Funny though, they forgot to put my street name on them!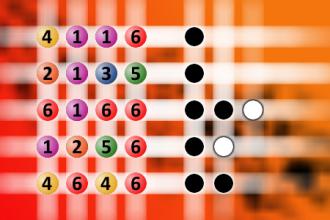 What a winning combination?
The computer chose a secret code (sequence of 4 digits from 1 to 6). Your goal is to find that code. Black circles indicate the number of hits on the right spot. White circles indicate the number of hits on the wrong spot.
A child comes home from his fi...
A child comes home from his first day at school.
His mother asks, "Well, what did you learn today?"
The kid replies, "Not enough. They want me to come back tomorrow."
From The Blonde Files
Jack, a handsome man, walked into a sports bar around 9:58 pm. He sat down next to this blonde at the bar and stared up at the TV...
The 10:00 news was on. The news crew was covering a story of a man on a ledge of a large building preparing to jump. The blonde looked at Jack and said, 'Do you think he'll jump?' Jack says, 'You know what, I bet he will.' The blonde replied, 'Well, I bet he won't.' Jack placed $30 on the bar and said, 'You're on!'
Just as the blonde placed her money on the bar, the guy did a swan dive off of the building, falling to his death. The blonde was very upset and handed her $30 to Jack, saying, 'Fair's fair... Here's your money.' Jack replied, 'I can't take your money, I saw this earlier on the 5 o'clock news and knew he would jump.
'The blonde replies, 'I did too; but I didn't think he'd do it again.' Jack took the money..
Yo mama is so short
Yo mama so short she poses for trophies!
Yo mama so short you can see her feet on her drivers lisence!
Yo mama so short she has to use a ladder to pick up a dime.
Yo mama so short she can play handball on the curb.
Yo mama so short she does backflips under the bed.
Yo mama so short she models for trophys.
#joke #yomama
Andy Kindler: Celebrating Suffering
Jewish people, we dont believe in Hell or a future place to suffer. Were suffering right now. Every one of our holidays celebrates how much weve suffered. Passover -- were celebrating 5,000 years ago, God passed over our houses and murdered all the Egyptians. Were celebrating, Hey, thank God we didnt get slaughtered.
#joke
Helisoft
A helicopter was flying around above Seattle when an electrical malfunction disabled all of the aircraft's electronic navigation and communications equipment.
Due to the clouds and haze, the pilot could not determine the helicopter's position. The pilot saw a tall building, flew toward it, circled, and held up a handwritten sign that said "WHERE AM I?" in large letters. People in the tall building quickly responded to the aircraft, drew a large sign, and held it in a building window. Their sign said "YOU ARE IN A HELICOPTER."
The pilot smiled, waved, looked at his map, determined the course to steer to SEATAC airport, and landed safely. After they were on the ground, the copilot asked the pilot how he had done it.
"I knew it had to be the Microsoft Building, because they gave me a technically correct but completely useless answer."
#joke