A teacher was reprimanding a t...
A teacher was reprimanding a teenager in the hall. "Do you mind telling me whose class you're cutting this time?"
"Like," the young teen replied, "uh, see, okay, like it's like I really don't like think like that's really important, y'know, like because I'm y'know, like I don't like get anything out of it."
"It's English class, isn't it?" replied the smiling teacher.
#joke
It's OK to borrow a...
"It's OK to borrow a book from the public library once in a while, but try not to overdue it."
Overcrowded Church
The two thousand member Baptist church was filled to overflowing capacity one Sunday morning. The preacher was ready to start the sermon when two men, dressed in long black coats and black hats entered thru the rear of the church.
One of the two men walked to the middle of the church while the other stayed at the back of the church. They both then reached under their coats and withdrew automatic weapons.
The one in the middle announced, "Everyone willing to take a bullet for Jesus stay in your seats!"
Naturally, the pews emptied, followed by the choir. The deacons ran out the door, followed by the choir director and the assistant pastor.
After a few moments, there were about twenty people left sitting in the church. The preacher was holding steady in the pulpit.
The men put their weapons away and said, gently, to the preacher, "All right, pastor, the hypocrites are gone now. You may begin the service."
#joke
Not tonight, Adam
After a few days, the Lord called to Adam and said, "It is time for you and Eve to begin the process of populating the earth, so I want you to kiss her." Adam answered, "Yes, Lord, but what is a 'kiss'?" The Lord gave a brief description to Adam, who then took Eve by the hand and led her to a nearby bush. A few minutes later, Adam emerged and said, "Thank you, Lord. That was enjoyable." And the Lord replied, "Yes, Adam, I thought you might enjoy that. Now I'd like you to caress Eve."And Adam said, "What is 'caress'?" So the Lord again gave Adam a brief description and Adam went behind the bush with Eve. Quite a few minutes later, Adam returned, smiling, and said, "Lord, that was even better than the kiss!" And the Lord said, "You've done well, Adam. Now I want you to make love to Eve."And Adam asked, "What is 'make love' Lord?" So the Lord again gave Adam directions and Adam went again to Eve behind the bush, but this time he reappeared in two seconds. And Adam said, "Lord, what is a 'headache'?"
#joke
Two nuns were in the back of t...
Two nuns were in the back of the convent smoking a cigarette, when one said, "It's bad enough that we have to sneak out here to smoke, but it really is a problem getting rid of the butts so that Mother Superior doesn't find them."
The second nun said, "I've found a marvelous invention called a condom which works really well for this problem. You just open the packet up, take out the condom, and put the cigarette butt in, roll it up, and dispose of it all later."
The first nun was quite impressed and asked where she could find them. "You get them at a drug store, sister. Just go and ask the pharmacist for them."
The next day the good sister went to the drugs store and walked up to the counter."Good morning, sister," the pharmacist said, "what can I do for you today?" "I'd like some condoms please," said the nun.
The druggist was a little taken aback, but recovered soon enough and asked, "How many boxes would you like? There are 12 to a box." "I'll take six boxes. That should last about a week," said the nun.
The pharmacist was truly flabbergasted by this time and was almost afraid to ask any more questions. But his professionalism prevailed and he asked in a clear voice. "Sister, what size condoms would you like? We have large, extra large, and the big liar size."
The sister thought for a minute and finally said: "I'm not certain, perhaps you could recommend a good size for a Camel?"
#joke
Quick thinking...
One day, Bubba and Earl were driving down the road, drinking a couple of beers. The passenger, Bubba, said, "Lookey thar up ahead, Earl. It's a po-leece roadblock. We're gonna get busted fer drinkin' these here beers!"
"Don't worry, Bubba," Earl said. "We'll just pull over and finish drinkin' these beers, peel off the labels and stick 'em on our foreheads, then throw the bottles under the seat."
"What fer?" asked Bubba.
"Just let me do the talking, okay?" said Earl. They finished their beers, threw the empty bottles under the seat and slapped the labels on their foreheads.
When they reached the roadblock, the sheriff asked, "Have you boys been drinking?"
"No sir," replied Earl. "We're on the patch!"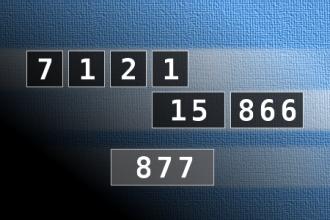 Calculate the number 877
NUMBERMANIA: Calculate the number 877 using numbers [7, 1, 2, 1, 15, 866] and basic arithmetic operations (+, -, *, /). Each of the numbers can be used only once.
Chuck Norris uses pepper spray...
Chuck Norris uses pepper spray to spice up his steaks.
Dear Employees...
Dear Employees:
It has been brought to management's attention that some individuals throughout the Service have been using foul language during the course of normal conversation with their co-workers.
Due to complaints received from some employees who may be easily offended, this type of language will no longer be tolerated.
We do, however, realize the critical importance of being able to accurately express your feelings when communicating with co-workers.
Therefore,a list of 18 New and Innovative 'TRY SAYING' phrases have been provided so that proper exchange of ideas and information can continue in an effective manner.
Number 1
TRY SAYING: I think you could use more training..
INSTEAD OF: You don't know what the f___ you're doing.
Number 2
TRY SAYING: She's an aggressive go-getter.
INSTEAD OF: She's a f___ing bit__.
Number 3
TRY SAYING: Perhaps I can work late.
INSTEAD OF: And when the f___ do you expect me to do this?
Number 4
TRY SAYING: I'm certain that isn't feasible.
INSTEAD OF: No f___ing way.
Number 5
TRY SAYING: Really?
INSTEAD OF: You've got to be sh___ing me!
Number 6
TRY SAYING: Perhaps you should check with...
INSTEAD OF: Tell someone who gives a sh__.
Number 7
TRY SAYING: I wasn't involved in the project.
INSTEAD OF: It's not my f___ing problem.
Number 8
TRY SAYING: That's interesting.
INSTEAD OF: What the f___?
Number 9
TRY SAYING: I'm not sure this can be implemented.
INSTEAD OF: This sh__ won't work.
Number 10
TRY SAYING: I'll try to schedule that.
INSTEAD OF: Why the f___ didn't you tell me sooner?
Number 11
TRY SAYING: He's not familiar with the issues...
INSTEAD OF: He's got his head up his a__.
Number 12
TRY SAYING: Excuse me, sir?
INSTEAD OF: Eat sh__ and die.
Number 13
TRY SAYING: So you weren't happy with it?
INSTEAD OF: Kiss my a__.
Number 14
TRY SAYING: I'm a bit overloaded at the moment.
INSTEAD OF: F__ it, I'm on salary.
Number 15
TRY SAYING: I don't think you understand.
INSTEAD OF: Shove it up your a__.
Number 16
TRY SAYING: I love a challenge.
INSTEAD OF: This f___ing job sucks.
Number 17
TRY SAYING: You want me to take care of that?
INSTEAD OF: Who the f___ died and made you boss?
Number 18
TRY SAYING: He's somewhat insensitive.
INSTEAD OF: He's a pr_ck.
Thank You,Human Resources
#joke
An insurance agent's wife was ...
An insurance agent's wife was learning to drive when the brakes failed. "What should I do?" she cried. "Brace yourself, and try to hit something cheap."
A Russian party-official arriv...
A Russian party-official arrives late at night to his hotel (in Russia). He is not surprised to find that his reservation has been mislaid but he is more than a little peeved that his status in the party isn't enough to get him a good room anyway. However, the clerk insists, the only bed they have left is the fourth bunk in a 4-bed dorm - he'll have to make do with that. The Russian grumbles but eventually he picks up his suitcase and heads for the dorm. On his way, he meets a chamber-maid and thinking he might as well try to make friends with his room-mates, he asks her to bring them four cups of tea.
As he enters the dorm, he finds that the other three guests are Polish, they are having a fairly wild party and they're very drunk. They also ignore him totally from the moment he enters. After sitting there for several minutes, he realizes he can't stand them anymore and decides to pull a joke on them. He stands up, grasps a floor lamp and speaking into the light-bulb as if it were a microphone he says:
"Comrade Colonel, we would like four cups of tea to our room immediately!" The Poles stare at him in disbelief, which turns to horror as the chamber-maid knocks on the door and delivers the tea a few minutes later. In about 30 seconds the Poles have all packed their bags and fled the hotel. Our Russian gets the entire room to himself. He sleeps very soundly.
The next morning, however, as he's checking out and is about to leave, the desk-clerk calls after him:
"By the way, Sir, the Comrade Colonel said to tell you he appreciated your little joke last night!"
#joke