There were four ducks that got
There were four ducks that got arrested while messing around at the pond.
The judge orders the ducks to come in one at a time to speak their piece.
The first duck comes in.
"What's your name, son?" the judge asks.
"Duck," replied the duck.
"What are you in for?" the judge asks.
"Well, I was sitting at the pond blowing bubbles, and the cop came by and arrested me."
The judge said, "O.K., send in the next duck."
The next duck came in. His name was "Duck,Duck", and he told the exact same story as the first duck.
After his examination, the judge asked for the third duck to be sent in. The third duck's name was "Duck,Duck,Duck", and he told the same story as the first two.
Finally, the judge sent for the fourth duck.
As he came in, the judge said, "Let me guess...Your name is Duck,Duck,Duck,Duck...right?"
The duck replied, "No sir, my name is Bubbles."
#joke
The big city man discovered he
The big city man discovered he had no writing paper at all for his personal correspondence.
He went into the small town near-by and found only an old-fashioned country store. Behind the counter was a really nice looking young redhead, quite obviously a local farm girl.
He asked, "Do you keep stationery?"
"Well," she giggled, "I can...until I have an orgasm, then I just go plain wild and crazy!"
#joke
"Why do entrepreneurs
"Why do entrepreneurs keep themselves to themselves? They're great at minding their own business."
Cowards In History
A man went into a bookstore and complained...
"I bought this book from you yesterday, 'Cowards in History' and all the pages fell out!"
The sales assistant said, "That's because it has no spine."

Hunter Shot By Fox
The following is supposedly a true story. To be included, besides being true, the story is most likely strange, weird, surprising, or funny.
Hunter Shot to Death By a Fox, Belgrade, Associated Press
A fox shot and killed a 38-year-old hunter in central Yugoslavia, the official Yugoslav news agency Tanjug reported yesterday.
Salih Hajdur, a farmer from the village of Gornje Hrasno in the Republic of Bosnia-Hercegovina, went to a nearby forest Sunday to shoot a fox, Tanjug said.
Hajdur wounded a fox in the leg, the agency said, but to spare the skin he did not fire again. Instead, he hit the animal with his refle butt. The struggling animal triggered a shot that hit Hajdur in the chest and killed him instantly, Tanjug said. The fox died later, Tanjug added.
#joke
Two lawyers, Bob and Bill, wer
Two lawyers, Bob and Bill, were having a heatedexchange during a trial. The judge asked bothlawyers to approach the bench.
"Your Honor," said Bob, "I objected because mydistinguished colleague Bill was badgering thewitness. It is obvious he has never heard of theBill of Rights."
"Rubbish!" snapped Bill. "I happen to know them by heart."
Bob rolled his eyes in disbelief. "Do you now?Well, Bill, I have a hundred dollars that saysyou can't even tell me the first few words."
Bill smirked and accepted the challenge andbegan, "I pledge allegiance to the flag..."
"Damn," Bob interrupted, fishing the money fromhis pocket, "I didn't think you'd know it."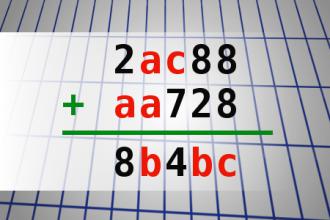 Find number abc
If 2ac88 + aa728 = 8b4bc find number abc. Multiple solutions may exist.
B.J. Novak: Learned Nothing in College
I learned nothing in college. It was really kind of my own fault. I had a double major: psychology and reverse psychology.
Immaculate Miracle?
A woman takes her 16-year-old daughter to the doctor. "Okay, Mrs. Jones, what's the problem?"The mother says, "It's my daughter, Debbie. She keeps getting these cravings, she's putting on weight, and she is sick most mornings." The doctor gives Debbie a good examination, then turns to the mother and says, "Well, I don't know how to tell you this, but your Debbie is pregnant--about four months would be my guess."The mother says, "Pregnant?! She can't be, she has never been left alone with a man! Have you, Debbie?" Debbie says, "No mother! I've never even kissed a man!" The doctor walked over to the window and stared outside. About five minutes passed before the mother said, "Is there something wrong out there, doctor?" The doctor replied, "No, not at it. It's just that the last time anything like this happened, a star appeared in the east and three wise men came over the hill. I'm not going to miss it this time around!"
Dumber Child
There were these two professors arguing over which one had the dumber child. Each professor thought his was the bigger idiot. The first professor yells "There is no way that your son is dumber. My son has to be THE stupidest kid on Earth."
The second professor says "No way, Jose. My son is the bigger idiot."
The first professor says "Let me prove it to you. Hey Jake! (Jake runs to his father) I don't know if I left myself at the office or not. Would you run there and find out. If I'm there then tell me to come home and eat dinner."
The son says, gleefully, "Sure dad" and runs off.
The second professor not to be outdone says "Oh Yea! Watch this! Hey Sam! Come here! (Sam runs to his father) Here are two pennies. With one penny buy a car and the other buy a microwave."
Sam says "OK." and leaves. The professors keep arguing.
Jay and Sam meet in the street. And they start arguing which one has the dumber father. Jay says, "Well listen. My father told me to find out if he is at the office or not. Well all he had to do was to call the office and find out himself. Two minutes and he would be done. That is stupid if I've ever heard it."
Sam says "Well that is nothing. My dad told me to buy a car with one penny and a microwave with the other. But he didn't tell me which penny was for the car and which one is for the microwave."
#joke
Blonde at the hospti
A blonde went to the hospital because her body hurt. She told the doctor that where ever she touched herself it would hurt. The doctor told her to demonstrate. She touched her elbow and it hurt. She touched her callf and it hurt. The doctor asked her if she was a blonde and she said yes.
"Thats why!!!!!!!!" "Your finger is broken!"
Answering Machine Message 252

A bubble in the space-time continuum has connected your line to a channeler in the 23rd century. Any message you leave will be broadcast into the future.