"I dropped a potato i
"I dropped a potato into my paper shredder, and that really made a hash of things."
A mother was having a tea part
A mother was having a tea party on the lawn with her children. A neighbor said, "How can you find time for a tea party when you have three small kids?"
She smile and said, "They'll always remember our tea parties, but they'll never remember if their clothes were ironed or clean!"
#joke
I'm Working At the Moment
My boss texted me, "Send me one of your funny jokes, Pete."
I replied, "I'm working at the moment, Sir, I will send you one later."
He replied, "That was fantastic, send me another one."
I Get No Respect 05
"I knew a girl that was so ugly that... She was known as a two bagger. That's when a girl is so ugly that you put a bag over your head in case the bag over her head breaks"
"I knew a girl that was so ugly that... I bent down to pet her cat only to find that it was the hair on her legs."
"I knew a girl that was so ugly that... I took her to a dog show and she won first prize."
"I knew a girl that was so ugly that... I took her to the top of the Empire State building and planes started to attack her."
"I knew a girl that was so ugly that... She looks like she came in second in a hatchet fight!"
"I knew a girl that was so ugly that... The last time I saw a mouth like hers it had a hook on the end of it."
I knew a girl that was so ugly that... She has a face like a saint--A saint bernard!"
"One day...as I came home early from work...I saw a guy jogging naked. I said to the guy...Hey buddy...why are you doing that for? He said..Because you came home early."
#joke
Mummy Can I ?
- Mummy, can I wear a bra now that I'm sixteen?
- No, David.
This lady found out her dog co
This lady found out her dog could hardly hear so she took it to the veterinarian. He found that the problem was hair in its ears. He cleaned both ears and the dog could hear fine. The vet then proceeded to tell the lady that if she wanted to keep this from recurring she should go to the store and get some "Nair" hair remover and rub it in the dog's ears once a month.
The lady goes to the drug store and gets some "Nair" hair remover.
At the register the druggist tells her, "If you're going to use this under your arms don't use deodorant for a few days."
The lady says: "I'm not using it under my arms."
The druggist says: "If you're using it on your legs don't shave for a couple of days."
The lady says: "I'm not using it on my legs either; if you must know, I'm using it on my schnauzer.."
The druggist says: "Stay off your bicycle for at least a week."
#joke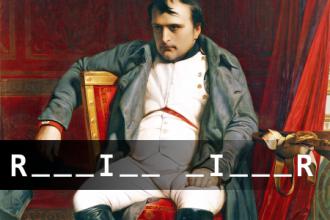 Find the missing text [R***I** *I***R]
Background picture associated with the solution.
Nine lives
A tom cat and a tabby cat were courting on a back fence at night.
The tom leaned over to the tabby with pent up passion and purred... "I'll die for you"
The tabby gazed at him from under lowered eye lids and asked,
"How many times?".
Used Car
It was a small town and the patrolman was making his evening rounds As he was checking a used car lot, he came upon two little old ladies sitting in a used car. He stopped and asked them if they were stealing the car. They said "Heavens no, we bought it."
He said, "Then why don't you drive it away".
Each of the women said "We can't drive".
The officer momentarily shook his head and then asked "Then why did you buy it?"
They answered, "We were told if we bought a car here, we'd get screwed, so we are just waiting.
#joke
Celtic Mortality
What is the difference between an Irish wedding and an Irish funeral?
One less drunk.
"Did you hear the one...
"Did you hear the one about the woman who threw her toaster away because it kept burning the bread? She was black toast intolerant."
Vocabulary
Accountant - Someone who knows the cost of everything and the value of nothing.
Auditor - Someone who arrives after the battle and bayonets all the wounded.
Banker - The fellow who lends you his umbrella when the sun is shining and wants it back the minute it begins to rain. (Mark Twain)
Economist - An expert who will know tomorrow why the things he predicted yesterday didn't happen today.
Statistician - Someone who is good with numbers but lacks the personality to be an accountant.
Actuary - Someone who brings a fake bomb on a plane, because that decreases the chances that there will be another bomb on the plane.
Programmer - Someone who solves a problem you didn't know you had in a way you don't understand.
Mathematician - A blind man in a dark room looking for a black cat which isn't there.
Lawyer - A person who writes a 10,000 word document and calls it a "brief."
Psychologist - A man who watches everyone else when a beautiful girl enters the room.
Schoolteacher - A disillusioned woman who used to think she liked children.
Consultant - Someone who takes the watch off your wrist and tells you the time.
Diplomat - Someone who can tell you to go to hell in such a way that you will look forward to the trip.
NOTE
: All jokes on this web site are property of the sites they are collected from. Web site Jokes of the day is not responsible for content of jokes. We are not trying to offend, just looking for a good laugh!! If you are offended by any of the jokes, please complain to the site jokes are coming from.
---
This site uses cookies to store information on your computer. Some are essential to help the site properly. Others give us insight into how the site is used and help us to optimize the user experience. See our
privacy policy
.