Sentenced me to death
As the judge sentenced me to death, I tried to offer him a high five.
But he left me hanging.
By Reddit user roomierplanet, posted August 31st 2019.
Bored on the train
Three men and a young woman are travelling on a train. The four passengers get talking and the chat soon takes an erotic turn.
The young woman proposes: "If each of you give me $1 I will show you my legs". The men, charmed by the woman, all pull a dollar out of their wallet and she proceeds to pull up her dress a bit to show her legs.
The woman then says: "If each of you gentlemen give me $10 I will show you my thighs". Again the men pull out their wallets, hand over the money the money and the woman pulls up her dress to show her legs.
The woman continues: "If you give me $100 I will show you where I was operated on for appendicitis". All three hand over the money.
The woman then turns to the window and points outside at a building they're passing. "See there in the distance, that's the hospital where I had it done!"
Original joke found on https://boards.fool.com posted on July 5th 2000, posted by gwgross, versions with more details could be found a bit later
#joke
That's One Way to Order Chicken
Kofi walks in to a restaurant and wants to order chicken. Unfortunately, English is not his first language and he can't remember how to say chicken in English.
Kofi sees the guy at the table next to him with a plate with 4 boiled eggs on it.
Kofi points to the plate of eggs and says to the waiter, "I want their mother!"
#joke
Venomous attitude
"You have such a venomous attitude towards my insect puns. I think you need to bee more positive, and stop with those stinging remarks!"
Talking Dog for Sale
A guy sees a sign in front of a house: "Talking Dog for Sale." He rings the bell and the owner tells him the dog is in the backyard.
The guy goes into the backyard and sees a black mutt just sitting there.
"You talk?" he asks.
"Yep," the mutt replies.
"So, what's your story?"
The mutt looks up and says, "Well, I discovered my gift of talking pretty young and I wanted to help the government, so I told the CIA about my gift, and in no time they had me jetting from country to country, sitting in rooms with spies and world leaders, because no one figured a dog would be eavesdropping. I was one of their most valuable spies eight years running.
The jetting around really tired me out, and I knew I wasn't getting any younger and I wanted to settle down. So I signed up for a job at the airport to do some undercover security work, mostly wandering near suspicious characters and listening in. I uncovered some incredible dealings there and was awarded a batch of medals. Had a wife, a mess of puppies, and now I'm just retired."
The guy is amazed. He goes back in and asks the owner what he wants for the dog.
The owner says, "Ten dollars."
The guy says, "This dog is amazing. Why on earth are you selling him, so cheap?"
The owner replies, "He's just a big liar. He didn't do any of that stuff."
#joke
A life-long city man, tired of
A life-long city man, tired of the rat race, decided he was going togive up the city life, move to the country, and become a chickenfarmer. He found a nice, used chicken farm, which he bought. Turnsout that his next door neighbor was also a chicken farmer. Theneighbor came for a visit one day and said, "Chicken farming isn'teasy. Tell you what. To help you get started, I'll give you 100chickens."
The new chicken farmer was thrilled. Two weeks later the newneighbor stopped by to see how things were going. The new farmersaid, "Not too good. All 100 chickens died."
The neighbor said, "Oh,I can't believe that. I've never had any trouble with my chickens.I'll give you 100 more."
Another two weeks went by, and the neighbor stops in again. The newfarmer says, "You're not going to believe this, but the second 100chickens died too."
Astounded, the neighbor asked, "what went wrong?What did you do to them?"
Well, says the new farmer, "I'm not sure whether I'm planting them toodeep or not far apart enough."
#joke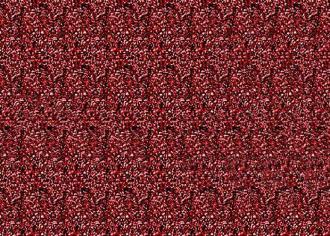 What hides this stereogram?
Stereogram - 3D Image
Arriving Home Very Drunk
A man is in a bar and falling off his stool every couple of minutes. He is obviously drunk. So the bartender says to another man in the bar: "Why don't you be a good Samaritan and take him home."
The man takes the drunk out the door and to his car and he stumbles at least ten times. They drive along and the drunk points out his house to the man. He stops the car and the drunk stumbles up the steps to his house with the man.
The drunk's wife greets them at the door: "Why thank you for bringing him home for me, but where's his wheel chair?"
#joke
Lunch with the lawyers
Two attorneys went into a diner and ordered two drinks. Then they produced sandwiches from their briefcases and started to eat. The owner became quite concerned and marched over and told them, "You can't eat your own sandwiches in here!"
The attorneys looked at each other, shrugged their shoulders and then exchanged sandwiches.
Sister in law
I was happy. My girlfriend and I had been dating for over a year, and so we decided to get married.
My parents helped us in every way, my friends encouraged me, and my girlfriend? She was a dream!
There was only one thing bothering me, very much indeed, and that one thing was her younger sister.
My prospective sister-in-law was twenty years of age, wore tight mini skirts and low cut blouses. She would regularly bend down when quite near me and I got many a pleasant view of her underwear. It had to be deliberate. She never did it when she was near anyone else.
One day little sister called and asked me to come over to check the wedding invitations. She was alone when I arrived. She whispered to me that soon I was to be married, and she had feelings and desires for me that she couldn't overcome and didn't really want to overcome.
She told me that she wanted to make love to me just once before I got married and committed my life to her sister. I was in total shock and couldn't say a word.
She said, "I'm going upstairs to my bedroom, and if you want to go ahead with it just come up and get me." I was stunned. I was frozen in shock as I watched her go up the stairs. When she reached the top she pulled down her panties and threw them down the stairs at me.
I stood there for a moment, then turned and went straight to the front door. I opened the door and stepped out of the house. I walked straight towards my car.
My future father-in-law was standing outside. With tears in his eyes he hugged me and said, "We are very happy that you have passed our little test. We couldn't ask for a better man for our daughter. Welcome to the family."
The moral of this story is: Always keep your condoms in your car!
#joke
The boss wondered why one of h...
The boss wondered why one of his most valued employees was absent, but had not phoned in. Needing to have an urgent work problem resolved, he dialed the employee's home phone number and was greeted by a child's whispered, "Hello."
"Is your Daddy home?" he asked.
"Yes," whispered the small voice.
"May I talk with him?"
The child whispered, "No."
Surprised and wanting to talk with an adult, the boss asked, "Is your Mommy there?"
"Yes."
"May I talk with her?"
Again the small voice whispered, "No."
Hoping there was someone with whom he could leave a message, the boss asked, "Is anyone else there?"
"Yes," whispered the child, "a policeman."
Wondering what a cop would be doing at his employee's home, the boss asked, "May I speak with the policeman?"
"No, he's busy," whispered the child.
"Busy doing what?"
"Talking to Mommy and Daddy and the Fireman," came the whispered answer.
Growing more worried as he heard a loud noise through the earpiece on the phone, the boss asked, "What is that noise?"
"A helicopter," answered the whispering voice.
"What is going on there?" demanded the boss, now truly apprehensive.
Again, whispering, the child answered, "The search team just landed a helicopter."
Alarmed, confused, and a little frustrated, the boss asked, "What are they searching for?"
Still whispering, the young voice replied with a muffled giggle..."Me!"
Chuck Norris once went skydivi...
Chuck Norris once went skydiving, but promised never to do it again. One Grand Canyon is enough.
Kurt Braunohler: Slept Like a Baby
Slept like a baby last night. I woke up every two hours screaming in the dark and then I sh*t my pants and almost died for, like, no reason whatsoever.