Did You Hear
There was this man who muttered a few words in the church and found himself married...
A year later he muttered something in his sleep and found himself divorced.
It's The Druggist
Upon arriving home, a husband was met at the door by his sobbing wife. Tearfully, she explained, "It's the druggist. He insulted me terribly this morning on the phone. "Immediately the husband drove downtown to confront the druggist and demand an apology.
Before he could say more than a word or two, the druggist told him, "Now, just a minute, listen to my side of it.
This morning the alarm failed to go off, so I was late getting up. I went without breakfast and hurried out to the car, just to realize that I locked the house with both house and car keys inside. I had to break a window to get my keys.
Then, driving a little too fast, I got a speeding ticket. Later, when I was about three blocks from the store, I had a flat tire. When I finally got to the store there was a bunch of people waiting for me to open upm and the phone was already ringing non-stop.
I got the store opened and started waiting on these people, and all the time the darn phone was ringing off the hook."
He continued, "Then I had to break a roll of nickels against the cash register drawer to make change, and they spilled all over the floor. I got down on my hands and knees to pick up the nickels; the phone was still ringing anf getting me more than a bit annoyed.
When I came up I cracked my head on the open cash drawer which made me stagger back against a showcase with a bunch of perfume bottles on it. Half of them hit the floor and broke. You can imagine the stench of that mixed up perfume overload!
Meanwhile, the phone is still ringing with no let up, and I finally got back to answer it.
It was your wife. She wanted to know how to use a rectal thermometer. And believe me Mister, as God is my witness, all I did was tell her!"
#joke
Can We....
On their way to get married, a young Catholic couple is involved in a fatal car accident.  The couple find themselves sitting outside the Pearly Gates waiting for St. Peter to process them into Heaven.
While waiting, they begin to wonder: Could they possibly get married in Heaven?
When St. Peter showed up, they asked him. St. Peter said, 'I don't know. This is the first time anyone has asked. Let me go find out,' and he leaves.
The couple sat and waited, and waited. Two months passed and the couple are still waiting. While waiting, they began to wonder what would happen if it didn't work out; could you get a divorce in heaven.
After yet another month, St. Peter finally returns, looking somewhat bedraggled. 'Yes,' he informs the couple, 'you can get married in Heaven.'
'Great!' said the couple, 'But we were just wondering, what if things don't work out? Could we also get a divorce in Heaven?'
St. Peter, red-faced with anger, slammed his clipboard onto the ground.
'What's wrong?' asked the frightened couple.

'OH, COME ON!', St. Peter shouted, 'It took me three months to find a priest up here! Do you have any idea how long it'll take me to find a lawyer?
To be or not to be? That is th...
To be or not to be? That is the question. The answer? Chuck Norris.
Drunk date
A guy enters a bar and orders two shots of vodka. He drinks the first and dumps the second on his right hand.
He then orders a second round of shots, drinks the first and again dumps the second on his right hand.
The bartender sees this and becomes curious as the guy orders a third round and does the exact same thing.
So the bartender asks the guy, "Hey man, I hope you don't mind me asking but why the waste of good drinks?"
So the man says, "I have to get my date drunk."
Submitted by Curtis
Edited by Yisman
#joke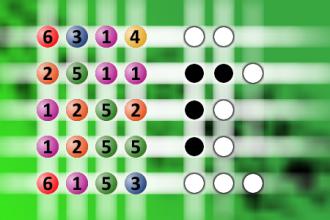 Which is a winning combination of digits?
The computer chose a secret code (sequence of 4 digits from 1 to 6). Your goal is to find that code. Black circles indicate the number of hits on the right spot. White circles indicate the number of hits on the wrong spot.