Miming
By definition, miming is not aloud.
Good Old Grandpa
Grandpa always said when one door closes, another one opens...
Great man, horrible cabinet maker.
Strange...
A lawyer named Strange died, and his friend asked the tombstone maker to inscribe on his tombstone, "Here lies Strange, an honest man, and a lawyer."
The inscriber insisted that such an inscription would be confusing, for passersby would tend to think that three men were buried under the stone.
However he suggested an alternative: He would inscribe, "Here lies a man who was both honest and a lawyer.
"That way, whenever anyone walked by the tombstone and read it, they would be certain to remark: "That's Strange!"
"Cash, check or charge?" I ask
"Cash, check or charge?" I asked, afterfolding items the woman wished to purchase. As she fumbled forher wallet I noticed a remote control for a televisionset in her purse.
"So, do you always carry your TV remote?" I asked.
"No," she replied, "but my husband refused tocome shopping with me, so I figured this was the most legal evilthing I could do to him."
#joke
Every time an Indian walks int...
Every time an Indian walks into the chief's teepee he sees that the chief is masturbating. They finally realize this is a serious problem, so they fix him up with a nice woman, and she starts living with him in his teepee.
One day, one of the Indians walks into to chief's teepee and there's the chief masturbating again. He says, "Chief, what are you doing? We fix you up with a beautiful woman."
The chief says, "Her arm get tired."
#joke
vampire lesbians
What did one lesbian vampire say to the other?. Same time next month?.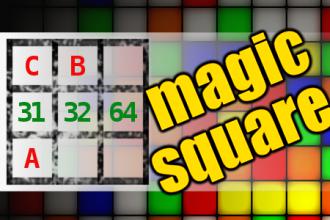 MAGIC SQUARE: Calculate A+B-C
The aim is to place the some numbers from the list (3, 21, 26, 27, 31, 32, 34, 37, 48, 64, 69, 74) into the empty squares and squares marked with A, B an C. Sum of each row and column should be equal. All the numbers of the magic square must be different. Find values for A, B, and C. Solution is A+B-C.
Chuck Norris can win at solita...
Chuck Norris can win at solitaire with only 18 cards.
12- Pack
A father and his son go into the grocery store when they happen upon the condom aisle. The son asks his father why there are so many different boxes of condoms. The father replies, ''Well, you see that 3-pack? That's for when you're in high school. You have 2 for Friday night and 1 for Saturday night.'' The son then asks his father, ''What's the 6-pack for?'' The father replies, ''Well, that's for when you're in college. You have 2 for Friday night, 2 for Saturday night, and 2 for Sunday morning.'' Then the son asks his father what the 12-pack is for. The father replies, ''Well, that's for when you're married. You have one for January, one for February, one for March, one for.....''
The strong young man at the co...
The strong young man at the construction site was bragging that he could outdo anyone in a feat of strength. He made a special case of making fun of one of the older workmen. After several minutes, the older worker had had enough. "Why don't you put your money where your mouth is," he said. "I will bet a week's wages that I can haul something in a wheelbarrow over to that outbuilding that you won't be able to wheel back." "You're on, old man," the braggart replied. "Let's see what you got." The old man reached out and grabbed the wheelbarrow by the handles. Then, nodding to the young man, he said, "All right. Get in."
#joke