The noisiest body of water is
The noisiest body of water is not a rushing rapid, but a plain old creek.
Car or Haircut
A young boy had just gotten his driver's permit and enquired of his father, if they could discuss his use of the car. His father said, "I'll make a deal with you. You bring your grades up from a C to a B average, study your Bible a little, get your hair cut and we'll talk about the car."
Well, the boy thought about that for a moment, and settle for the offer, and they agreed on it. After about six weeks they went in to the study, where his father said, "Son, I've been real proud. You've brought your grades up, and I've observed that you have been studying your Bible, and participating a lot more in the Bible study groups. But, I'm real disappointed, since you haven't gotten your hair cut."
The young man paused a moment, and then said, "You know, Dad, I've been thinking about that, and I've noticed in my studies of the Bible that Samson had long hair, John the Baptist had long hair, Moses had long hair and there's even a strong argument that Jesus had long hair also."

To this his father replied, "Did you also notice they all walked everywhere they went?"
#joke
What I Love About Baseball
Do you know what I love most about baseball?
The pine tar, the resin, the grass, the dirt...
And that's just in the hot dogs!
Speaking to her two daughters,
Speaking to her two daughters, a mother said, "When we get home you need to clean your bedrooms. Your grandmother is coming to visit us tonight and I want the whole house to look tidy."
The younger daughter answered, "We will, Mommy. But isn't that kind of like, lying?"

Attitude toward whiskey...
A Congressman was once asked about his attitude toward whiskey. "If you mean the demon drink that poisons the mind, pollutes the body, desecrates family life, and inflames sinners, then I'm against it.
But if you mean the elixir of Christmas cheer, the shield against winter chill, the taxable potion that puts needed funds into public coffers to comfort little crippled children, then I'm for it. This is my position, and I will not compromise."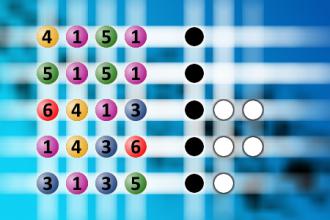 Which is a winning combination of digits?
The computer chose a secret code (sequence of 4 digits from 1 to 6). Your goal is to find that code. Black circles indicate the number of hits on the right spot. White circles indicate the number of hits on the wrong spot.
Every time Chuck Norris smiles...
Every time Chuck Norris smiles, someone dies. Unless he smiles while he's roundhouse kicking someone in the face. Then two people die.
Eugene Mirman: Good Father
I dont have a kid, but I think that I would be a good father, especially if my baby liked to go out drinking.
Rory Albanese: Least Respected Place
Im from Long Island, which is the least respected place in the world. I travel all over the country. I could be in the middle of Omaha doing something and the guy comes up to me and says, Hey, whered you grow up? Im like, Long Island. And hes like, Loser. Really? I grew up 22 miles from Manhattan; you lost your virginity to corn. I feel like I win that round. Im like, Ive seen the ocean. Game over.
#joke
5 Stages of Being Drunk
Stage 1 - SMART
This is when you suddenly become an expert on every subject in the known Universe.
You know everything and want to pass on your knowledge to anyone who will listen.
At this stage you are always RIGHT.
And of course the person you are talking to is very WRONG.
This makes for an interesting argument when both parties are SMART.
Stage 2 - GOOD LOOKING
This is when you realise that you are the BEST LOOKING person in the entire bar and that people fancy you.
You can go up to a perfect stranger knowing they fancy you and really want to talk to you.
Bear in mind that you are still SMART, so you can talk to this person about any subject under the sun.
Stage 3 - RICH
This is when you suddenly become the richest person in the world.
You can buy drinks for the entire bar because you have an armoured truck full of money parked behind the bar.
You can also make bets at this stage, because of course, you are still SMART, so naturally you will win all your bets.
It doesn't matter how much you bet 'cos you are RICH.
You will also buy drinks for everyone that you fancy, because now you are the BEST LOOKING person in the world.
Stage 4 - BULLET PROOF
You are now ready to pick fights with anyone and everyone especially those with whom you have been betting or arguing.
This is because nothing can hurt you.
At this point you can also go up to the partners of the people who you fancy and challenge to a battle of wits or money.
You have no fear of losing this battle because you are SMART, you are RICH and hell, you're BETTER LOOKING than they are anyway!
Stage 5 - INVISIBLE
This is the Final Stage of Drunkenness.
At this point you can do anything because NO ONE CAN SEE YOU. You dance on a table to impress the people who you fancy because the rest of the people in the room cannot see you.
You are also invisible to the person who wants to fight you.
You can walk through the street singing at the top of your lungs because no one can see or hear you and because you're still SMART you know allthe words.
#joke