People who hate shopping—is
People who hate shopping—is it wrong to call them mall contents?
Word Knowledge
Teacher: Johnny, what is a protagonist?
Little Johnny: It's when you're playing tag with kids from another neighborhood and they bring in a ringer... they're a Pro-Tagonist.

Once upon a time there was thi
Once upon a time there was this guy who bought a hang glider and took it out to the mountains to fly it. He was cruising along a few hundred feet above the treetops when he spots these two hunters down below. He hollers and waves at them, trying to be sociable.
Suddenly the hunters look up and they both fire their double barrel shotguns at him.
When the hang glider was out of sight one of the hunters turns to the other and says, "What kinda bird you reckon that was?"
The other hunter replies, "I don't rightly know, but I think we hit it."
"How's that?"
"You saw how fast he dropped that man he was caring, didn't ya?"
#joke
A Minister Smarter Than Einstein?
At the conclusion of the sermon, the worshippers filed out of the sanctuary to greet the minister. As one shook the minister's hand, he said, "Thanks for the message, Reverend. You know, I bet you're smarter than Einstein."Beaming with pride, the minister said, "Why, thank you, brother!"As the week went by, the minister began to think about the man's compliment. The more he though, the more the wondered why anyone would deem him smarter than Einstein. So the following Sunday he asked the man, "Exactly what did you mean that I must be smarter than Einstein?"The man replied, "Well, Reverend, they say that Einstein was so smart that only ten people in the entire world could understand him. But Reverend, no one can understand you."
#joke
Golf on Christmas...
Four old timers were playing their weekly game of golf, and one remarked how for Christmas this year he'd love to wake up on Christmas morning, roll out of bed and without an argument go directly to the golf course, meet his buddies and play a round.
His buddies all chimed in and said, "Let's do it! We'll make it a priority, figure out a way and meet here early on Christmas morning."
Months later, that special morning arrives, and there they are on the links. The first guy says, "Boy, this game cost me a fortune! I bought my wife such a diamond ring that she can't take her eyes off it."
Number 2 guy says, "I spent a ton too. My wife is at home planning the cruise I gave her. She was up to her eyeballs in brochures."
Number 3 guy says " Well, my wife is at home admiring her new car, reading the manual."
They all turn to the last guy in the group and he is staring at them like they have lost their minds. "I can't believe you all went to such expense for this golf game. I patted my wife on the butt and said, 'Well babe, is it sex or golf?' and she said, 'Take your sweater, looks like it might be windy out there'."
"He has all the virtues I disl
"He has all the virtues I dislike and none of the vices I admire."
Winston Churchill
"A modest little person, with much to be modest about."
Winston Churchill
"I have never killed a man, but I have read many obituaries with great pleasure."
Clarence Darrow
"He has never been known to use a word that might send a reader to the dictionary."
William Faulkner (about Ernest Hemingway)
"Poor Faulkner. Does he really think big emotions come from big words?"
Ernest Hemingway (about William Faulkner)
"Thank you for sending me a copy of your book; I'll waste no time reading it."
Moses Hadas
"He can compress the most words into the smallest idea of any man I know."
Abraham Lincoln
"I've had a perfectly wonderful evening. But this wasn't it."
Groucho Marx
"I didn't attend the funeral, but I sent a nice letter saying I approved of it."
Mark Twain
"He has no enemies, but is intensely disliked by his friends."
Oscar Wilde
"I am enclosing two tickets to the first night of my new play, bring a friend... if you have one."
George Bernard Shaw to Winston Churchill
"Cannot possibly attend first night, will attend second... if there is one."
Winston Churchill, in response
"I feel so miserable without you, it's almost like having you here."
Stephen Bishop
"He is a self-made man and worships his creator."
John Bright
"I've just learned about his illness. Let's hope it's nothing trivial."
Irvin S. Cobb
"He is not only dull himself, he is the cause of dullness in others."
Samuel Johnson
"He is simply a shiver looking for a spine to run up."
Paul Keating
"He had delusions of adequacy."
Walter Kerr
"There's nothing wrong with you that reincarnation won't cure."
Jack E. Leonard
"He has the attention span of a lightning bolt."
Robert Redford
"They never open their mouths without subtracting from the sum of human knowledge."
Thomas Brackett Reed
"He inherited some good instincts from his Quaker forebears, but by diligent hard work, he overcame them."
James Reston (about Richard Nixon)
"In order to avoid being called a flirt, she always yielded easily."
Charles, Count Talleyrand
"He loves nature in spite of what it did to him."
Forrest Tucker
"Why do you sit there looking like an envelope without any address on it?"
Mark Twain
"His mother should have thrown him away and kept the stork."
Mae West
"Some cause happiness wherever they go; others, whenever they go."
Oscar Wilde
"He uses statistics as a drunken man uses lamp-posts... for support rather than illumination."
Andrew Lang (1844-1912)
"He has Van Gogh's ear for music."
Billy Wilder
#joke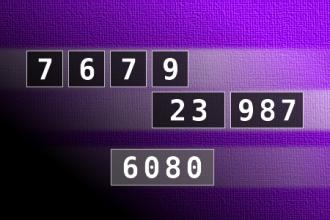 Calculate the number 6080
NUMBERMANIA: Calculate the number 6080 using numbers [7, 6, 7, 9, 23, 987] and basic arithmetic operations (+, -, *, /). Each of the numbers can be used only once.
I Guess It Works
A young doctor had moved out to a small community to replace a doctor who was retiring. The older doctor suggested the young one accompany him on his rounds so the community could become used to a new doctor. At the first house a woman complained,
"I've been a little sick to my stomach."
The older doctor said, "Well, you've probably been overdoing the fresh fruit. Why don't you cut back on the amount you've been eating and see if that does the trick?"
As they left the younger man said, "You didn't even examine that woman. How'd you come to your diagnosis so quickly?"
"I didn't have to. You noticed I dropped my stethoscope on the floor in there? When I bent over to pick it up, I noticed a half dozen banana peels in the trash. That was what was probably making her sick."
"Hmmm," the younger doctor said, "Pretty clever. I think I'll try that at the next house."
Arriving at the next house, they spent several minutes talking with a younger woman. She complained that she just didn't have the energy she once did.
"I'm feeling terribly run down lately."
"You've probably been doing too much extra work for the church," the younger doctor told her. "Perhaps you should cut back a bit and see if that helps."
As they left, the elder doc said, Your diagnosis is almost certainly correct, but how did you arrive at it?
"Well, just like you did at the last house, I dropped my stethoscope and when I bent down to retrieve it, I noticed the preacher under the bed."    
3 little boys
Three little black boys sitting on a porch. The first
little black boy says, "What would you do with a million
dollars?" The second boy said, "I'd buy that blue Cadillac
over there." The third little boy said, "I'd buy the pink
Cadillac siiting over there." Then the third little boy
asked the first what he'd do with the money. The first boy
replied, "I'd cover myself in hair." The other two asked
"why?" and he said because my sister has a(2" x 2") patch of
hair and she owns both those Cadillacs!
#joke
Mark Gross: Can You Help?
A couple days ago, I was crossing this bridge, and there was this character standing there with a cup in his hand. He goes, Hey, can you help out my wife and family? I said, Sure. And I pushed him off the bridge.
The Ring
An older, white haired man walked into a jewelry store one Friday evening with a beautiful young gal at his side.
He told the jeweler he was looking for a special ring for his girlfriend.
The jeweler looked through his stock and brought out a $5,000 ring and showed it to him.
The old man said, "I don't think you understand, I want something very special."
At that Statement, the jeweler went to his special stock and brought another ring over.
"Here's a stunning ring at only $40,000," the jeweler said. The young lady's eyes sparkled and her whole body trembled with excitement.
The old man seeing this said, "We'll take it."
The jeweler asked how payment would be made and the old man stated, by check. "I know you need to make sure my check is good, so I'll write it now and you can call the bank Monday to verify the funds and I'll pick the ring up Monday afternoon," he said.
Monday morning, a very teed-off jeweler phoned the old man. "There's no money in that account."
"I know," said the old man, "but can you imagine the weekend I had?"
Don't mess with Old People.      
The maids revenge
Just after the maid had been fired. She took five bucks from her purse, she threw it to Fido, the family dog. When asked why by her former employer, she answered, "I never forget a friend. This was for helping me clean the dishes all the time!
You might be a redneck if 28
You might be a redneck if...
Motel 6 turns off the lights when they see you coming.
There are more dishes in your sink than in your cabinets.
You think a turtleneck is a key ingredient in soup.
You've ever stood in line to get your picture taken with a freak of nature.
Your anniversary present was getting the septic tank pumped.
Your local ambulance has a trailer hitch.
You watch cartoons long after your kids get bored.
You think the French Riviera is a foreign car.
You think you are an entrepreneur because of the "Dirt for Sale" sign in the front yard.
You're still scalping tickets after the concert is over.
#joke