An airline captain was helping...
An airline captain was helping a new blonde flight attendant prepare for her first overnight trip. Upon their arrival, the captain showed the flight attendant the best place for airline personnel to eat, shop and stay overnight.
The next morning as the pilot was preparing the crew for the day's route, he noticed the new stewardess was missing. He knew which room she was in at the hotel and called her up to ask what happened to her.
She answered the phone, crying, and said, "I can't get out of the room!"
"You can't get out of your room?" the captain asked. "Why not?"
She replied, "There are only three doors in here," she sobbed, "one is the bathroom, one is the closet, and one has a sign on it that says 'Do Not Disturb'!"
Q: What did t...
Q: What did the good check say to the bad check that was depressed?



A: Dont worry, you'll bounce back.
Idiot Sayings
"I have opinions of my own --strong opinions-- but I don't always agree with them."
Dear John,

I have bee...
Dear John,
I have been unable to sleep since I broke off our engagement.
Won't you forgive and forget? Your absence is breaking my heart.
I was a fool - nobody can take your place. I love you.
All my love,
Belinda. xxxxoooxxxx
P.S. Congratulations on winning this week's lottery.
#joke
Repaying a Debt
The Hodja (teacher) was selling olives at the market and business was slow. He called to a woman who was passing by and tried to entice her.
She shook her head and told him she didn't have any money with her.
"No problem," the Hodja grinned. "You can pay me later."
She still looked hesitant, so he offered her one to taste.
"Oh no, I can't, I'm fasting," she responded.
"Fasting? But Ramadan was 6 months ago!"
"Yes, well, I missed a day and I'm making it up now. Go ahead and give me a kilo of the black olives."
"Forget it!" shouted the Hodja. "If it took you 6 months to pay back a debt you owed ALLAH, who knows when you'll get around to paying me!"
#joke
A man is strolling past the me...
A man is strolling past the mental hospital and suddenly remembers an important meeting.
Unfortunately, his watch has stopped, and he cannot tell if he is late or not. Then, he notices a patient similarly strolling about within the hospital fence.
Calling out to the patient, the man says, "Pardon me, sir, but do you have the time?"
The patient calls back, "One moment!" and throws himself upon the ground, pulling out a short stick as he does. He pushes the stick into the ground, and, pulling out a carpenter's level, assures himself that the stick is vertical.
With a compass, the patient locates north and with a steel ruler, measures the precise length of the shadow cast by the stick.
Withdrawing a slide rule from his pocket, the patient calculates rapidly, then swiftly packs up all his tools and turns back to the pedestrian, saying, "It is now precisely 3:29 pm, provided today is August 16th, which I believe it is."
The man can't help but be impressed by this demonstration, and sets his watch accordingly.
Before he leaves, he says to the patient, "That was really quite remarkable, but tell me, what do you do on a cloudy day, or at night, when the stick casts no shadow?"
The patient holds up his wrist and says, "I suppose I'd just look at my watch."
#joke
FLEX WORDLE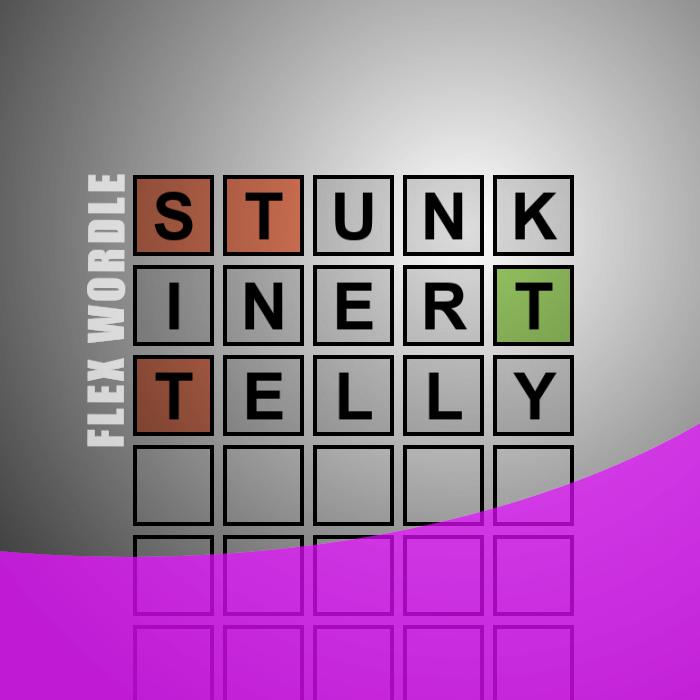 Guess the
WORDLE
in 3 tries. After each guess, the color of the tiles will change to show how close your guess was to the solution.
Mom: Junior, when those boys s...
Mom: Junior, when those boys started throwing rocks at you, why didn't you come and tell me instead of throwing rocks back? Son: But Mom, you can't throw well!
Mark the spot...
Year after year Bubba's wife pleaded with him to take her fishing but he kept telling her she would not enjoy it. She, finally, wore him down, he consented, and early one morning they took off to the lake.
They had not been there very long when the fish began biting. Almost as fast as they cast, a fish would bite, and they reeled it in. After catching their limit, Bubba said, "Verna Lou, sweet thang, I'm sorry. You've been good luck and I'm gonna bring you with me the next time. If you'll mark the spot where we caught all these fish, we'll go home."
On the way home, Bubba turned to Verna Lou and said, "Sweet thang, how did you mark the spot were all the fish are so next time I'll know?"
"Bubba, darlin', I put a big 'X' on the side of the boat right down closest to the water."
"Sweet thang, that's about the dumbest thing I ever seen you do. Don't you know that won't work? We may not get the same boat the next time!"
#joke
You Might Be A Redneck If 31
You might be a redneck if...
You have guns in your house that you cannot find.
You think a night of fine dining is going to the Snack Bar at Wal-Mart while the automotive department is raising your truck another 8 inches.
You think Wal-Mart is expensive.
You've got more guns "On Display" than Wal-Mart Sporting Goods.
You have ever written a check for less than a dollar.
Your horse wears shoes, but you don't.
It doesn't bother you when you walk through a barn barefooted.
You name your twin boys Jack and Daniel.
You ask your 10-year old son how to spell a word.
Your dog is your alarm clock.
#joke
Phone Line
A young businessman had just started his own firm. He had just rented a beautiful office and had it furnished with antiques. He saw a man come into the outer office. Wishing to appear the hot shot, the businessman picked up the phone and started to pretend he had a big deal working. He threw huge figures around and made giant commitments. Finally he hung up and asked the visitor, Can I help you? Yeah, Ive come to activate your phone lines.
#joke
What do you call a sandwich bo...
What do you call a sandwich box swinging from a bell rope?

The lunchpack of Notre Dame

A guy got on a bus one day and...
A guy got on a bus one day and sat in the aisle seat beside an elderly lady. A few minutes later, he couldn't control himself and had to let loose a big noisy fart.
Embarrassed, he tried to make conversation with the lady and asked her "Do you by any chance have today's paper"?
The lady looked at him and said "No, but the next time we pass by a tree I'll grab you a handful of leaves."
#joke
Join us on WhatsApp