Have a great time for
Christmas
, check out our latest
Christmas jokes of 2022
on:
Christmas jokes collection
Visiting Grandma...
A grandmother is giving directions to her grown grandson, who is coming to visit with his wife:
"You come to the front door of the apartment complex. I am in apartment 14T. There is a big panel at the door. With your elbow push button 14T. I will buzz you in. Come inside, the elevator is on the right. Get in, and with your elbow hit 14. When you get out I am on the left. With your elbow, hit my doorbell".
"Grandma, that sounds easy, but why am I hitting all these buttons with my elbow"?
"You're coming empty handed"?
#joke
Dane Cook: Hardwood Floors
I had to sneak into my living room, and we had hardwood floors. Those floors suck for cheating because every step you take just taunts you. You know, every step youre like, Cheeeeater! Liar! Herpes, herpes, herpes!
A newly wed farmer and his wif...
A newly wed farmer and his wife were visited by her mother, who immediately demanded an inspection of the place. While they were walking through the barn, the farmer's mule suddenly reared up and kicked the mother-in-law in the head, killing her instantly.
At the funeral service a few days later, the farmer stood near the casket and greeted folks as they walked by. The pastor noticed that whenever a woman would whisper something to the farmer, he would nod his head "Yes" and say something. Whenever a man walked by and whispered to the farmer, he would shake his head, "No" and mumble a reply. Curious, the pastor later asked the farmer what that was all about.
The farmer replied, ''The women would say, 'What a terrible tragedy' and I would nod my head and say, 'Yes, it was.' The men would ask, 'You wanna sell that mule?' and I would shake my head and say, 'Can't. It's all booked up for a year.'"
#joke
Q: What do ca...
Q: What do call an elephant at the North Pole?


A: Lost
A Recently Spotted Bumper Sticker:
"I believe in dragons, good men and other fantasy creatures."
Neighborhood Activities
Joe and Wanda had a small apartment in the city and they decided that the only way to pull off a Sunday afternoon quickie with their ten-year-old son in the apartment was to send him out on the balcony and order him to report on all the neighborhood activities. To a young boy, they thought, spying would be a lot of fun and would distract him for an hour or so.
#joke
FLEX WORDLE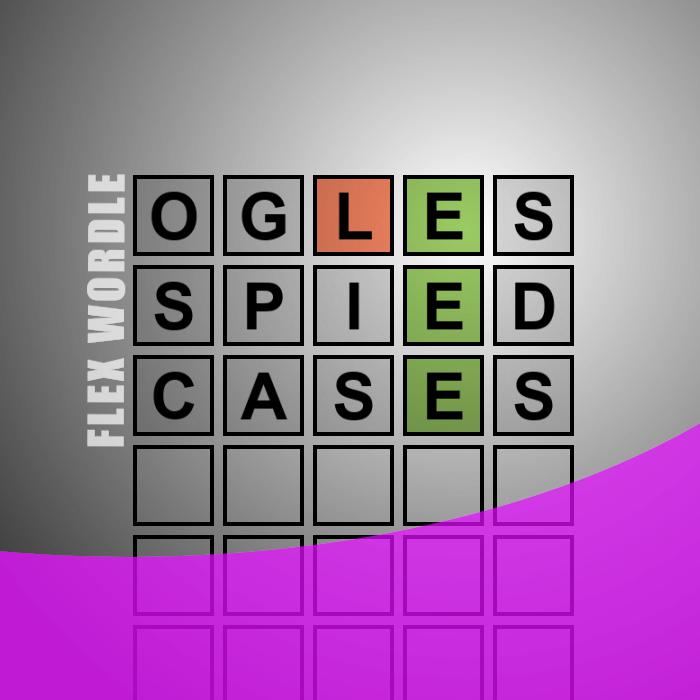 Guess the
WORDLE
in 3 tries. After each guess, the color of the tiles will change to show how close your guess was to the solution.
During class, the chemistry pr...
During class, the chemistry professor was demonstrating the properties of various acids. "Now I am dropping this silver coin into this glass of acid. Will it dissolve?"
No, Sir, a student called out.
No? queried the professor. "Perhaps you can explain why the silver coin will not dissolve."
"Because if it did, you would not have dropped it in!" replied the student.
#joke
During the French revolution, ...
During the French revolution, hundreds of people were guillotined. One day, three men were led up to die. One was a lawyer, one was a doctor, and the third was an engineer.

The lawyer was to die first. He was led to the guillotine, the attending priest blessed him, and he knelt with his head on the guillotine. The blade was released, but stopped halfway down its path.

The priest, seeing an opportunity, quickly said, "Gentlemen, God has spoken and said this man is to be spared; we cannot kill him." The executioner agreed, and the lawyer was set free.

The doctor was next. He was blessed by the priest, then knelt and placed his head down. The blade was released, and again stopped halfway down.

Again the priest intervened: "Gentlemen, God has again spoken; we cannot kill this man." The executioner agreed and the doctor was set free.

At last it was the engineer's turn. He was blessed by the priest, and knelt, but before he placed his head on the guillotine he looked up. Suddenly, he leapt to his feet and cried, "Oh, I see the problem!"
What's brown and sounds like a...
What's brown and sounds like a bell?


DUNG

I Often Feel Guilty
Sheri, the pert and pretty nurse took her troubles to a resident psychiatrist in the hospital where she worked. "Doctor, you must help me," she pleaded. "It's gotten so that every time I date one of the young doctors here, I end up dating him. And then afterward, I feel guilty and depressed for a week."
"I see," nodded the psychiatrist. "And you, no doubt, want me to strengthen your will power and resolve in this matter."
"NO!!!" exclaimed the nurse. "I want you to fix it so I won't feel guilty and depressed afterward!"
Big Moe Wants Some
This big ole' trucker is driving through Dallas one night and decides to stop at this bar that a buddy of his had told him about. He parks his rig and goes inside. He walks up to the bartender says in this dumb-hick voice,"Big Moe wantsa get f*uked."
The bartender looks at him and tells him it'll cost him 10 bucks.
Big Moe drops a ten-dollar-bill on the bar.
The bartender tells him to go across the street to the hotel and knock on room 14 he'll get want he wants there.
So Big Moe goes over to the hotel and knocks on door number 14. This HUGE James Earl Jones type voice barrels from inside, "What the HELL to you want?"
"Big Moe wantsa get f*uked," our friend answers.
"Well," the voice replies. "Slip 20 dollars under the door."
So Big Moe slips the cash under the door.
He's waitin for awhile and nothin happens. A few minutes later he decides to knock again.
The big voice asks again, "What the Hell do you want?"
"Big Moe wantsa get f*uked," he answers.
The man on the other side shouted through the door, "What Again!"
#joke
My kids love going to the...
My kids love going to the Web, and they keep track of their passwords by writing them on Post-it notes.

I noticed their Disney password was "MickeyMinnieGoofyPluto," and asked why it was so long.

"Because," my son explained, "they say it has to have at least four characters."