Thanksgiving
is coming, be ready, check out our latest
Thanksgiving jokes
and quotes on:
Thanksgiving jokes collection
The preacher buys a parrot
A preacher is buying a parrot.
"Are you sure it doesn't scream, yell, or swear?" asked the preacher.
"Oh absolutely. It's a religious parrot," the storekeeper assures him.
"Do you see those strings on his legs? When you pull the right one, he recites the lord's prayer, and when you pull on the left he recites the 23rd Psalm."
"Wonderful!" says the preacher, "but what happens if you pull both strings?"
"I fall off my perch, you stupid fool!" screeched the parrot.
#joke
A lion woke up one morning ...
A lion woke up one morning feeling really rowdy and mean. He went out and cornered a small monkey and roared, "Who is mightiest of all jungle animals?"
The trembling monkey says, "You are, mighty lion
"Later, the lion confronts a wildebeest and fiercely bellows, "Who is the mightiest of all jungle animals?"
The terrified wildebeest stammers, "Oh great lion, you are by far the mightiest animal in the jungle!"
On a roll now, the lion swaggers up to an elephant and roars, "Who is the mightiest of all jungle animals?"
Fast as lightning, the elephant snatches up the lion with his trunk, slams him against a tree half a dozen times, making the lion feeling like it'd been run over by a safari wagon.
The elephant then stomped on the lion until it looked like a corn tortilla and then ambled away.
The lion let out a moan of pain, lifted his head weakly and hollered after the elephant, "Geez, just because you don't know the answer, you don't have to get so pissed off!"
#joke
Second Opinion
This guy was climbing a tree when suddenly he slipped. He grabbed at a branch and was hanging in mid air. After an hour, he felt himself getting exhausted and looked up to the heavens and cried out: "God, help me! Please, help me!"
All of a sudden the clouds parted and a voice boomed out from on high. "Let Go!" said the voice.
The guy paused, looked up at heaven once more, and said: "Is there anyone else up there?"
#joke
A ten-year-old Jewish boy was ...
A ten-year-old Jewish boy was failing math. His parents tried everything from tutors to hypnosis; but to no avail. Finally, at the insistence of a family friend, they decided to enroll their son in a private Catholic school.
After the first day, the boy's parents were surprised when he walked in after school with a stern, focused and very determined expression on his face.
He went straight past them, right to his room and quietly closed the door. For nearly two hours he toiled away in his room with math books strewn about his desk and the surrounding floor. He emerged long enough to eat, and after quickly cleaning his plate, went straight back to his room, closed the door and worked feverishly at his studies until bedtime.
This pattern of behavior continued until it was time for the first quarter's report card. The boy walked in with it unopened, laid it on the dinner table and went straight to his room.
Cautiously, his mother opened it and, to her amazement, she saw a large red 'A' under the subject of Math. Overjoyed, she and her husband rushed into their son's room, thrilled at his remarkable progress.
Was it the nuns that did it? the father asked. The boy shook his head and said "No."
Was it the one-to-one tutoring? The peer-mentoring? "No."
The textbooks? The teachers? The curriculum?
"No," said the son. "On that first day, when I walked in the front door and saw that guy nailed to the plus sign, I KNEW they were serious!
#joke
A priest and a taxi driver bot...
A priest and a taxi driver both died and went to heaven. St. Peter was at the Pearly gates waiting for them.
'Come with me', said St. Peter to the taxi driver.
The taxi driver did as he was told and followed St. Peter to a mansion. It had anything you could imagine from a bowling alley to an Olympic size pool.
'Wow, thank you', said the taxi driver.
Next, St. Peter led the priest to a rugged old shack with a bunk bed and a little old television set.
'Wait, I think you are a little mixed up', said the priest. 'Shouldn't I be the one who gets the mansion? After all I was a priest, went to church every day, and preached God's word.'
'Yes, that's true. But during your sermons people slept. When the taxi driver drove, everyone prayed!'
#joke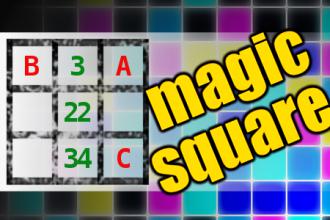 MAGIC SQUARE: Calculate A*B-C
The aim is to place the some numbers from the list (3, 5, 6, 8, 17, 20, 22, 30, 31, 34, 36, 66, 69) into the empty squares and squares marked with A, B an C. Sum of each row and column should be equal. All the numbers of the magic square must be different. Find values for A, B, and C. Solution is A*B-C.
The Christmas gift...
A guy bought his wife a beautiful diamond ring for Christmas.
After hearing about this extravagant gift, a friend of his said, "I thought she wanted one of those new sports cars."
"She did," he replied, "but where the heck was I going to find a fake convertible?"
Happy Butt
A teacher asks the new student her name. The girl replies, Happy Butt.
The teacher says, I dont think thats your name. You need to go to the principals office and get this straightened out.
The girl goes to the principals office and he asks, Whats your name? The little girl says, Happy Butt.
The principal calls the girls mother to get the truth. After getting off the phone, he says, Honey, your name is Gladys, not Happy Butt.
The girl exclaims, Glad Ass -- Happy Butt -- whats the difference?
#joke
A Little Gas
While walking in the convent a priest passed one of the nuns and noticed she was gaining a little weight. "Gaining a little weight, are we Sister Angela?" he asked. "No, Father," Sister Angela said, "It's just a little gas."
What has one foot and ...
What has one foot and four legs?

A bed

My kids love going to the...
My kids love going to the Web, and they keep track of their passwords by writing them on Post-it notes.

I noticed their Disney password was "MickeyMinnieGoofyPluto," and asked why it was so long.

"Because," my son explained, "they say it has to have at least four characters."

Answering Machine Message 49
In Joe Friday voice: This is Constable Augie of the Canadian Security and Intelligence Service. The phone line you have just dialed is currently under investigation on a warrant issued by the Attorney General of Canada. To facilitate our investigation, we would appreciate you leaving your name, number, a brief message, and any affiliations you may have made now, or in the past, with communist or terrorist organizations. Thank you.