Sunbathing
When should a woman get a suntan?
When the roof blows off the kitchen!
Did you hear about the new Chi...
Did you hear about the new Chinese Cookbook being sold only at pet stores?
"101 Ways to Wok Your Dog"
Q: Why did Ge...
Q: Why did George W. Bush RUN across the Street?
A: Because the sign read DON'T WALK!
Marriage Problems
A man and woman are having marriage problems, and decide to end their union after a very short time together. After a most brief attempt to reconcile, the couple goes to court to finalize their break-up. The judge asks the husband, "What has brought you to the point that you are now at, where you are not able to keep this marriage together?"
#joke
Substitute at the Pearly Gates
"Oh, I've been doing pretty well since you died," her husband told her. "I married the beautiful young nurse who took care of you while you were ill. And then I won the lottery. I sold the little house you and I lived in and bought a big mansion. And my wife and I traveled all around the world. We were on vacation and I went water skiing today. I fell, the ski hit my head, and here I am. How do I get in?"
"You have to spell a word," the woman told him.
"Which word?" her husband asked.
"Czechoslovakia."

#joke
An 8-year-old girl went to her...
An 8-year-old girl went to her dad, who was working in the garage.
"Daddy, what is sex?"
The father was surprised that she would ask such a question, but decided that if she was old enough to ask the question, then she was old enough to get a straight answer.
He proceeded to tell her all about the 'birds and the bees'. When he finished explaining, the little girl was looking at him with her mouth hanging open.
"Why did you ask that question, honey?"
"Mom told me to tell you that dinner would be ready in just a couple of secs."
#joke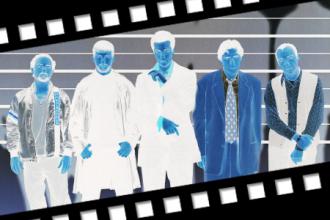 CINEMANIA: Guess the movie title
See negative of movie scene and guess the title. Length of words in solution: 3,5,8
Big John
A bar owner in the Old West has just hired a timid new bartender. The owner of the establishment is giving his new hire some instructions on running the place. He tells the timid man, "If you ever hear that Big John is coming to town, drop everything and run for the hills!! He's the meanest, biggest, nastiest outlaw who ever lived!!"
A few weeks pass uneventfully. But one afternoon, a local cowhand comes running through town yelling, "Big John is coming to town!! Run for your lives!!!" When the bartender exits the saloon to start running, he's knocked to the ground by several townspeople scurrying out of town. As he's picking himself up, he sees a large man approaching the saloon, probably about 7 feet tall, muscular, grunting and growling as he walks. He stomps up to the door, orders the poor barkeep inside, and demands, "I want a beer NOW!!" He pounds his heavy fist on the bar, splitting it in half. The bartender nervously hands the big man a beer, hands shaking. He takes the beer, rips the top of the bottle off with his teeth, and downs the beer in one gulp. As the poor timid bartender cowers behind the bar, the big man gets up to leave. "Do you want another beer?" the bartender calls out. "Dang it, I don't have time!!" the big man yells. "I gotta get out of town!!! Didn't ya hear Big John is a-comin??"
Ugly Children
Q. What position do you have to be in to have an ugly child?
A. Go ask your mother!
Knock Knock Collection 069
Knock Knock
Who's there?
Fred!
Fred who?
Fred Badge of Courage!
Knock Knock
Who's there?
Frederick!
Frederick who?
Frederick Express!
Knock Knock
Who's there?
Freddie!
Freddie who?
Freddie or not here I come!
Knock Knock
Who's there?
Freighter!
Freighter who?
Freighter open the door!
Knock Knock
Who's there?
Fresno!
Fresno who?
Rudolf the Fresno reindeer...!
#joke
A new girl called Carly came t...
A new girl called Carly came to Jimmy's school.


Jimmy really fancied her, but was already going out with Lorraine.

Some time later he heard that Lorraine's family were emigrating.

On her leaving day he went to see her off.

On his way home, he was singing to himself: "I can see Carly, now Lorraine has gone.''

#joke
My kids love going to the Web,...
My kids love going to the Web, and they keep track of their passwords by writing them on Post-it notes.

I noticed their Disney password was "MickeyMinnieGoofyPluto," and asked why it was so long.

"Because," my son explained, "they say it has to have at least four characters."

No more nailbiting...
Two golden-agers were discussing their husbands over tea. "I do wish that my Elmer would stop biting his nails. He makes me terribly nervous."
My Billy used to do the same things," the older woman replied, "but I broke him of that pesky habit."
"How?"
"I hid his teeth!"
While the Cat's Away
A woman is in bed with her lover, who also happens to be her husband's best friend.
They make love for hours and, afterwards, while they're just lying there, the phone rings. Since it's the woman's house, she picks up the receiver. The best friend listens, only hearing her side of the conversation:
"Hello? Oh, hi... I'm so glad that you called... Really? That's wonderful.... Well, I'm happy to hear you're having such a great time... Oh, that sounds terrific... Thanks. Okay. Bye bye."
She hangs up the telephone and her lover asks, "Who was that?"
"Oh" she replies, "That was my husband telling me all about the wonderful time he's having on his fishing trip with you."
#joke
"Now, most dentist's...
"Now, most dentist's chairs go up and down, don't they? The one I was in went back and forwards. I thought 'This is unusual'.

And the dentist said to me 'Mr Cooper, get out of the filing cabinet.'"
Noah wasn't all that smart. If...
Noah wasn't all that smart. If he had been, he would have swatted those two flies.
A blind man is walking d...
A blind man is walking down the street with his seeing-eye dog one day. They come to a busy intersection, and the dog, ignoring the high volume of traffic zooming by on the street, leads the blind man right out into the thick of traffic. This is followed by the screech of tires and horns blaring as panicked drivers try desperately not to run the pair down.
The blind man and the dog finally reach the safety of the sidewalk on the other side of the street, and the blind man pulls a biscuit out of his coat pocket, which he offers to the dog. A passerby, having observed the near fatal incident, can't control his amazement and says to the blind man, "Why on earth are you rewarding your dog with a biscuit? He nearly got you killed!"
The blind man turns partially in his direction and replies, "To find out where his head is, so I can kick his arse."
#joke