Ugly Children
Q. What position do you have to be in to have an ugly child?
A. Go ask your mother!
A man is driving up a steep, n...
A man is driving up a steep, narrow mountain road. A woman is driving down the same road. As they pass each other, the woman leans out of the window and yells "PIG!"
The man immediately leans out of his window and replies, "BITCH!"
They each continue on their way, and as the man rounds the next corner, he crashes into a pig in the middle of the road and dies.
If only men would listen.
#joke
A woman came home just in time...
A woman came home just in time to find her husband in bed with another woman. She dragged him down the stairs to the garage and put his tally-whacker in a vise. She secured it tightly, then removed the handle from the vise.
Next, she approached him with a hacksaw. The husband, terrified, screamed, "STOP! STOP! You're not going to... to... cut it off, are you?!!"
The wife, with a gleam of revenge in her eye, said, "Nope. YOU are! I'm going to set the garage on fire."
#joke
Bank Loan
A frog goes into a bank and approaches the teller. He can see from her nameplate that her name is Patricia Whack.
For a couple years I've b...
For a couple years I've been blaming it on lack of sleep and too much pressure from my job, but now I found out the real reason: I'm tired because I'm overworked.
The population of this country is 237 million. 104 million are retired. That leaves 133 million to do the work.
There are 85 million in school, which leaves 48 million to do the work.
Of this there are 29 million employed by the federal government, leaving 19 million to do the work.
2.8 million are in the Armed Forces, which leaves 16.2 million to do the work.
Take from the total the 14,800,000 people who work for State and City Governments and that leaves 1.4 million to do the work.
At any given time there are 188,000 people in hospitals, leaving 1,212,000 to do the work.
Now, there are 1,211,998 people in prisons. That leaves just two people to do the work. You and me. And you're sitting at your computer reading jokes.
#joke
Bean soup
When the waitress in a New York City restaurant brought him the soup du jour, the Englishman was a bit dismayed. "Good heavens," he said, "what is this?" "Why, it's bean soup," she replied. "I don't care what it has been," he sputtered. "What is it now?"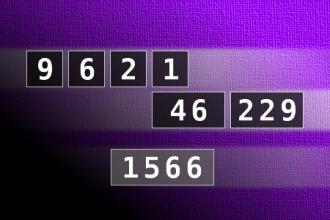 Calculate the number 1566
NUMBERMANIA: Calculate the number 1566 using numbers [9, 6, 2, 1, 46, 229] and basic arithmetic operations (+, -, *, /). Each of the numbers can be used only once.
Knock Knock Collection 069
Knock Knock
Who's there?
Fred!
Fred who?
Fred Badge of Courage!
Knock Knock
Who's there?
Frederick!
Frederick who?
Frederick Express!
Knock Knock
Who's there?
Freddie!
Freddie who?
Freddie or not here I come!
Knock Knock
Who's there?
Freighter!
Freighter who?
Freighter open the door!
Knock Knock
Who's there?
Fresno!
Fresno who?
Rudolf the Fresno reindeer...!
#joke
Carrots
How do you know that carrots are good for your eyesight?
Have YOU ever seen a rabbit with glasses?
A new girl called Carly came t...
A new girl called Carly came to Jimmy's school.


Jimmy really fancied her, but was already going out with Lorraine.

Some time later he heard that Lorraine's family were emigrating.

On her leaving day he went to see her off.

On his way home, he was singing to himself: "I can see Carly, now Lorraine has gone.''

#joke
My kids love going to the Web,...
My kids love going to the Web, and they keep track of their passwords by writing them on Post-it notes.

I noticed their Disney password was "MickeyMinnieGoofyPluto," and asked why it was so long.

"Because," my son explained, "they say it has to have at least four characters."

Did Noah Go Fishing?
A Sunday school teacher was teaching her young students about Noah and the ark. She asked them what they thought Noah may have done to pass the time in the ark for forty years. After waiting a few moments, the teacher suggested, "Maybe he did a lot of fishing. How about that?"
One little boy gave her a funny look and said, "I don't think so. It's kinda hard to fish with just two worms!"
#joke
Welles and Link were lost in t...
Welles and Link were lost in the desert and hadn't eaten in weeks. Suddenly they stumbled on a dead coyote covered with maggots.
Welles, at the point of starvation, couldn't control himself. He threw himself on the rotting animal and began eating it. Ten minutes later, he threw up all over the place.
At that moment, Link began eating what his friend had just vomited. He stopped for a moment and said, "I knew if I waited long enough I'd have a hot meal!"
#joke
Three little lads were on thei...
Three little lads were on their way home from school when one of them noticed a red Ferrari parked at the side of the road.


He said: "When I'm older I'm going to get a great job and buy one of them."

The second lad said: "I am going to university to get a great education, and a great job and buy one also."

The third lad says: "I'm going to get a job like my sister."

The other two asked what she did.

"She's a prostitute."

"What's a prostitute," the other two ask.

"I dont know, but that's my sister's car."

#joke
Seems God was just about...
Seems God was just about done with creating the universe but he had two extra things left over in his bag so he decided to split them between Adam and Eve.
He told them that one of the things he had left was a thing that would allow the owner to pee while standing up. "It's a very handy thing," God told them, "and I was wondering if either one of you would like that."
Well, Adam jumped up and down and begged "Oh, give that to me! I'd love to be able to do that. It seems just the sort of thing a man should be able to do. Please. Please! Pleeease! Give it to me." On and on he went like an excited little boy.
So Eve just smiled and told God that if Adam really wanted it so badly, he should have it. So God gave Adam the thing that allowed him to pee while standing up and he was so excited. He wee-ed on the bark of a tree and then went off to write his name in the sand, laughing with delight all the while.
God and Eve watched him for a moment and then God said to Eve, "Well, here's the other thing and I guess you can have it." "What's it called? Eve asked.
"Brains" God said.
#joke
Fall-Down Drunk
A man, whose level of drunkenness was bordering on the absurd, stood up to leave a bar and fell flat on his face.
"Maybe all I need is some fresh air," thought the man as he crawled outside.
He tried to stand up again, but fell face first into the mud.
"Screw it," he thought. "I'll just crawl home."
The next morning, his wife found him on the doorstep asleep.
"You went out drinking last night, didn't you?" she said.
"Uh, yes," he said sheepishly. "How did you know?"
"You left your wheelchair at the bar again."
#joke
Do You Know Me?
A small town prosecuting attorney called his first witness to the stand in a trial--a grandmotherly, elderly woman. He approached her and asked, "Mrs. Jones, do you know me?"
She responded, "Why, yes, I do know you Mr. Williams. I've known you since you were a young boy. And frankly, you've been a big disappointment to me. You lie, you cheat on your wife, you manipulate people and talk about them behind their backs. You think you're a rising big shot when you haven't the brains to realize you never will amount to anything more than a two-bit paper pusher. Yes, I know you."
The lawyer was stunned. Not knowing what else to do he pointed across the room and asked, "Mrs. Williams, do you know the defense attorney?"
She again replied, "Why, yes I do. I've known Mr. Bradley since he was a youngster, too. I used to baby-sit him for his parents. And he,too, has been a real disappointment to me. He's lazy, bigoted, he has a drinking problem. The man can't build a normal relationship with anyone and his law practice is one of the shoddiest in the entire state. Yes, I know him."
At this point the judge rapped the courtroom to silence and called both counselors to the bench. In a very quiet voice, he said with menace, "If either of you asks her if she knows me, you'll be in jail for contempt within 5 minutes!"