Kissing a Nun
A cabbie picks up a nun. She gets into the cab, and the cab driver won't stop staring at her. She asks him why is he staring and he replies, "I have a question to ask you but I don't want to offend you."
She answers, "My dear son, you cannot offend me. When you're as old as I am and have been a nun a long as I have, you get a chance to see and hear just about everything. I'm sure that there's nothing you could say or ask that I would find offensive."
"Well, I've always had a fantasy to have a nun kiss me."
She responds, "Well, let's see if you qualify. #1, you have to be single and #2 you must be Catholic."
The cab driver is very excited and says, "Yes, I am single and I'm Catholic too!"
The nun says "OK, pull into the next alley."
He does and the nun fulfills his fantasy. But when they get back on the road, the cab driver starts crying.
"My dear child, said the nun, why are you crying?"
"Forgive me sister, but I have sinned. I lied, I must confess, I'm married and I'm Jewish."
The nun says, "That's OK, my name is Kevin and I'm on my way to a costume party."
- Joke shared by Beliefnet member socaliflady
#joke
As the owner of an old clunker...
As the owner of an old clunker, I was used to dealing with a variety of car breakdowns. One day at the supermarket, just after I had filled my trunk with groceries, I noticed a stream of fluid pouring out of the bottom of the car. I knew I had to get home before the car was once again out of action.
When I arrived I asked my husband to take a look at the problem.
Expecting the worst, I braced myself for his diagnosis. When he came back in, he was smiling. "It's apple juice," he said.
#joke
God knows....
Two rural church deacons who were having a sociable beer in the local tavern when they saw their minister drive by and take a good long look at their pickup trucks parked outside.
One deacon ducked down and said, "I hope the reverend didn't see us or recognize my pickup."
The other replied indifferently, "What difference does it make. God knows we're in here... and he's the only one who counts."
The first deacon countered, "But God won't tell my wife."
Humor About The Irishmen
There is a story about the Irishman who drowned while he was digging a grave for a friend. He'd wanted to be buried at sea.

"Well, Mrs. O'Connor, so you want a divorce?" the solicitor questioned his client.
"Tell me about it. Do you have a grudge?"
"Oh, no," replied Mrs. O'Connor. "Shure now, we have a carport."
The solicitor tried again. "Well, does the man beat you up?"
"No, no," said Mrs. O'Connor, looking puzzled. "Oi'm always first out of bed."
Still hopeful, the solicitor tried once again.
"What I'm trying to find out are what grounds you have."
"Bless ye, sor. We live in a flat -- not even a window box, let alone grounds."
"Mrs. O'Connor," the solicitor said in considerable exasperation, "you need a reason that the court can consider.
"What is the reason for you seeking this divorce?"
"Ah, well now," said the lady,
"Shure it's because the man can't hold an intelligent conversation."



#joke
The strange Christmas scene
In a small southern town there was a "Nativity Scene" that showed great skill and talent had gone into creating it. One small feature bothered me.
The three wise men were wearing firemen's helmets.
Totally unable to come up with a reason or explanation, I left. At a "Quik Stop" on the edge of town, I asked the lady behind the counter about the helmets. She exploded into a rage, yelling at me, "You stupid Yankees never do read the Bible!" I assured her that I did, but simply couldn't recall anything about firemen in the Bible.
She jerked her Bible from behind the counter and ruffled through some pages, and finally jabbed her finger at a passage. Sticking it in my face she said "See, it says right here, 'The three wise man came from afar.'"
The Mexican Firefighter
Q. What did the Mexican firefighter name his two sons?
A. Hose A and Hose B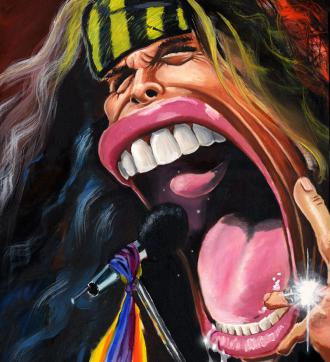 Guess the name of musician
Look carefully caricature and guess the name of musician.
A football team was short of a...
A football team was short of a goalkeeper, so the captain asked a cow grazing in the next field to join the team. The cow agreed. Later, the local cricket team needed a wicket keeper, so the same cow was asked to do the job. The cow replied: "Who ever heard of a cow playing cricket?"
"I'd like to order a bar piz...
"I'd like to order a bar pizza," the idiot says.
"Shall I ask them to cut it into six or twelve slices," the barmaid asks.
"Six, please. I could never eat twelve pieces.
Bill Gates cannot hire houseke...
Bill Gates cannot hire housekeepers, although he has interviewed hundreds.
Everyone he interviews says they don't do windows.
Knock Knock!
Who's there? ...
Knock Knock!
Who's there?
A little girl.
A little girl who?
A little girl who can't reach the doorbell!

A ten-year-old Jewish boy was ...
A ten-year-old Jewish boy was failing math. His parents tried everything from tutors to hypnosis; but to no avail. Finally, at the insistence of a family friend, they decided to enroll their son in a private Catholic school.
After the first day, the boy's parents were surprised when he walked in after school with a stern, focused and very determined expression on his face.
He went straight past them, right to his room and quietly closed the door. For nearly two hours he toiled away in his room with math books strewn about his desk and the surrounding floor. He emerged long enough to eat, and after quickly cleaning his plate, went straight back to his room, closed the door and worked feverishly at his studies until bedtime.
This pattern of behavior continued until it was time for the first quarter's report card. The boy walked in with it unopened, laid it on the dinner table and went straight to his room.
Cautiously, his mother opened it and, to her amazement, she saw a large red 'A' under the subject of Math. Overjoyed, she and her husband rushed into their son's room, thrilled at his remarkable progress.
Was it the nuns that did it? the father asked. The boy shook his head and said "No."
Was it the one-to-one tutoring? The peer-mentoring? "No."
The textbooks? The teachers? The curriculum?
"No," said the son. "On that first day, when I walked in the front door and saw that guy nailed to the plus sign, I KNEW they were serious!
#joke
Elaine went to visit the...
Elaine went to visit the much heralded local fortune-teller.
In a dark and hazy room, peering into a crystal ball, the mystic delivered grave news: "There's no easy way to say this, so I'll just be blunt - prepare yourself to be a widow. Your husband will die a violent and horrible death this year."
Visibly shaken, Elaine stared at the woman's haggard face, then at the single, flickering candle, then down at her hands.
She took a few deep breaths to compose herself. She simply had to know. She met the fortune teller's gaze, steadied her voice and asked, "Will I be acquitted?"
#joke
Grass Eater
A man was riding in the back of his limousine when he saw a man eating grass by the roadside. He ordered his driver to stop and he got out to investigate.
"Why are you eating grass?" he asked the man.
"I don't have any money for food," the poor man replied.
"Oh, please come to my house!"
"But sir, I have a wife and four children..."
"Bring them along!" the rich man said.
They all climbed into the limo. Once underway, the poor fellow said, "Sir, you are too kind. Thank you for taking all of us in."
The rich man replied, "No, you don't understand. The grass at my house is over three feet tall!"
#joke
You know you're too fat ... if...
You know you're too fat ... if the traffic department puts a sign on you that says "Caution! Wide Turn."
Two words....
The other day I had the opportunity to drop by my department head's office. He's a friendly guy and, on the rare opportunities that I have to pay him a visit, we have had enjoyable conversations.
While I was in his office, I asked him, "Sir, what is the secret of your success?"
He said, "Two words."
"And, Sir, what are they?"
"Right decisions."
"But how do you make right decisions?"
"One word," he responded.
"And, Sir, what is that?"
"Experience."
"And how do you get experience?"
"Two words."
"And, Sir what are they?"
"Wrong decisions."
#joke
Join us on WhatsApp