Why We Miss Rodney Dangerfield
Because he said ...
Top 10 Mom Scoldings in the Bible
10. Sampson, get your hands off of that lion, you don't know where it's been!
9. David, I told you not to play in the house with that string! Go practice your harp. We pay good money for those lessons.
8. Abraham! Stop wandering around the countryside and get home for supper!
7. Shadrach, Meschach and Abendeco! I told you, never play with fire!
6. Cain! Get off your brother! You're going to kill him some day!
5. Noah, no you can' t help them. Don't bring home any strays.
4. Gideon! Have you been hiding in that wine press again? Look at my clothes.
3. James and John! No more burping at the dinner table, please. People are going to call you sons of thunder.
2. Judas! Have you been in my purse again?
1. Jesus! Close the door! You think you were born in a barn.
- Joke shared by Beliefnet member Jalus
#joke
I was waiting tables at a coun...
I was waiting tables at a country club when an elegantly dressed woman spilled Manhattan clam chowder all over her white linen skirt. She began furiously dabbing at it with a napkin.
Having plenty of experience with getting out food stains, I asked, "Can I bring you some club soda?"
"Young lady," she barked, "I'll be the judge of when I've had enough to drink. Bring me another martini!"
#joke
The trick...
A little boy greeted his grandmother with a hug and said, "I'm so happy to see you, Grandma. Now maybe Daddy will do the trick he has been promising us."
The grandmother was curious. "What trick is that my dear?" she asked.
The little boy replied, "I heard Daddy tell Mommy that he would climb the walls if you came to visit us again."
#joke
Corn Field
A blond is driving in her convertable down the high way when she notieces another blond in a boat out in the middle of a corn field. The blond in the boat was roawing the boat. The blond was very frustrated at how stupid the blond in the car was being so she pulled over and got out of the car. She yelled across the hightway, " HEY YOU IN THE BOAT! I'M TALKING TO YOU!" The blond in the boat turned and waved and continued roawing the boat. The blond across the street yelled out again ,"IT'S BLONDS LIKE YOU THAT GIVE US A BAD NAME AND I'D COME GET YOU IF I COULD SWIM!!"
#joke
Her asshole
What does a woman do to her asshole in the morning?
Sends him to work.
Submitted by Calamjo
Edited by Tantilazing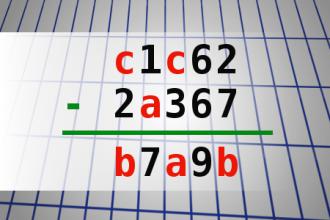 Find number abc
If c1c62 - 2a367 = b7a9b find number abc. Multiple solutions may exist.
A man was driving a horse and ...
A man was driving a horse and cart along a country road at an angle of 45 degrees. After three miles like this, he asked a passer-by: "How long does this blasted hill last?" "This isn't a hill," came the reply. "Your back wheels are off!"
#joke
"I'd like to order a bar piz...
"I'd like to order a bar pizza," the idiot says.
"Shall I ask them to cut it into six or twelve slices," the barmaid asks.
"Six, please. I could never eat twelve pieces.
Dad: Son, go buy me a soda
...
Dad: Son, go buy me a soda
Son: Coke or Pepsi?
Dad: Coke
Son: Regular or Diet?
Dad: Diet
Son: In can or bottled?
Dad: Bottled
Son: 8oz or the 12oz?
Dad: D@mn you!!! So many questions! JUst buy me water.
Son: Mineral or Distilled?
Dad: Mineral
Son: Cold or warm?
Dad: I don't think you want to run an errand.....
Son: Is it obviuos or not?
Dad: Get out of here!!
Son: Now or later???
#joke
q: What do you get when you c...
q: What do you get when you cross an impressionist painter with a New York City cab driver?
A: You get Vincent Van Go Fuck Yourself.
Middle age crisis...
...
Middle age crisis...
Ben bought a brand new Holden Monaro. He took off down the road, pushed it up to 150 kph, and was enjoying the wind blowing through his (thinning) hair.
"This is great," he thought and accelerated to an even higher speed.
Then, he looked in his rear-view mirror, and there was a police car.
Problem - thought Ben, and he floored it some more, and flew down the road at over 210 kph to escape being stopped.
He then thought, "What the hell am I doing? I'm too old for this kind of thing" and pulled over to the side of the road, and waited for the police car to catch up with him. The policeman pulled in behind the Monaro and walked up on the driver's side.
"Sir my shift ends in five minutes and today is Friday the 13th. If you can give me a good reason why you were speeding that I've never heard before, I'll let you go."
The man looked back at the policeman and said, "Last week my wife ran off with a policeman, and I thought you were bringing her back."
The policeman said, "Have a nice day."
The chief of staff of the US A...
The chief of staff of the US Air Force decided that he would personally intervene in the recruiting crisis affecting all our armed services.
So, he directed that a nearby Air Force base be opened and that all eligible young men and women be invited.
As he and his staff were standing near a brand new F-15 Fighter, a pair of twin brothers who looked like they had just stepped off a Marine Corps recruiting poster, walked up to them.
The chief of staff stuck out his hand and introduced himself. He looked at the first young man and asked, "Son, what skills can you bring to the Air Force?"
The young man looks at him and says, "I'm a pilot!"
The general gets all excited, turns to his aide and says, "Get him in today, all the paper work done, everything, do it!"
The aide hustles the young man off. The general looks at the second young man and asked, "What skills do you bring to the Air Force?"
The young man says, "I chop wood!"
"Son," the general replies, "we don't need wood choppers in the Air Force. What do you know how to do?"
Again the lad replies, "I chop wood!"
"Young man," huffs the general, "you are not listening to me. We don't need wood choppers, this is the 21st century!"
"Well," the young man says, "you hired my brother!"
"Of course we did," says the general, "he's a pilot!"
The young man rolls his eyes and says, "Dang it. I have to chop it before he can pile it.
#joke
You Looked A Lot Like My Wife
A serious drunk walked into a bar and, after staring for some time at the only woman seated at the bar, walked over to her and kissed her. She jumped up and slapped him silly. He immediately apologized and explained, "I'm sorry. I thought you were my wife. You look exactly like her."
"Why you worthless, insufferable, wretched, no good drunk!" she screamed.
"Funny," he muttered, "you even sound exactly like her."
#joke
Our Stupid Apartment
Two blondes realize that their apartment is on fire and go out onto the balcony.
"Help, help!" yells one of the blondes.
"Help us, help us!" yells the other.
"Maybe it would help if we yelled together," said the first blonde.
"Good idea," said the other.
"Together, together!"