E-mail Me a Prayer
I had been teaching my three-year-old daughter, Caitlin, the Lord's Prayer. For several evenings at bedtime, she would repeat after me the lines from the prayer.
Finally, she decided to go solo. I listened with pride as she carefully enunciated each word, right up to the end of the prayer:
"Lead us not into temptation," she prayed, "but deliver us some e-email. Amen."

#joke
Wacky Quacky Solution
A young doctor had moved out to a small community to replace a doctor who was retiring. The older gent suggested the young one accompany him on his rounds so the community could become used to a new doctor.
At the first house a woman complained, "I've been a little sick to my stomach." The older doctor said, "Well, you've probably been overdoing the fresh fruit. Why not cut back on the amount you've been eating and see if that does the trick?"
As they left the younger man said, "You didn't even examine that woman. How'd you come to your diagnosis so quickly?"
"I didn't have to. You noticed I dropped my stethoscope on the floor in there? When I bent over to pick it up, I noticed a half dozen banana peels in the trash. That was what was probably making her sick."
"Huh," the younger doctor said, "Pretty clever. I think I'll try that at the next house."
Arriving at the next house, they spent several minutes talking with an elderly woman. She complained that she just didn't have the energy she once did. "I'm feeling terribly run down lately."
"You've probably been doing too much work for the church," the younger doctor told her. "Perhaps you should cut back a bit and see if that helps."
As they left, the elder doc said, "Your diagnosis is almost certainly correct, but how did you arrive at it?"
"Well, just like you at the last house, I dropped my stethoscope. When I bent down to retrieve it, I noticed the preacher under the bed."
Funny video of the day - Funny video of the day Wednesday, 30 December 2009
A man came home drunk at four ...
A man came home drunk at four in the morning, and his wife was all over him, yelling at him, crying because she thought he was with another woman.
"No, honey, I swear, I was at this bar, and it was so fancy that even the urinals were made of GOLD!"
She said she didn't believe him, so she called the bar.
"Hello," she said, "I just want to ask one question. My husband claims to have spent the night at your bar and I have one question; are your urinals covered in gold?"
To which she heard the bartender say, "Hey, Clarence, I think we found the guy who pissed in your saxophone!"
#joke
Rednecks Flying Home #joke
Two Redneck hunters got a pilot to fly them into the far north for elk hunting. They were quite successful in their venture, and bagged six big bulls. The pilot came back as arranged to pick them up.
They started loading their gear into the plane, including the six elk. But the pilot objected he said, "The plane can take out only four of your elk. You will have to leave two behind."
One of the hunters pushed forward, "Hey, last year our pilot let us take out six elk. It was the same model plane, same weather conditions, and everything. What's with this? We want you to allow us to fly out just like last year.
Reluctantly the pilot finally permitted them to put all six elk aboard and the men all climbed in with their gear. But when they attempted to take off and fly out of the valley, the little plane could not make it. They crashed in the wilderness.
Climbing out of the wreckage, one Redneck said to the other, "Do you know where we are?"
"I think so," replied the other Redneck. "Yep! I think this is about 100 yards further along than where we crashed last year!"
#joke
Two blondes were in a parking ...
Two blondes were in a parking lot trying to unlock the door of their Mercedes with a coat hanger. They tried and tried to get the door open, but they couldn't.
The girl with the coat hanger stopped for a moment to catch her breath, and her friend said anxiously, "Hurry up! It's starting to rain and the top is down."
Wigmakers are always p...
Wigmakers are always putting on hairs.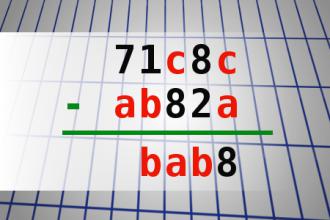 Find number abc
If 71c8c - ab82a = bab8 find number abc. Multiple solutions may exist.

A policeman spots this Bl...
A policeman spots this Bloke walking up Royal Ave. pulling a 12 foot long rope and asks, "What do you think you are doing pulling this 12 long rope up Royal Ave.?"
The Bloke replied: "have you ever tried pushing it?"
Sumbich
A filthy rich North Carolina man decided that he wanted to throw a party and invited all of his buddies and neighbors. He also invited Leroy, the only redneck in the neighborhood. He held the party around the pool in the backyard of his mansion.
Leroy was having a good time drinking, dancing, eating shrimp,oysters and BBQ and flirting with all the women. At the height of the party, the host said, 'I have a 10 ft man-eating gator in my pool and I'll give a million dollars to anyone who has the nerve to jump in.' The words were barely out of his mouth when there was a loud splash and everyone turned around and saw Leroy in the pool!
Leroy was fighting the gator and kicking its ass!
Leroy was jabbing the gator in the eyes with his thumbs, throwing punches, head butts and choke holds, biting the gator on the tail and flipping the gator through the air like some kind of Judo Instructor.
The water was churning and splashing everywhere. Both Leroy and the gator were screaming and raising hell. Finally Leroy strangled the gator and let it float to the top like a dime store goldfish. Leroy then slowly climbed out of the pool. Everybody was just staring at him in disbelief.
Finally the host says, 'Well, Leroy, I reckon I owe you a million dollars,'
'No, that's okay. I don't want it,' said Leroy.
The rich man said, 'Man, I have to give you something.
You won the bet! How about half a million bucks then?'
'No thanks, I don't want it,' answered Leroy.
The host said, 'Come on, I insist on giving you something. That was amazing. How about a new Porsche and a Rolex and some stock options?'
Again Leroy said no.
Confused, the rich man asked, 'Well, Leroy, then what do you want?'
Leroy said, 'I want the name of the sumbich who pushed me in the pool!'
#joke
The Queen and Dolly Parton die...
The Queen and Dolly Parton die on the same day, and they both go before St. Peter to find out if they'll be admitted to heaven. Unfortunately, there's only one space left that day, so St. Peter asks Dolly if there's some particular reason why she should go to heaven, so she takes off her top and says, "Look at these. They're the most perfect ones God ever created, and I'm proud to own them.
St. Peter thanks Dolly, and asks The Queen the same question.
She then drops her skirt and panties, takes a bottle of Perrier out of her purse, shakes it up, and douches with it. St. Peter says, "OK, Your Majesty, you may go in".
Dolly is outraged. She screams, "What was that all about? I show you two of God's own creations, she performs a disgusting hygiene act, and gets in and I don't?!!!"
"Sorry, Dolly," says St. Peter, "but a royal flush beats a pair any day."
#joke
Three men...A chicken and a cow...
There were three men traveling together, a priest, a farmer and a lawyer. It was starting to get late and they needed to find a place to sleep. They came across this farm and they asked the farmer there if they could spend the night. He said, "thats fine but my guest room is only big enough for two people, one of you will have to sleep in the barn."
The priest said, "I don't mind sleeping with God's creatures, I will take the barn."
So they all agreed and went to their rooms.
About an hour later there was a knock at the guest room door and there stood the priest. "There is a chicken in there that won't stop clucking! I'm sorry but I'm going to have to sleep in the guest room."
"That's ok," said the farmer, "I'll sleep in the barn, after all, I'm used to it."
So they all agreed and traded places. About an hour later there was a knock at the guest room door and there stood the farmer. "I can't stand the odor from that cow in there any more. I'm sorry but I'm going to have to sleep in the guest room."
"Well, I guess that leaves me," said the lawyer.
So he went to sleep in the barn. About an hour later there is a knock at the guest room door and there stands the chicken and the cow.
Knock Knock Collection 016
Knock Knock
Who's there?
Argo!
Argo who?
Argo down the shops!
Knock Knock
Who's there?
Aries!
Aries who?
Aries a reason why I talk this way!
Knock Knock
Who's there?
Arizona!
Arizona who?
Arizona room for one of us in this town!
Knock Knock
Who's there?
Armageddon!
Armageddon who?
Armageddon getting out of here!
Knock Knock
Who's there?
Armenia!
Armenia who?
Armenia every word I say!
#joke
Business one-liners 37
The crucial memorandum will be snared in the out-basket.
The deadline is one week after the original deadline.
The deficiency will never show itself during the test run.
The dictionary is the only place where success comes before work.
The difference between a stepping stone and a stumbling block can be when you see it.
The difference between art and science is that if something works in art, you don't have to explain why.
The difficulty with a research grant is that if you solve the problem, you're out of a job.
The early bird who catches the worm usually works for someone who comes in late and owns the worm farm.
The early worm deserves the bird.
The easier it is to do, the harder it is to change.
#joke
A police officer saw a car speeding...
A police officer saw a car speeding down the highway. He started chasing after the speeder . When he got close hes saw it was a blonde woman who was actually knitting while driving. The cop yelled, Pull over! The blonde shouted back, No! Its a sweater!
Why is 6 afraid of 7?
... Why is 6 afraid of 7?